Karting sports and racing are attractive to young people and children, as it is one of the activities preferred by many fans of adventure and challenges, especially fast car enthusiasts, and just as the capital returns us to provide various entertainment options for its residents and visitors, there is a range of destinations that everyone looking for the most prominent places of karting will want Abu Dhabi visited.
Fortunately, there are many places for car racing or karting in the UAE, so if you are bored and want to enjoy a challenging and competitive experience with your friends, here are some options for choosing one of the best karting venues in Abu Dhabi:
Yas Kart Zone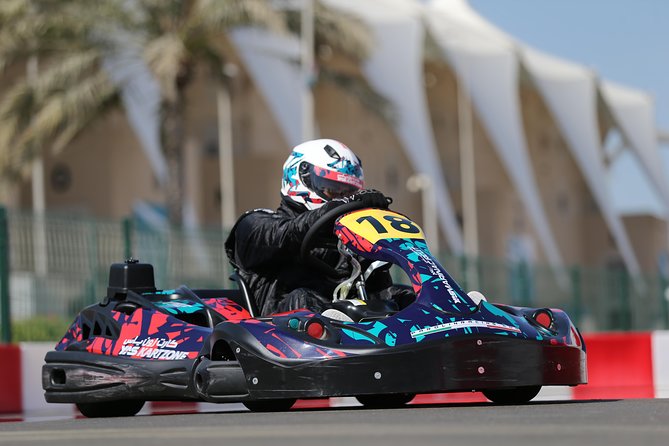 Certainly, we will start the list by talking about the destination of Yas Kart Zone located at the Yas Marina Circuit, which provides a 1 km long track with three different configurations, which makes it accommodate a large number of people, and the circuit includes a group of experts to ensure the safety of visitors, giving the opportunity to practice this The game is for everyone regardless of their age, including children from 5 years old.
This circuit is one of the best karting circuits in Abu Dhabi, and you can experience it as soon as you arrive or book in advance, the following is the price list:
children

Age: 5-7 years
Tour duration: 10 minutes
Cost: 55 AED
One year membership in Kart Zone

Young

Age: 8-12 years
Duration of the tour: 12 minutes
Cost: 80 AED
One year membership in Kart Zone

Grownups

Age: 13 years and over
Tour duration: 15 minutes
Cost: 120 AED
One year membership in Kart Zone
The circuit also includes a karting academy, as this academy provides an opportunity for children from 5 to 12 years old to learn driving skills, in addition to learning about the most prominent theoretical and practical principles regarding the mechanical elements of karting cars. Below are the prices to subscribe for for children and young adults:
Children 5 to 7 years old: starting from AED 1,990
Youth from 8 to 12 years old, starting at AED 2,190
Here is the most important contact information for the ring
Location: Yas Marina Circuit, Yas Island
Working hours: 09:00 AM – 12:00 midnight (daily)
Contact: 800 927
Al Forsan International Sports Resort Racecourse in Abu Dhabi
Other options also include the karting track located at the Al Forsan International Sports Resort Racecourse in Abu Dhabi, as this track, which is approved by the International Karting Federation, is 1.2 km long, and it hosts motor racing events and is designed according to the highest safety standards.
The resort also provides Cadet cars for karting races for teenagers from 12 years of age and above, and the minimum length is 1.3 meters.
Location: Al Forsan International Sports Resort in Abu Dhabi, Khalifa City
Working hours: 02:00 PM – 11:00 PM (daily)
Contact: 800 9900
Ferrari World Karting Academy
The Ferrari World Karting Academy gives you an irreplaceable opportunity to sharpen your skills and challenge your friends or family in an exciting race on a 290-meter-long track, and what is unique about this track is that it was inspired by the famous Yas Marina Circuit!
Here are some things to keep in mind when visiting the Karting Academy at Ferrari World, which is one of the great karting spots in Abu Dhabi:
Minimum age: 13 years
Height: between 150 and 210 cm
Weight: It should not exceed 120 kg
You can buy tickets from inside the theme park, either at the box office or the information point
Duration of one session: 20 minutes
The following is the contact information for Ferrari World in case you want to try these fun races:
Location: Yas Island
Academic working hours: 11:30 AM – 7:30 PM (Tuesday – Saturday)
Contact: 600 115 511