ALEC Engineering and Contracting – a subsidiary of the Dubai Government Investments Corporation – announced its cooperation with Hilti, a company specialized in manufacturing construction equipment, to test the "Jaibot" robot, the first of its kind in the UAE and the Gulf Cooperation Council countries, which works to enhance the efficiency of Drilling tasks on construction sites.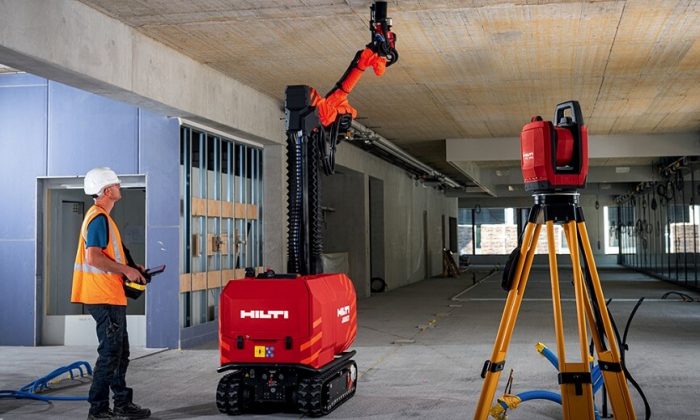 Alec and Hilti have been working since March 2019 to test robot productivity in a number of ALEC projects, including the One Zabeel project.
Jaebot helps boost productivity in installation processes in construction projects as an innovative construction robot performs the installation process while allowing the project manager to track work progress and project status through data collected by the robot. Jaebot marks and drills holes using digital plans, which reduces Construction workers' heavy duty of digging overhead allows them to focus on operating the construction robot.
Alec CEO Keys Taylor said: "We are pleased to see the transformation that the construction sector is witnessing closely through our cooperation with Hilti. This comes as part of our continuous efforts to encourage the continuity of innovation and digital transformation in the sector as the" Jaibot "robot gave us an opportunity to see what it will be like. The future of the construction sector through Jaibot as we explore new frontiers of efficiency in our operations.
For his part, Nathan Hans, General Manager of Alimco, said: When we used it in the One Zabeel project and our other sites, the Jaebot robot made significant improvements in productivity, quality and safety, and the accuracy and efficiency in the installation process proved the value of being a 3D-driven organization as our investment in world-class technology is certified On our commitment to continually improving our operations so that we can complete high quality projects and provide the best for our clients.
It is noteworthy that Alec is the main contractor for the "One Zabeel" project, which will include retail stores, residential units, hospitality destinations and offices as part of the mixed-use project, providing visitors and tenants with 360-degree panoramic views of Dubai.