Nakheel, a real estate development company, started a set of measures to manage the potential increase in traffic in Palm Jumeirah on Thursday, December 31st, in preparation for the new calendar year.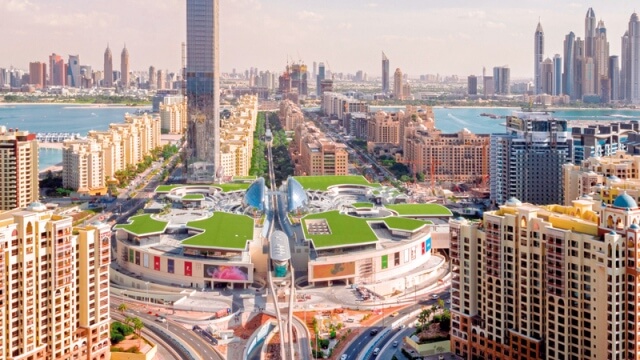 The "Palm Jumeirah" is a popular destination in the UAE to celebrate New Year's Eve, as the company works closely with Dubai Police, Dubai Municipality and the Roads and Transport Authority to prioritize safety and comfort and to ensure the smooth and flexible flow of traffic.
Nakheel advised all visitors to the island to allow ample time for their trips and to use public transportation such as the "The Palm Monorail" or taxis, as daily discounts are available to and from "The Punit", which includes the largest fountain in the world that was recently launched with "Careem" cars. Until January 1, 2021, by using the promotional code: "THEPALMFOUNTAIN", while "Nakheel" company doubled the usual number of buses for the holiday season from "Nakheel Mall" to "The Point" on New Year's Eve, with free rides from 7 pm to 3 am.
Hotels, retail centers and restaurants have set early dates for the delivery of catering, provided adequate parking for vehicles, and inform their guests in advance of planning their trips, as food delivery services will be allowed until 5 pm only.
Services of external contractors such as transportation companies will also be suspended for one day only, as entry permits will not be issued on Thursday, December 31.
The pedestrian roads will be closed on the Trunk Road at Junction No. 2 near the Shoreline Apartments Building No. 5 and Interchange No. 4 near the Shoreline Apartments Building No. 10 / New Year's Eve from 9 pm until 1 am, while pedestrian roads will remain. Near Terminal 3 and Terminal 7 are open and will be managed by the security team.
It is noteworthy that all the precautionary and preventive measures related to health and safety are being applied in all the destinations of Nakheel, including "The Pointe", "Nakheel Mall" and "Palm West Beach".