DUBAI: The Dubai Clean Energy Strategy 2050 aims to transform the emirate into a hub for green energy and economy. Dubai Electricity and Water Authority (DEWA) on Sunday said the share of clean energy that is produced nine percent in 2020, exceeding its target of seven percent set for this year.
Under its Dubai Clean Energy Strategy 2050, the utility services provider has a target of increasing clean energy share to 75 percent in the next 30 years.
Under the plan, up to AED600 billion ($163.3 billion) will be invested in generating power from clean energy sources, aiming to increase clean energy to 75 percent of the total energy mix by 2050.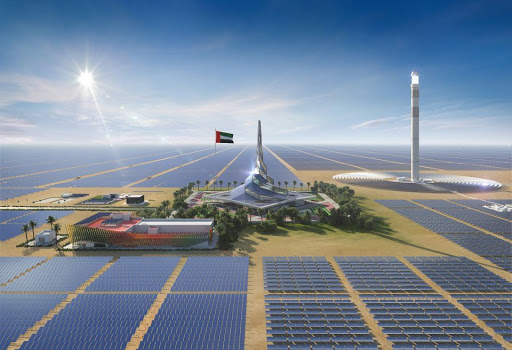 The strategy is set to transform the energy sector over the next three decades, with a commitment to sustainability in energy conservation, and an overarching goal to have the smallest carbon footprint in the world by 2050.
The UAE will focus on renewable, nuclear, and clean energy sources, and will encourage individuals and corporations to raise their consumption efficiency by 40 percent.
The AED50 billion ($13.6 billion) Mohammed bin Rashid Al Maktoum Solar Park, announced in 2012, supports the Dubai Clean Energy Strategy 2050. It is the largest renewable-energy project on a single plot in the world and will produce 5,000 megawatts when completed in 2030.
Dubai Electricity and Water Authority (DEWA) also launched an Innovation Centre with research and development labs in the field of clean energy.
Out of the total installed capacity of 11,700MW of electricity, 1,013MW is produced from photovoltaic solar panels at the Mohammed bin Rashid Al Maktoum Solar Park while the total capacity of the projects under construction at the solar park is 1,850MW from photovoltaic and Concentrated Solar Power (CSP). DEWA aims to increase the capacity to 5,000MW by 2030.

"We recently signed the power purchase agreement for the 900MW 5th phase of the solar park with a consortium led by ACWA Power and Gulf Investment Corporation. The total investments of the project exceed Dh2 billion. The project achieved a new record by receiving the lowest international bid of $1.6953 cents per kilowatt-hour using photovoltaic solar panels based on the Independent Power Producer (IPP) model," said Saeed Mohammed Al Tayer, managing director and CEO of DEWA.

DEWA installed 13MW solar park in 2013 using photovoltaic solar panels as the first phase. The 200MW photovoltaic 2nd phase was commissioned in 2017. The third phase has a capacity of 800MW. The 4th phase of the solar park is the world's largest single-site investment project that combines CSP and photovoltaic technology with a capacity of 950MW using the IPP model.

The fifth phase will have a capacity of 900MW using photovoltaic solar panels. The project will use the latest solar photovoltaic bifacial technologies, with Single Axis Tracking to increase energy production. It will be commissioned in stages starting from Q3 of 2021.

Al Tayer has earlier said, "DEWA has investment plans of over Dh86 billion over the next five years to meet the growing demand for electricity and water in the emirate."