Virtual Reality Park is classified as one of the best destinations for virtual reality games in Dubai that mix between reality and imagination, since it was launched by Emaar Entertainment, a subsidiary of Emaar Properties in 2018, and it dazzles its visitors with all that is new and distinctive, and this is evident through the most wonderful games that it includes Under its roof, not to mention being the largest indoor virtual reality gaming park in the world!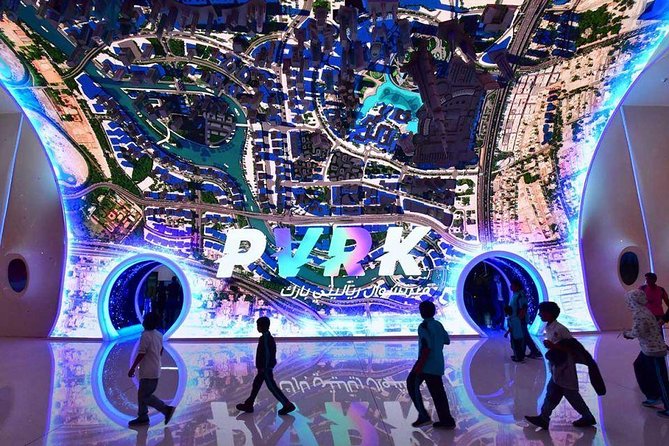 This entertainment destination welcomes adventure lovers of all ages, as they can enter new worlds that they have never experienced, including horror, fun, sports, and much more, and for this, it is also considered one of the favorite family destinations for both residents, visitors and tourists!
Virtual Reality Park games
Virtual Reality Park games include a lot of fantasy areas and adventures, the most prominent of which are:
Play Zone
When thinking about taking your children to an entertainment destination, the Play Zone area comes to the fore, where they will be able to spend the most beautiful times between jumping, running and exploring in different stages!
Minimum height: 95 cm
Game duration: up to 2 hours
Dionne Bash
The excitement in the UAE desert in an SUV is limitless at Dionne Bash. Be very careful! You might hit a tent or a spider might suddenly stick to you!
Min. Height: 110 cm
Game duration: 5 minutes
Active Zone
The Active Zone includes 4 different games that enable you to spend the most wonderful time while you are living the most beautiful moments of your life between imagination and reality. Don't miss the chance to explore Active Zone when you arrive at this fun and entertaining destination.
Min. Height: 100 cm
Game duration: 3 minutes
Drifters
Bumper cars are waiting for you on pins and needles to unleash your stealth skills in an exciting challenge! In fact, Drifters are one of the most preferred destinations for children and adults alike.
Min. Height: 110 cm
Game time: 3 – 5 minutes
Hollow Gate
You and your friends are well prepared to fight zombies, dragons, and robots to destroy them in the Hollow Gate area, which has many surprises that will make you feel as if what is around you is 100% real.
Min. Height: 110 cm
Game time: 3 – 5 minutes
Stealth
Fly high in Stealth and feel like you're on your private plane, and it's okay to shout a little to express how happy you'll feel.
Minimum Height: 105 cm
Game duration: 2 minutes
Para Drop
Imagine riding in a hot air balloon flying over the stunning landscapes. You may think you are about to fall, but don't worry, you are completely safe at Para Drop Virtual Reality Park Dubai Mall.
Min. Height: 110 cm
Game duration: 2 minutes
Black Bridge
We recommend you to try Black Badge, as it is one of the best Virtual Reality Park games in the Dubai Mall. Bring your friends and get ready to ride the elevator to start a powerful war that you have never fought before.
Min. Height: 120 cm
Game duration: 10 minutes
We also recommend that you try Cosmogate to start an amazing space journey, and do not forget the Magic Peaks that will fill you with fun among the clouds of the clear sky, as well as some other wonderful games, such as:
In R Miz
We Play
Virtual Rapids
Arena
Dubai Drone
Drop Tower
Magic Peaks
Flying Chairs
Speedway
House Saber
Ambassador
Hulu Cube
XD Dark Ride
Price
Virtual Reality Park prices vary depending on the type of game you choose! The Virtual Reality Park website includes ticket prices for many packages that may vary from time to time, so we recommend that you follow the latest developments so that you do not miss the opportunity to get a special offer.
Location
The Virtual Reality Park address is easily accessible, as it is located in The Dubai Mall in Downtown Dubai, specifically on the second floor.
Workin hours
You can visit VR Park Dubai Mall at the following times:
Sunday – Thursday: 12:00 noon – 10:00 pm

Last date to enter: 09:30 pm

Friday and Saturday: 10:00 a.m. – 12:00 midnight

Last date to enter: 11:30 pm
Contact
If you have questions or want to know more details about Virtual Reality Park Dubai Mall, you can always contact the following number: