The desire for healthy glowing skin does not always come from wanting to impress someone or to show off, but it helps in boosting your confidence when you know you can wear anything and anytime without thinking twice. For most women, cellulite is a major concern when it comes to skincare. The cellulite build up is a common problem not with just women but with men also, but apparently, the society's beauty standards are set just for women.
Wouldn't it be great if there were some magical products and effective and simple home remedies that can reduce cellulite build up and leave you with spotless firm and glowing skin? Worry no more as you have come to the right place. In this article we are going to share some tips and home remedies along with some product recommendation that will help you in removing cellulite. Here is a list of some of the best products available in the market or online that will eliminate cellulite from your skin and make it firmer within a few weeks.
Honeydew Coconut Cream with Caffeine- Check On Amazon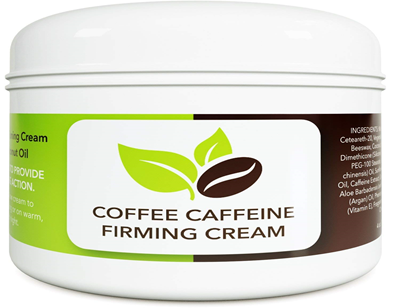 No doubt this cream is one of the best-reviewed creams among many others. A cream that is infused with coconut and coffee is sure to work wonders on your skin; these are proven to help reduce cellulite. It helps in making the skin firmer and tight and also acts as an anti-aging moisturizer for both men and women. The cream is multi-purpose and can also repair UV wrinkles from the face. A quick massage after the application will surely give you the desired results and it is also affordable.
Sol De Janeiro Brazilian Bum Bum Cream- Check On Amazon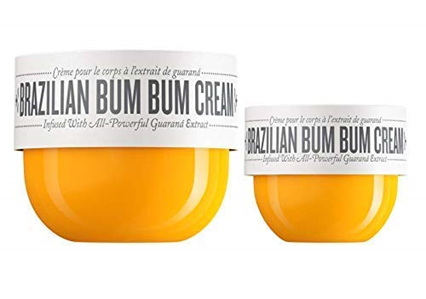 Want a cream that does the work and smells amazing too? This Sol De Janeiro Bum Bum Cream is a bit expensive but totally worth it. Many users have given positive feedback to this cream claiming that it works on the problem areas and reduces cellulite while making the skin softer. It also smells delicious so it can also be used as a night cream for more productive results. Apply in circular motion and massage gently to create warmth for better results.
Medix Argan Oil Cream- Check On Amazon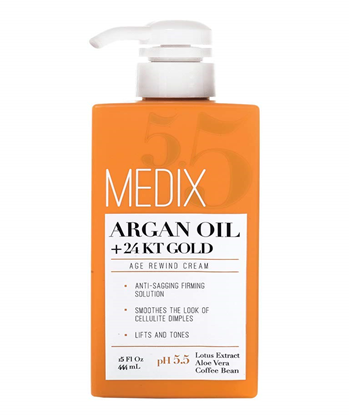 Argan oil is also an effective remedy for cellulite. This Argan Oil Cream by Medix is infused with argan oil along with aloe vera juice, coffee bean and lotus extract to make the skin smooth and soft. It helps in reducing fine line, blemishes, cellulite, wrinkles and hydrates the skin deeply. The 24Kt gold prevents your skin from getting rashes and from other harmful radicals that can affect your skin. The cream is soft enough and can be used as a face cream and body lotion also. with regular usage the cream is also claimed to prevent sagging skin and tones the skin perfectly. Vegan and cruelty free and also free from paraben, the cream is worth to give a shot.
Majestic Pure Anti Cellulite Cream- Check On Amazon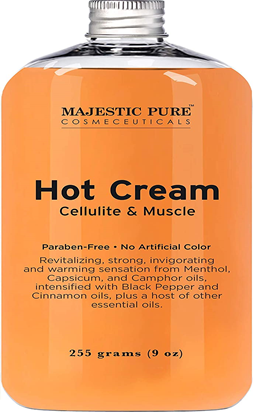 Majestic Pure Anti-Cellulite cream is another one of people's favourite. It contains 87% organic content which is cruelty free and also free of any harmful chemicals. It nourishes the skin and makes it smooth and silky soft. If you want to relax your tired muscles and get rid of that unwanted cellulite, Majestic Pure cream is the answer to your question. Infused with ingredients such as peppermint and pine which are best known to reduce inflammation along with chamomile and eucalyptus which provides relief to sore muscles after a long day at work or after intense workout.
With ingredients such as grapefruit, juniper and rosemary which are known to have skin tightening abilities and thus it reduces cellulite appearance within a few weeks of application. Massage gently on the skin and feel the warmth and delightful aroma of the essential oils around yourself all throughout the day.
Honeydew Hot Cream Cellulite Treatment- Check On Amazon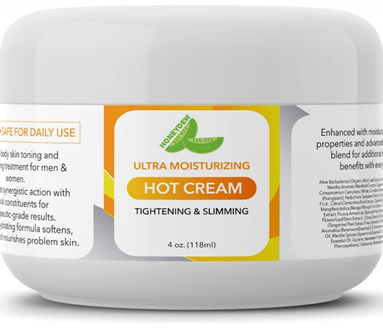 A skin tightening and anti- aging formula, this Hot Cream is enriched with Ginger Lily to help eliminate the cellulite. The Aloe Vera and Meadowfoam seed oil makes your skin soft and smooth and hydrates it from within. Along with cellulite reduction, the formula is anti-aging which is enriched with citrus fruit tangerine and grapefruit which also helps in developing collagen and elastin, the reason for a healthy skin which is devoid of cellulite. The Calendula helps in removing fine lines and wrinkles and makes the skin tighter.
It can be used by men and women both as a massaging cream with Calendula menthol and Camphor for the warmth and lavender for the calming effect and aroma. Rich with anti-oxidants and Vitamins A and E for cellulite reduction and younger looking skin.
Nivea Firming Good-Bye Cellulite Serum Q10 Plus- Check On Amazon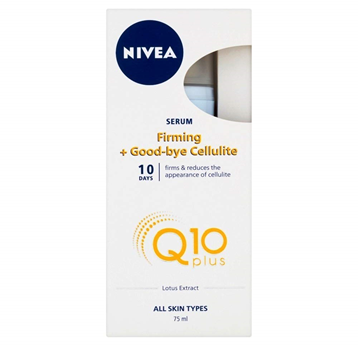 Want a firmer looking skin with no cellulite? Well, this Q10 Firming and Good-Bye Cellulite Cream by Nivea will give you're the desired results in only a few days. It works on your skin and removes the cellulite while making it firm. The formula is packed with L-Carnitine, which is the skin's natural element that helps in converting the fat into more energy. also infused with natural Lotus extract which is known for its ability to prevent the growth of more fat cells. With the regular usage and gentle massage, the serum can prevent cellulite formation on the treated body parts and makes it look firmer and soft.
ReduxCell Body Slimming Caffeine Gel- Check On Amazon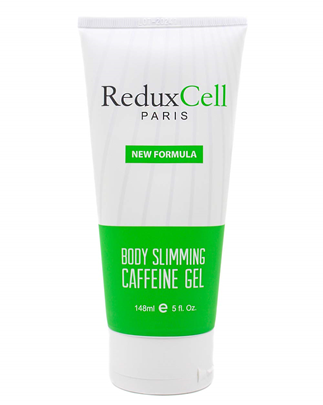 Last but not the least on our list is the ReduxCell Body Slimming Caffeine Gel which is made to help in getting rid of body fat and reducing cellulite all at once. A gentle massage on your belly every day will improve your blood circulation and flatten it within a few weeks. The caffeine present in the formula helps in the reduction of cellulite and reduces stretch marks also. now get a flat tummy with no cellulite and stretch marks and be summer ready with this small investment.
Some Effective Home Remedies to Get Rid of Cellulite
There is no exact scientific information about what causes cellulite but it is the result of deposition of fat between the epidermis and muscle layer of the skin. Women tend to lose muscle mass with age and less use of muscle because of prolonged sitting hours and lack of exercise. Because of this, the muscle layer gets lost and the fat layer takes it place which results in a zigzag pattern in the skin resembling an orange peel.
As we have already discussed, there are many products that can be used for removing cellulite but who doesn't want to save money when there are so many natural ways available for making things done. Here are some simple yet effective home remedies to get rid of cellulite which everyone should try.
Follow a healthy diet and exercise regularly
Doing at least 20 min of aerobic exercises and 20 min of fat burning intense workout at least 3-4 times a week along with eating healthy food would definitely help in reducing the amount of undesired fat and building up muscle mass, which will result in the reduction of cellulite and the skin will grow firm and strong.
Lymphatic Massage
Lymphatic massage is a proven and effective way to reduce cellulite especially in the thigh area. Lymphatic massage helps in the proper circulation of blood and softens the fibres of the connective tissues which causes the cellulite to form bumps. A good blood circulation also prevents elastin and collagen to break down which is an expected cause of the appearance of cellulite.
Bristle Brush
Bristle brush works in the same manner as the massage. It increases the blood flow and makes the skin appear soft. For better results start from under your feet in nice circular motion and continue towards your upper body and the heart, using firm strokes.
Apple Cider Vinegar
You can also look into your kitchen for the remedies to remove cellulite. Apple cider vinegar helps in the detoxification of the body which is very essential because the toxins present inside the body are harmful for fascia which a connecting tissue running through every nook of the body part under the skin. The fats that we eat, increases the amount of toxins on our body which are very difficult to break down. The toxins deform the fascia tissue and thus resulting in the appearance of cellulite. Apple cider vinegar taken with luke warm, water first thing in the morning, will detoxify your body and give you glowing skin.
Seaweed
Seaweed always comes to your aid when it comes to cellulite. It works as a magnet and attracts all the toxins in your body and flushes them out. It has iodine, which is beneficial for your thyroid gland and in turn for your hormonal health. There is an assumption that hormones also have a role in cellulite formation, so maintaining healthy hormones of your body is also important.
Caffeine and Green Tea for cellulite reduction
Green tea is consumed by millions of people for staying healthy and fit. But this morning start can also be consumed for cellulite treatment. Green tea is rich in anti-inflammatory catechins which stimulates the sympathetic nervous system and breaks down more fat by using more energy. This breaking down of fats results in the prevention of fat from clumping under the skin. Another ingredient Coffee can also be used as an exfoliate in the form of scrub or cream which also has some positive effects on reducing cellulite.
Hot Pepper to Reduce Cellulite
Hot peppers are known to increase your body temperature and also your metabolism. It also improves digestive system which prevents the excess cellulite from emerging.
Coconut Oil
Coconut oil has countless benefits and one of them is the removal of cellulites. Massaging with the help of coconut oil can improve the appearance of cellulite. It has moisturizing properties which makes the skin look glowing and more supple and also helps in breaking up the fatty deposits.
Water
This is the easiest remedy to do for removing cellulite. No matter what remedy or treatment you are doing, always drink at least 8 glasses of water every day. Water helps in improving blood circulation and thus reduces inflammation which prevents cellulite build up and gives skin a smoother appearance. Dehydrated skin leads to flakiness which makes the skin dry. So, keep your skin properly hydrated and drink lots of water.
Reduce Weight
The more amount of fat in the body, the more cellulite will appear as they are inter-connected. Thus, reducing weight can also reduce cellulite. But cellulite can appear in a person's skin of any weight. The only option is to do regular exercise and keep a healthy diet in order to reduce cellulite. Exercises such as lunges, squats, skipping, sit-ups are some of the effective measures of keeping the cellulite at bay.
Who does not want a tight and firm skin with no cellulite or stretch marks? Every one right. Follow the above-mentioned tips and use the products listed above to get that firm and smooth skin in no time. Just remember that maintaining a healthy diet and regular exercise is also very important if you want your results faster. But always know that there is no one particular solution for cellulites and every person has a different lifestyle and type of skin. Acknowledging your flaws and keeping up with them is a sign of a confident and happy person.