Halloween is drawing near, and this is the perfect time to hone your creative makeup application skills. On this occasion, the Benefit Cosmetics and regional expert eyebrows at the mark, Yara Ayoub, you would present a distinct view of easy implementation and eye-catching, inspiring them to gain for in their own way Atalaltk! This year, the proposed Halloween look will take you to the forests of Dreamland, with their mythical creatures.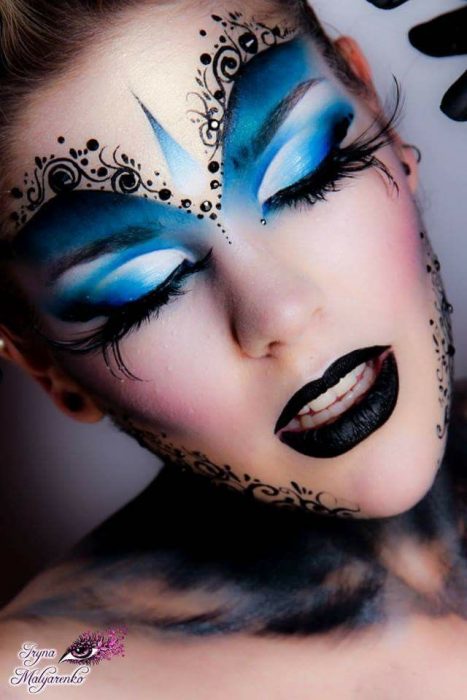 Introducing Yara, the Arabian butterfly of imagination, who spreads peace, love, and gorgeous eyebrows through her pink wink!
Eyebrow products
Brow Micro filling eyebrow pencil
Precisely, My Brow
Clear brow gel 24-hour brow setter
All lotions
Hello Happy Flawless Brightening Foundation
Boi-ing Cakeless Concealer
GALifornia powder blush
Gogotint lip and cheek color
Cookie powder highlighter
Tickle powder highlighter
BADgal BANG! Volumizing eyelashes
California Kissin 'Colorbalm Lip Balm – Nude-Pink
Steps
Start with your usual steps to apply foundation and concealer.
Use a creamy eyeshadow in a bright color, and apply it all over the eyelid, spreading it across the fold.
Add some sparkle to the inner corner of the eye by using your favorite glitter.
Now it is time to apply a light-colored eyeliner! Draw a double-winged eyeliner and pin a few crystals over it for a special touch. It's Halloween after all!
Apply a super-volume boosting effect mascara like BADgal BANG! From Benefit, then enhance it further with the addition of prominent false eyelashes.
Then, magically apply the contour! Apply Gogotint Lip and Cheek Tint from Benefit on the forehead and cheekbones, as well as use a creamy contouring product, and apply it very well. 
Then highlight the contour by applying your favorite pink blush powder for a flawless look. We used GALifornia powder blush.
Spread Tickle Highlighter Powder on your cheeks. But we know all too well that one highlighter is not enough! So, add a pinch of Cookie highlighter powder on top for a touch of magical glow.  
Now, it is time for the most important part: your eyebrows! Start a fictional butterfly with the naturally intense effect you will achieve at home thanks to Benefit's Brow Micro filling Pen. For more volume and appeal, use the Precisely, My Brow eyebrow pencil. Then brush your eyebrows upward with the 2 4 Hour Brow Setter Clear Brow Gel.  
Finally, color your lips with a dewy pink balm-like Benefit's California Kissin 'Colorbalm, in Nude-Pink.