The inspiration for this legendary powder that revolutionizes makeup came during a trip to the heart of the desert. In 1984, was able Gerland Guerlain capture the reflections of the sun across the vast dunes, and through the reflections of these shadows the many diverse and bright sunny light placed on the sand areas, was invented Terracotta Warriors, the first natural powder to promote tanning.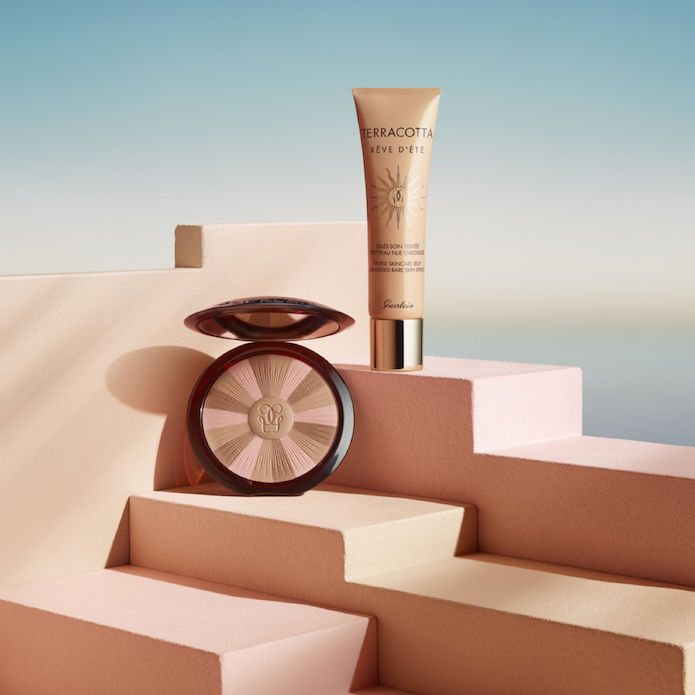 Women immediately adopted this powder for its natural effect which, in just one step, can illuminate their complexion regardless of their skin tone or at any time during the year, to the point where Terracotta quickly becomes a universal cosmetics of indispensable beauty. Terracotta began to be replicated on a large scale, but for its quality has remained unchallenged. Terracotta products are sold every 30 seconds worldwide and have since become the standard for all tanning enhancing powders.
The Terracotta Revolution continues
Thanks to the new composition of the legendary powder that reflect and confirm the commitment of Dar Gerland natural resources were broken new boundaries by using 96% of the derived ingredients naturally 1. Terracotta, with its delicate sensual feel and an impressive unchanging natural bronze effect that provides you with a comprehensive result and better fusion with the skin than ever before.
Bronzer Glow Boosting Tanning Naturally Extracted
The new Terracotta Tanning Enhancing Powder is embracing the earth more closely than ever. This is what makes it the best, cementing its success for 40 years and confirming its uniqueness even more. Today, the naturalness of this preparation has been increased to include 96% naturally derived ingredients 1. An exclusive formula that includes bright shine and naturally derived pigments for a legendary finish.
In addition to the echoes and reflections of the desert origins that were the inspiration for this radiant powder, Guerlain – for the first time – added several drops of natural Moroccan argan oil known for its rich nourishing properties. Fulfilling the Maison's obligations, Guerlain has chosen the Targanine network of cooperatives as the source for this natural argan oil. A network that was established more than 15 years ago which, in addition to producing ingredients derived from nature, also participates in protecting the local resources of Moroccan lands and works to create stable job opportunities in rural areas. Terracotta Terracotta has nothing to hide as the remaining 4% of ingredients have been meticulously selected to ensure a perfectly preserved formula and a flawless chic feel.
An exceptional fusion with the complexion
More natural resources, for smoother, skin-correct makeup results. To create this naturally derived formula, Guerlain has created an amazingly smooth powder complete with mineral pigments and glowy shimmers that blend perfectly with the skin to ensure a radiant bronze finish. This tanning booster bronzer finish has never been this close to a natural bronze complexion. It does not leave any sensation of the product on the skin. Perfectly even and toned complexion, perfectly golden in color.
To accompany this new terracotta era, Guerlain has created an entirely new brush specifically formulated to increase the fusion of terracotta smoothly with the skin.
The ultra-soft bristle brush has been recreated with ultra-soft fibers that last longer. Made for the perfect finish, it delivers a powdery light scarf that ensures a flawless, flawless finish on the skin. In addition, to get the correct way to give your skin a natural glow bronze and acceptable Balsmrh, national adoption "Gestures No. 3 ", the secret Gerland which remains the first step in achieving flawless application.
A secret of beauty handed down for generations
Terracotta has become – and over the years – a revolutionary bronze powder that adheres to tradition. Friends, sisters, moms, daughters, men and women alike have all been deeply impressed by the natural bronze skin for the sun-kissed look that this compact and legendary formula provides. A precious secret, Terracotta is available in three different intensities (light, medium, and dark), each available in two base colors, (cool and warm). Designed to adapt to all skin tones, these six shades make Terracotta the world's best tanning booster bronzer.