If you haven't watched 'Corona Zombies – The Invasion Begins' yet, this is the right time you watch it. The world is still stammering around the Covid-19 spread, this film, although has so many absurdities, still it is thought provoking. But while the movie takes us through the thoughts that how zombies and corona are connected, the Center for Disease Control and Prevention (CDC) has working solutions for such a zombie attack.
Most of us believe in the notion: 'anything can happen'. So, one should never be laughing at the question: Will there be a zombie apocalypse? That is why people always warn that the world should be prepared to face and counter a zombie attack, which is much worse than this Covid issue.
This is why it is interesting and at the same time, nerve thrilling that the CDC, a premiere organization in the world for healthcare, has suggested working plans in the case of such a zombie massacre. "The rise of zombies in pop culture has given credence to the idea that a zombie apocalypse could happen. In such a scenario, zombies would take over entire countries, roaming city streets, eating anything living that got in their way," the CDC authority posted in their online blog.
"You may laugh now, but when it happens, you'll be happy you read this, and hey, maybe you'll even learn a thing or two about how to prepare for a real emergency", the blog continued.
The CDC has advised to keep in hand, an emergency kit that includes the following particulars, in case of a zombie attack on humanity:
Food and water (about four litres per pesson on one day)
Medicines (with prescription and non prescription ones)
Sanitation and hygiene (soap, bleaching powder etc)
Tools and supplies (knives, battery, phones, charger etc)
Clothes and other wearables (dresses for all persons and blankets)
Important documents and files (identification certificates, passport, driver's license etc)
First aid box (that contains necessary things to control a trauma)
"Although you're a goner if a zombie bites you, you can use first aid supplies to treat basic cuts and lacerations that you might get during a tornado or hurricane," the CDC stated. With this emergency kit, every family should be ready with a plan, as per CDC statements. "This includes where you would go and who you would call if zombies started appearing outside your doorstep. You can also implement this plan if there is a flood, earthquake or other emergency."
But the serious part of CDC's guidelines is the moment we understand that all those emergency kit and red flags are applicable in case of other emergencies like flood or earthquakes and not just zombie apocalypse alone. CDC also advices a prior understanding between the members of a family to assemble at some rendezvous point during an apocalypse.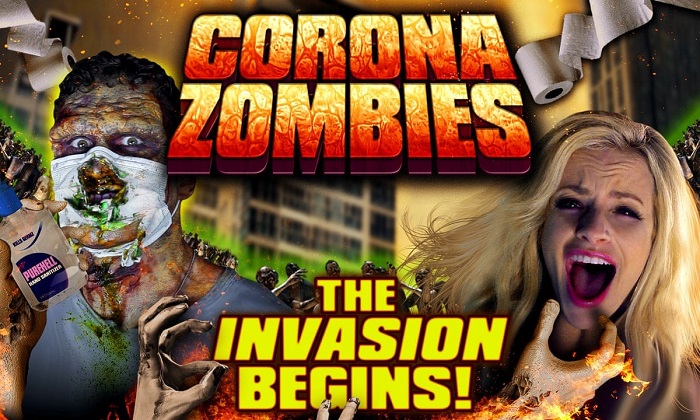 "Pick one place right outside your home for sudden emergencies and one place outside your neighbourhood in case you are unable to return home right away. Also, identify emergency contacts. Make a list of local contacts like the police, fire department and your local zombie response team. Also identify an out-of-state contact that you can call during an emergency to let the rest of your family know you are OK," says the CDC.
The final guideline from CDC is to plan an evacuation route. "When zombies are hungry they won't stop until they get food, which means you need to get out of town fast," the CDC stresses. "Plan where you would go and multiple routes you would take ahead of time so that the flesh eaters don't have a chance. This is also helpful when natural disasters strike and you have to take shelter fast."
The CDC recommends such an evacuation strategy to be compulsorily taught in school education systems. It is the responsibility of a state to make awareness in its citizens about preparing to face an emergency and a rapid response during a havoc. Practical demonstrations and emulations will be helpful for students to learn these in a quicker and efficient way.
The CDC even recommends the people to read the novel Preparedness 101: Zombie Pandemic. CDC remarks about the novel that it "demonstrates the importance of being prepared in an entertaining way that people of all ages will enjoy". The novel has described an evacuation checklist which would be helpful for the family members to effectively face a disaster.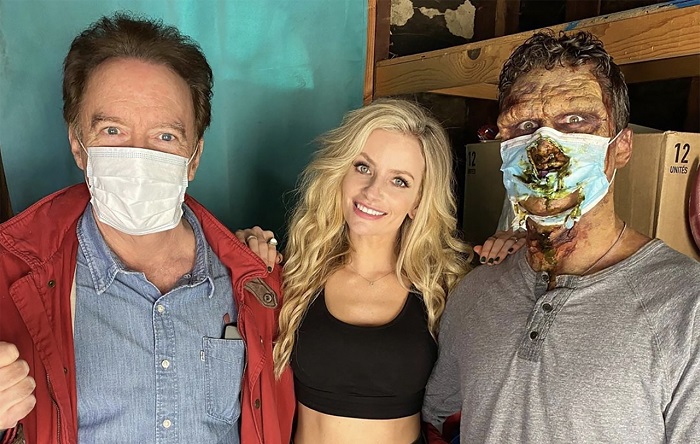 The CDC remarks became viral in publicity when the movie Corona Zombies was released somewhat at the same time. This film is available at an OTT platform 'Full Moon Features'. You can subscribe this platform for AED 25 per month or AED 215 per year with a free trial period of one week. The movie was released on last Friday.
The film was casted in solo by Cody Renee Cameron, and all the personnel behind the production were in isolation during the shooting. Miss Cameron does the role of a girl Barbie, who lives in a trailer park in Santa Monica. She was about to start a new supermarket across the street and that is when the news of zombie outbreak reaches her through a friend.
Barbie learns about the outbreak of the zombie virus and its fast spread. She understands the importance of social distancing and how deadly the plight of man in this world is. What next is, the arrival of a corona squad, whose task is to eradicate all the zombies from the earth. In one scene, as the news channel shows a clip of some women being attacked by a horde of zombies, the anchor stresses how moments like this only are enough to show "social distancing, washing hands and certainly steering clear of soup are the new norms".
The movie is certainly of a spoof kind, but the coincidence of CDC's zombie attack guidelines and the corona zombie movie at the same time makes us feel everything, a little awkward. If you are a fan of zombie movies, you watch this movie, otherwise you can run. But how to face and resolve such dangers on human kind should be the lesson that we all need to study, at this point of time.