Eid is not only an enjoyable time with family and friends, in order to renew activity and relaxation, especially after a full month of fasting. Here, we will offer you options that you can take advantage of in order to spend the Eid vacation in Ras Al Khaimah without the need to make plane reservations and wait at the airport for long hours. Where Ras Al Khaimah hotels vary from those that offer a complete package when reserving a room, for breakfast, lunch and dinner buffets and side meals, and others are limited to one or two meals only.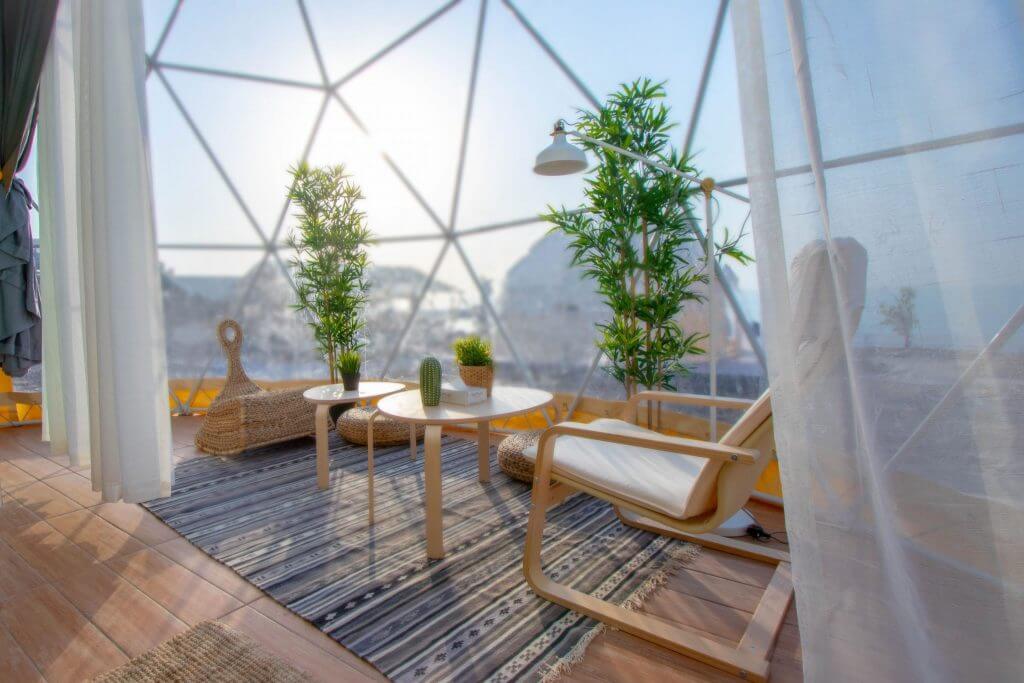 EID VACATION IN RAS AL KHAIMAH
Ras Al Khaimah is famous for its charming coastline and stunning natural landscapes, in addition to the calmness that clouded its atmosphere, which made it rich in a group of residential areas that have become very popular among the residents of the emirate.
THE COVE ROTANA RESORT
The first in the list of favorite hotels for the Eid vacation in Ras Al Khaimah is the Cove Rotana Resort designed in an Arab contemporary way, which staff and management pledged to provide the most luxurious and finest services to visitors, from food buffets to the cleanliness of swimming pools as well as direct access to the beach near the resort .
The hotel embraces two restaurants and 4 bars
Body Podlines Wellness and Sports includes 7 massage rooms, 2 swimming pools, a kids club, and a gym
Location: Sheikh Muhammad Bin Salem Street – Al Dhait South
Restaurants: Breakers Bar & Lounge, Breeze Bar & Lounge, Cinnamon Restaurant, Basilico Middle Eastern Restaurant, Laguna Bay Bar Sunset
Room rates: 999 AED / per night
Contact: 6000 206 07
RIXOS BAB AL BAHR
This hotel holds entertainment events throughout the year, as the lobby lounge welcomes Eid Al Fitr through a set of activities embodied in karaoke, live music, jazz nights and game of Hazazir. In addition to the Rixi Kids Club and the health club of the resort, which provides the best and finest services from massage to various skin treatments.
Location: Al Marjan Island
Restaurants: BBQ Restaurant, Seven Heights, Fish Boone, Meet Point, and Lolo Restaurant
Room rates: 1300 dirham / per night
Contact: 0000 202 07
WALDORF ASTORIA RESORT
We are following the list of suitable hotels for the holidays in Ras Al Khaimah 2019, to reach the resort of Waldorf Astoria, which is in the middle of the sea and surrounded by rugged mountains, in addition to adjacent to the golf club, which includes 18 golf courses. The resort also hosts an award-winning spa health club and 10 restaurants run by the most important and famous international chefs, to serve the most delicious international dishes from around the world to satisfy all tastes.
The resort provides a private bus that transports hotel visitors on Sunday and Thursday from the hotel to the Dubai Mall
Location: Vienna Street
Restaurants: Diwan, Murjan, Qasr Al Bahr, Umi, Lexington Grill, Peacock Mechanic and Camellia
Room rates: 1600 dirham / per night
Contact: 07 203 5555
THE RITZ-CARLTON
Available in this upscale and luxurious hotel is a range of activities that enrich the holidays in Ras Al Khaimah 2019, from camel rides, going on a fishing trip, watching falcons, and shooting. This hotel is a desert valley "desert valley", and therefore includes many rare birds and desert animals such as the Arabian Oryx. The resort's health club combines world-class therapeutic technologies from Mexico, Bali, India, and the Philippines.
Location: Mazraa, Wadi Khadija
Restaurants: Farmhouse, Kahila Restaurant, Maurice, Moon Bar, Can Zaman and Lobby Lounge
Villa rental price: 2000 dirham / per night
Contact: 07 7777 206 07
HAMRA RESIDENCE AND VILLAGE
As the name of the hotel suggests, it is located in the village of Al Hamra, rich in real estate for rent. As for the hotel, activities vary from karaoke nights to tennis courts, swimming pools, and health club.
Location: Al Hamra Island, Ras Al Khaimah
Restaurants: The Italian Restaurant Morgan and The Village
Room rates: 300 dirhams / per night
Contact: 07 222 206 07