The United Arab Emirates is a Muslim country which follows the Sha'aria law. All tourists and residents are required to dress modestly, no matter how hot the climate. That is why a lot of people wonder how to dress in Dubai before they book their trip.
A tourist will not end up in prison if they aren't dressed properly. They might get some stern looks from other people and a security guard would kindly advise them to cover up but it's not worth offending the locals.
When you're visiting any country, it's always good to obey their laws and respect the local culture. So let's take a look at how to dress in Dubai.
Weather in Dubai
It's very comfortable to visit Dubai between November-March.
These are the cooler months when most tourists arrive because it's easier to do more outdoor activities. The temperatures during these months can be between 20-35 Degrees Celsius.
From April-October it can be very hot and sticky. The hottest months are from May-September. That's when the temperatures are around (35-55 Degrees Celsius).
It's essential to find the right balance between modesty and dressing comfortably, especially during the summer months.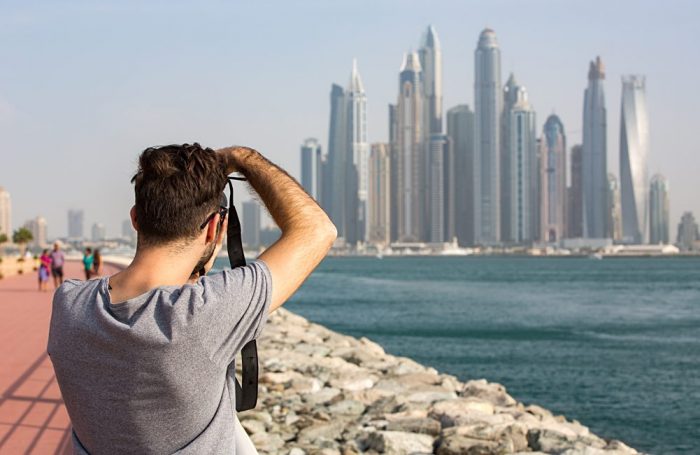 Dubai is the most liberal city in the United Arab Emirates. It's nothing like Saudi Arabia, so you don't have to wear clothes that are too conservative. Women are allowed to show their hair, arms, and legs. There's no objection to that at all. But there's a limit.
Why Does Dubai Have Clothing Rules
A lot of people ask what can you wear in Dubai. When it comes to finding the right clothes to wear in Dubai, it's not the Sha'aria law that solely determines the dress codes.
Dubai is a very family-friendly city. The government expects Dubai clothing to be modest to protect families and their children.
A lot of kids are raised in conservative homes. They don't want to see people wearing speedos or bikinis at the mall, no matter how lit your summer bod is.
That's the main reason behind the clothing rules in Dubai. When you're packing outfits for your trip, think about what's appropriate enough for children to see you wear in a public place.
What Should Tourists Wear in Dubai?
It depends on where you are planning to go.
Some areas of Dubai are more conservative than others. If you are in Jumeirah or Downtown Dubai, you'll see people dressed more casually.
If you go to some parts of old Dubai, such as the Spice Souk, it's wise to dress more modestly.
The summer months in Dubai can reach up to 55 degrees Celsius.
The heat can be very overpowering, making it difficult to breathe. It's best to wear light and airy cotton clothes because you will sweat a lot!
Since it's so hot outside, all the indoor spaces have the air conditioning on full blast, and it can feel very cold. This has always been a problem for people in Dubai.
Shopping at the Mall
Local families are often shopping at malls across Dubai. You can dress as casually as you want, as long as it's appropriate. You can wear shorts in Dubai. Even skirts, if they are at knee length and not shorter than that.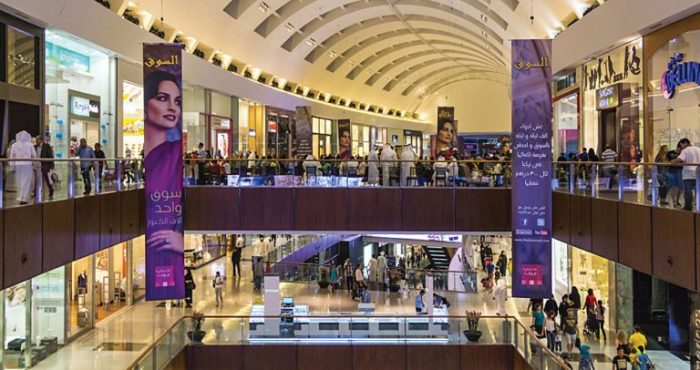 Dubai Women's Clothing: What you CAN wear
Knee-length dresses with short sleeves, or sleeveless
Pants
Jeans
Shorts and skirts
Any tops and tank tops
Any shoes, flip flops like Havaianas buy in the US/UK, sandals, etc
Dubai Women's Clothing: What you CANNOT wear
Dresses that are too tight and fitted
Clothes that are see-through
Swimsuits and bikinis
Tops where your bra can be seen
Any clothes that reveal too much cleavage
Shorts or skirts that are too short
Clothes that do not cover the midriff area


Dubai Men's Clothing: What you CAN wear
Cotton Pants
Jeans
Trousers
Shorts knee length
Any shirts and t-shirts
Singlets/tank tops/vests as it's not too low
Any shoes, sandals, flip flops, etc.


Dubai Men's Clothing: What you CANNOT wear
Singlets which hang too low, no nips
Any shirts or pants that might be see-through
Tight pants – no one cares if you have a good-looking backside like David Beckham
Shirts that are too small and reveal your tummy, soz Dad bods
Swimsuits
In the malls in Dubai, you can wear anything that makes you feel comfortable. Just be mindful of the fact that there are a lot of families and children there.