The British newspaper "Daily Mail" reported that three letters in the handwriting of the late Princess Diana, which were sent to her close friends who helped her during her separation from Prince Charles, are offered for sale at auction.
Princess Diana's letters highlight the importance she attached to her friends, including one sent to the wife of the Brazilian ambassador to the United Kingdom, Lucia Felicia de Lima, the newspaper reported.
She described Diana, Lucia, after their first meeting on April 1991 as a "wonderful lady" and had a great influence in her life. Diana wrote another letter on May 1992 to her boyfriend Roger Bramble, the former Mayor of Westminster, during which the princess talked about the lunches and champagnes they used to enjoy.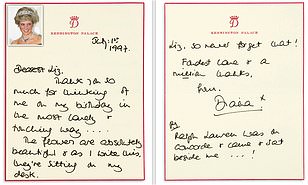 The third letter refers to her two children, Princes William and Harry, as she accompanied them to lunch in the ballroom with Lucia and Roger who received the Order of the Southern Cross from William on October 1993. "The boys were happy to be included in this adult conversation, it's an indelible memory," Diana wrote.
The British newspaper reported that these three letters will be sold at auction in Cornwall on March 18.  The three letters, handwritten by the late princess on a notebook titled "Kingston Palace", are sold individually for a price range of £ 800 to £ 1500.
"Princess Diana's sense of isolation during her marriage is well documented," said auction seller Mimi Connell Lay, noting that she had few close associates, and considered her friend Lucia Felicia de Lima as one of the most important people in her life.