Another goal of classic nature has been recorded in the football world when Nadiem Amiri of Bayer Leverkusen scored a goal against Eintracht Frankfurt in Bundesliga.
Florian Wirtz showed composure and vision to clip a ball to Nadiem Amiri as he burst in to the Frankfurt box. But what happened next was something close to genius. Amiri took a silky first touch on the turn, losing his marker in the process. If that was good, drawing out goalkeeper Kevin Trapp before nutmegging him with a backheel was truly exceptional. Watch video of this marvelous shot:
For all the artistry involved, it remains just one goal and, for this Leverkusen team, that's often not enough. Just as they had against Bayern, Bosz's side took their foot off the gas after leading and allowed Amin Younes to stroll through the center of their defense unchallenged and stroke home a first Bundesliga goal since 2013.
The spectacular goal by Amiri was all in vain when Frankfurt club defeated Leverkusen for 2-1 in the end. An early lead, secured by a moment of attacking brilliance, undermined by a string of basic errors that lead, ultimately, to defeat. Bayer Leverkusen at the start of 2021 look very much like Bayer Leverkusen at the end of 2020.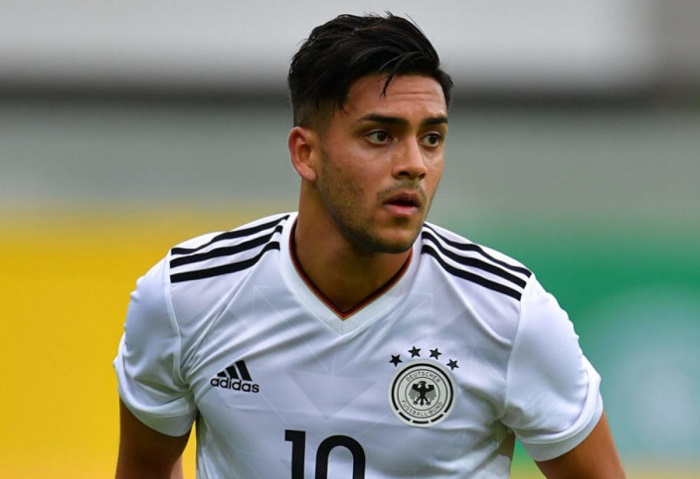 A late defeat to Bayern Munich meant Leverkusen weren't able to head in to the early and shortened winter break on top of the pile but Peter Bosz's side got another chance on Saturday, with the champions playing a day later. They couldn't take it. If that loss to Bayern was frustrating, this one felt more damaging. Frankfurt had won just three of their 13 games before this and found themselves behind again after a goal of rare brilliance.
"Unfortunately, after the lead, we were somehow too loose and too relaxed with the second ball," lamented midfielder Julian Baumgartlinger after the game. Despite that, Amiri and Wirtz were the men controlling the game and with Patrik Schick and Leon Bailey offering support, Leverkusen's threat was clear. But so, once again, was their Achilles' heel.
For Lukas Hradecky and Jonathan Tah against Bayern Munich, read Mitchell Weiser and Edmond Tapsoba against Frankfurt. First Weiser failed to control a regulation crossfield ball, then Tapsoba, stretching to clear the low cross, diverted it in to his own net. "They [Frankfurt] were fully switched on, are extremely strong in duels, and we couldn't really counter it," admitted Amiri afterwards.
Perhaps a side who produce individual errors so consistently were never truly capable of challenging Bayern for the title, and there's no real reason why they should. But for fans of German football starved of competition at the top, a side with such talents had looked equipped to make things interesting.
Detailed game timeline:
The German giants were taking on Eintracht Frankfurt on Saturday afternoon, and although they surrendered the opportunity to leapfrog Bayern Munich at the top of the Bundesliga by slipping to a 2-1 defeat, they treated viewers to one of the goals of the season.
With the game poised at 0-0 after only 10 minutes, Amiri decided to flip the world on its head with a moment of genius, brilliance, quick-thinking and next level composure.
Youngster Florian Wirtz collected the ball on the right-hand side, and cut inside looking to hurt the Frankfurt defence. The teenager drifted infield, and upon spotting a piercing, vertical run by Amiri, opted to delicately clip the ball into the German's path.
A nice idea, but the execution wasn't quite there. The pass fell just a touch short of the midfielder, and his bursting run meant that the ball dropped behind its target.
But greatness laughs in the face of adversity. Amiri recognised that the ball's trajectory was slightly off, and rather than stopping in his tracks or trying a first-time pass to a teammate, he decided to take matters into his own hands.
Amiri half-swivelled, now with his back to goal, and stuck out a right boot to bring the dropping ball under his spell. The attacking midfielder's majestic touch sent the ball spinning through the onrushing defender's legs, killing all the pace on the pass and leaving the bamboozled marker desperately scrambling to try to recover possession.
Amiri was too fast, though. He pirouetted and raced onto the ball, but the goalkeeper was equally as alert, sprinting out and spreading himself to cover the goal. Not one to miss out on scoring the goal of his career though, Amiri simply took another touch to widen his angle, and executed the cheekiest of back-heels, squeezing his shot through the shot-stopper's legs.
A Bergkamp pirouette, a double nutmeg, and a back-heel all in one goal. You couldn't ask for a better way to kick off the Puskas award for 2021. We may have already seen our winner.
The 24 year old young footballer joined  1899 Hoffenheim in 2012 from Waldhof Mannheim. He made his Bundesliga debut on 7 February 2015 against VfL Wolfsburg in a 3–0 away defeat. Amiri recorded his first goal of the season and for his club in a 3–3 draw to Borussia Mönchengladbach on 28 November. On 30 April 2016, he scored the winning goal in the 84th minute to defeat FC Ingolstadt 04 with a 2–1 victory. On 12 June 2017, he signed a contract extension which lasts until 2020. On 20 October, Amiri scored a goal in a 3–1 UEFA Europa League victory over İstanbul Başakşehir F.K. and sealed their club's first ever victory in Europe.
Amiri signed a five-year contract with Bayer Leverkusen in July 2019. Amiri made his debut for Germany under-21 in March 2016, coming on as a late substitute in a European U21 Championship qualifier against Russia under-21. He was the part of the Germany under-21 team that won the 2017 UEFA European Under-21 Championship by defeating Spain under-21 in the final. He made his Germany national football team debut on 9 October 2019 in a friendly against Argentina. Despite being invited to join the Afghanistan national football team he decided to play for Germany. He substituted Julian Brandt in the 66th minute.
Amiri was born in Ludwigshafen to Afghan parents whose root was at Kandahar. His cousins Zubayr Amiri and Nauwid Amiri also play football.
Amiri's parents fled war-torn Afghanistan in the 1980s, settling in the city of Ludwigshafen am Rhein. It was there that Nadiem was born in October 1996, and there – thanks to his parents' hard work and sacrifice – that he was able to pursue his footballing passion.
"It's very hard to be forced to leave your family at a young age, and go to a foreign country where you don't speak the language," he admitted in an exclusive interview with bundesliga.com. "But my parents were determined to make something of their lives. To do that you need willpower, you need heart, you have to be ready to work and learn the language. You can't just wait for a solution to pop up out of thin air."