Monday, National team for fencing for young people and juniors started its closed camp accompanied by the Egyptian team in the Olympic Center in Maadi in preparation for participating in the World Youth Championship for Fencing that will be held in the covered hall at Cairo International Stadium during the period from 3 to 11 April under the patronage of Dr. Mustafa Madbouly, Prime Minister of the Arab Republic of Egypt, with the participation of 800 players from different continents of the world.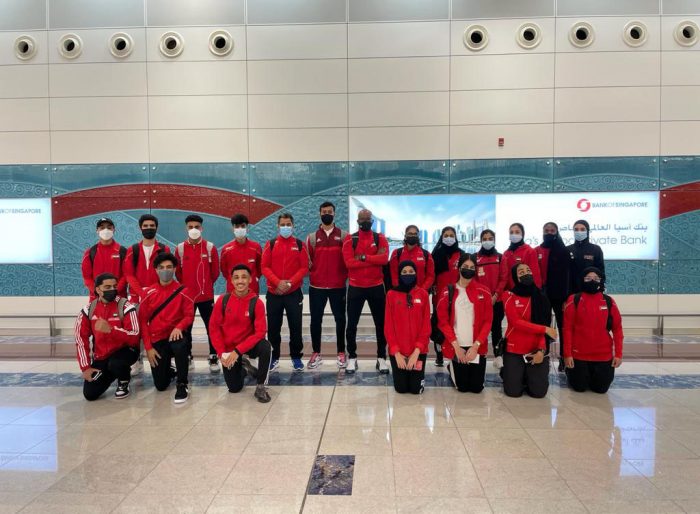 The UAE national team mission, which is the largest, to participate in an external event after the emergence of the Corona pandemic 27 players, administrators and coaches left Sunday, to Cairo from Dubai airport, and was accompanied by a number of players from Sharjah, Baniyas and Fujairah clubs to take advantage of the external camp.
The delegation of the fluorescent weapon included the players Zainab Musa, Shahd Khurram, Noura Al-Breiki, Fatima Al-Kaabi, and the players Khalifa Al-Kaabi, Abdullah Ahli, Shihab Al-Jaabi and Muhammad Al-Sayegh, in addition to Hamad Al-Jallaf and Abdul Rahman Al Hosani to benefit from the camp and gain international experience. In the weapon of Iybe, the delegation included Sheikh Al Zaabi, Zainab Al Hosani, Aisha Obaid, Fajr Al Marzouki, Saif Ahmed, and Maid Muhammad. The mission was accompanied by trainers Osama Adel and Ahmed Musa, and the administrators Khalifa Al Zarouni, Sheikha Al Shamsi, Maryam Ibrahim and Assila Al Zaabi.
Khaled Mubarak and Ahmed Al-Hammadi will join the mission on April 1, and brothers Khaled and Omar with weapons on April 7. Engineer Sheikh Salem bin Sultan Al Qasimi, President of the UAE and Arab Federations, Head of the Emirates Mission, will also head to Cairo during the tournament, to witness part of its competitions and receive the championship flag at the closing ceremony to host the next edition in the UAE in April of 2022.
Dr. Hoda Al Matroushi, Secretary-General of the Emirates Fencing Federation confirmed that she will attend the opening ceremony of the championship on April 3, pointing to the great cooperation with the Egyptian Federation, which will necessarily be reflected in the level of the UAE players through the establishment of the joint camp in the Olympic Center in Maadi, before participating in the World Championship, and that the benefit It will be great, whether from the outside camp, or from the tournament itself, as the strongest tournament in the world for this category of players and players, as they are all in the stages of gaining international experience.
She indicated that the Federation's Board of Directors, headed by Engineer Sheikh Salem bin Sultan Al Qasimi, is keen to extend bridges of cooperation and partnership with successful federations everywhere to exchange experiences and camps, and to benefit from their experiences. It is also keen to organize and host major tournaments to confirm that the UAE is an important regional center for the sport of fencing.
Al-Matroushi said: "We are in constant contact with the organizing committee of the world championship in Cairo, to check on the implementation of the health protocol to protect players, and there is great concern from it to the success of the event and to provide the highest quality standards in the protection and preservation of players and players through the application of the system of isolated areas" bubbles "to prevent The mingling of players and players with anyone outside the tournament, subjecting everyone to daily checks, and sterilizing all areas involved in the tournament, and Egypt had previously remarkably succeeded in organizing the World Handball Championship and the Arab Rugby Championship according to the same approved medical protocol, and for the camp, it has already started today in the center. "The Olympic Games in which the players reside until April 3, then the mission will move to the championship hotel near the hall of the Cairo International Stadium to participate in the event according to strict procedures, and this will be the first participation of our team in a tournament held with the bubble system."
She added: "Despite the exceptional circumstances of the Corona pandemic, this tournament will be attended by missions from 55 countries around the world, with a total number of players reaching 800 players, and we aim to give our players international experience and achieve an honorable presence in the competitions, and as soon as Engineer Sheikh Salem bin Sultan Al Qasimi receives For the knowledge of the tournament to host it next year, we will redouble efforts to prepare for it, because we are always keen on making any event hosted by the UAE successful, and bringing it out in the best way, especially as it is a global event. "