You all are well aware of Dubai's luxuries and ultramodern infrastructure, and perhaps this is why it is called the city of dreams by travelers. The city is filled with striking skyscrapers and hotels that are accompanied by lively nightlife. And the best part is it just not amuses we adults but it has a lot for kids activities as well. So, here is a list of newly opened spots for family entertainment in Dubai. And a few of them are just meant just for kids as well but with full safety measures.
Family Entertainment Spots In Dubai
Aventura Park
If you are looking for a place to chill along with your kids and spend a good family time, then Aventura Park is your destination. It is the Middle East's largest treetop adventure and Zipline park. It spans over 35,000 square meters in the astonishing Ghaf forest zone.
Aventura includes a team-building park, a natural trail (representing flora and fauna of the UAE), and a Cafe providing the best food and services. Other than this, there are 24 ziplines, 6 circuits, 80 obstacles, and 1640 games.
All in all, it is a great place to spend quality family time. And it is also a place where not just kids but even you can enjoy camps, events, nature, and field trips.
https://www.aventuraparks.com/
August & September: Open Wed, Thu, Fri, Sat 5 pm-midnight
Jungle Bay Waterpark
If you want to visit a place where you can chill with a beachfront view, then Jungle Bay Waterpark should be your destination for family entertainment in Dubai.
This amazing water park is located in the Meridien Mina Seyahi Beach Resort and Marina. With the lighthouse slide, water slides, the wave pool, and private cabanas, Jungle Bay can turn out to be a perfect place to enjoy.
Surely with this much enjoyment at one place, you and your kids are not going to regret it. Book your tickets now!
https://www.junglebaywaterpark.com/
10 AM – 6 PM
Pricing: 200 AED for adults and 100 AED for Kids (on weekdays) and 250 AED for adults and 125 AED for Kids (on weekends)
Splashers Lagoon and Splashers Cove at Atlantis Aquaventure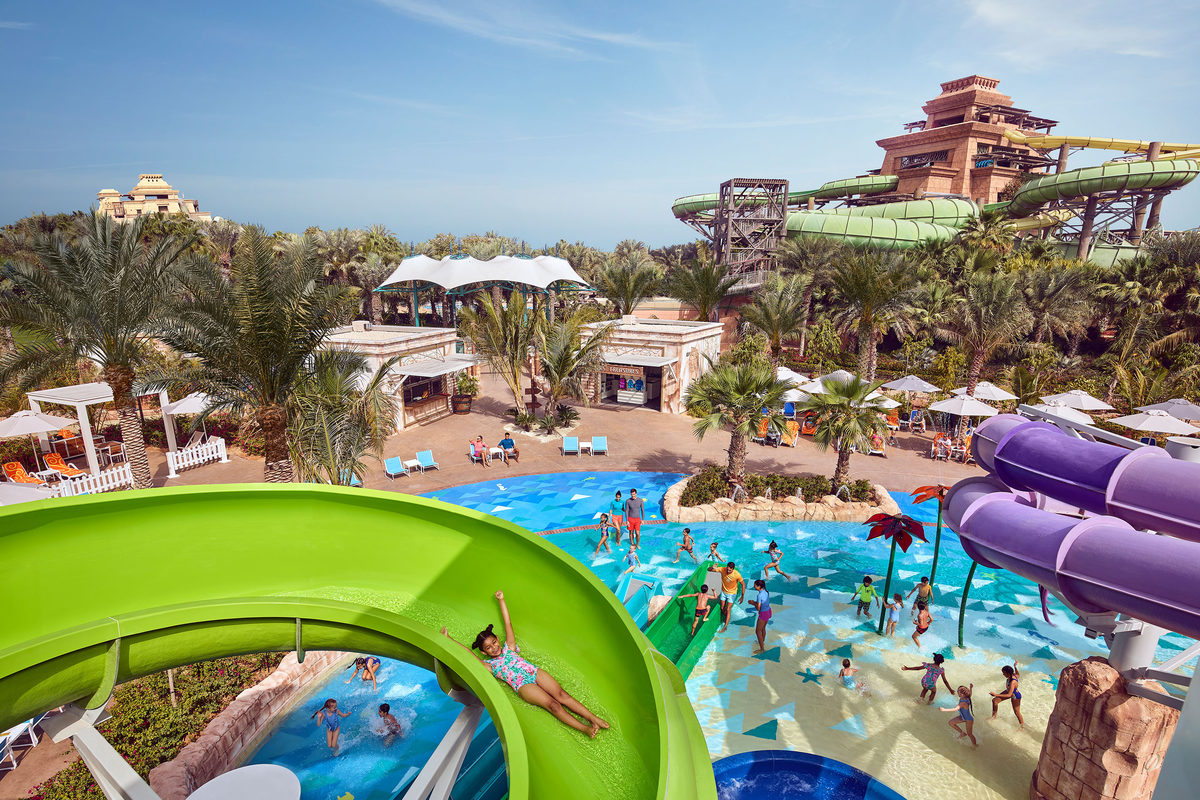 While you enjoy, it is also important and a duty that even your little ones also have a day to remember.
Hence Aquaventure has opened brand new spots, especially for kids. These include Splashers Lagoon and Splashers Cove. It has more than 16 fun zones, including the world's first kid's rally-racer and tornado slide. I am sure the kids will crave to live as long as possible.
The best part is the park has taken care of kids' safety in this area. The lifeguards are always alert and patrol as far as the eye can see.
https://www.atlantis.com/dubai/atlantis-aquaventure/aquaventure-waterpark/splashers
Pricing: AED 169 for adults and AED 149 for children.
The Green Planet
This is the best place if you are a nature lover and want to explore an indoor rainforest. The visitors get a chance to look at over 3000 plants and swim with Piranhas. What you can find most amazing is feeling the thunder and experiencing the magic of the tropics. You can also get a chance to explore the activities of rainforest animals.
Last but not least, the hospitality provided by the staff is so generous that one may remember it forever. And you know what? UAE's healthcare workers get a special offer to the indoor rainforest.
https://www.thegreenplanetdubai.com/en
Daily – 10:00 am – 6:00 pm
Tickets starts from AED 120
Ready Set Go In Al Quoz
This is a new and one of the largest indoor play areas where kids between the age of 1 and 12 can go and have fun. This is a built-in 2274 sqm. It is a jungle-themed destination with a play area, five role playrooms, and a trampoline park.
The play area includes a range of activities, including spiral slides, rope bridges, snake and spider towers. Including everything and a kid-friendly environment, this could be a great place for your kids.
https://www.facebook.com/readysetgodubai/
Daily: 9 AM to 7 PM
Tickets start from AED 190.
Final Words
Dubai city is full of marvelous well-engineered places, but if you talk about something different to chill and hang out with, the places mentioned above are boss. There are no chances that you will regret these places. The tickets to the spots can be booked easily online at your comfort.
For now, we hope that you will visit the recommended places and share your experiences in the comments sections.