The Ministry of Interior has recently introduced, and as part of its efforts to support the first line of defense of workers in the medical sectors, a vehicle is a mobile unit for police dogs "k9" trained to detect potential infected with the emerging corona virus "Covid-19" And without direct contact between dogs and people.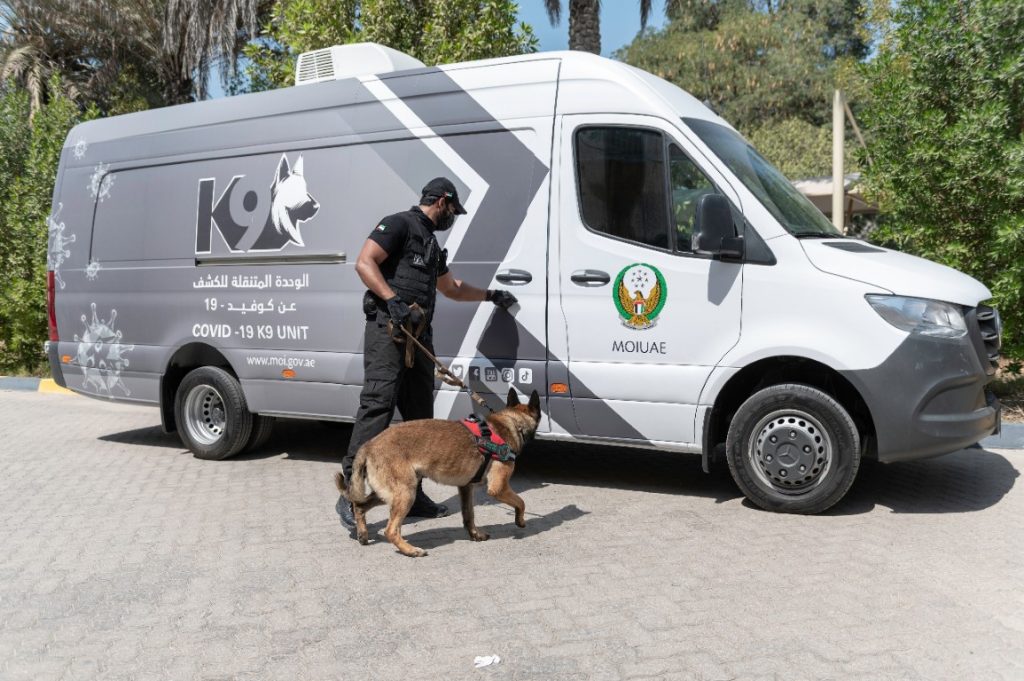 The unit is present in the targeted places and the headquarters of major and field events and competitions, so that it is an additional line in support of the efforts of the organizing and health committees, and its work is summarized by bringing samples of people taken from the armpits, and presented in a special tool on the dogs inside the mobile vehicle, and through the strong smell feature With these trained dogs, you can, in a few seconds, identify possible infections with the virus, if any.
The Emirati national team made strenuous efforts, studies, experiments, and specialized workshops in cooperation with the most prestigious international veterinary schools, "French Veterinary Alvor", the oldest veterinary school in Europe. After the results of these studies, experiments were practically applied as the UAE was the first country in the world to adopt the idea of ​​using a strong sense of smell in Police dogs in detecting the new Corona, and the UAE developed its own protocol through which the sample is taken from people and presented to dogs separately, which helps in the absence of direct contact between them, as well as the speed in collecting results.
The national team held international scientific forums and dialogue sessions on this topic, presenting the Emirati experience, its results and the statistics of its practical application, which was admired internationally and was keen to exchange more research and studies on the importance of optimizing the use of police dogs in these areas.