Ruwais City, located in the Emirate of Abu Dhabi, the capital of the United Arab Emirates, is a destination equipped with the finest and latest services and facilities for housing, health, sports, and entertainment. Perhaps the most prominent of these facilities are the various restaurants that satisfy all tastes and provide satisfactory options for Ruwais residents and visitors alike. In this article, we will talk about the most prominent Ruwais restaurants that have won the admiration of many, so that you have a reference that saves you the trouble of searching and investigating.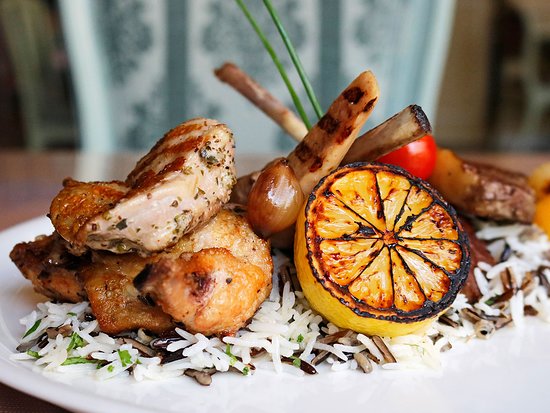 The Ruwais area in Abu Dhabi is filled with many restaurants that offer the most delicious food and the strangest dishes that satisfy all their visitors, and are no less good and famous than other Abu Dhabi restaurants, we mention the following.
Silver Seafood
The Silver Seafood Restaurant offers various delicious dishes, such as shawarma of all kinds, chicken and grilled meats, as well as cold and hot appetizers, in addition to mandi, al-madafoon, kabsa and madhbi, and we do not forget to mention breakfast meals that include falafel served as well as delicious fresh bread and many other dishes.
Location: Next to Al Ruwais Bakery, Fish Market, ADNOC Complex
Working hours: 05:00 AM – 12:00 midnight (daily)
Contact: 02 877 6889 02 877 6887 | 9832 319 056
Burger Hut
If you are a fan of burgers, we recommend you to visit Burger Hut, one of the famous Ruwais Mall restaurants that offers the most delicious varied burgers, in addition to roasted chicken pieces and various sandwiches prepared by the most skilled chefs, as well as children's meals prepared in a way that inspires fun, all of this is offered at an affordable price everybody.
Location: Al Muroor Street, Al Ruwais Mall
Working hours: 10:00 AM – 1200 midnight (daily)
Contact: 02 876 6676
SHAKESPEARE AND CO.
Shakespeare and Co.
Location: Al-Ruwais Mall
Working hours: 07:00 AM – 12:00 midnight (daily)
Contact: 02 876 6268
Danat Baynunah Restaurant
One of the most prominent restaurants in Ruwais Abu Dhabi is Danat Baynunah Restaurant, which offers distinctive Middle Eastern dishes. This restaurant, which is considered one of the best Ruwais restaurants, provides a long list of meals such as chicken with Fukuhara, seafood of all kinds, and the lentil dish that many prefer, apart from fresh natural juices and other cold and hot drinks, so it is worth spoiling yourself in Danat Baynunah, the most delicious restaurant in Ruwais.
Location: Adonic Building, Building No. 155, Al Ruwais Housing Building
Working hours: 10:30 AM 11:30 PM (daily)
Contact: 055 499 4973
Zaitoon Restaurant
If you are a fan of Italian dishes, we recommend you to try the Zaitoon Restaurant at Danat Jabal Dhanna Hotel, which is considered one of the most famous restaurants in Ruwais that offers authentic and fresh Italian dishes, and these dishes include appetizers, soups, pasta, pizza, fish and meat. These delicious dishes are served in a relaxed, casual elegance to de-stress after a full day of work.
Location: Danat Jebel Dhanna Hotel
Opening hours: 06:00 PM – 10:30 PM
Contact: 02 801 2222
Barzeh Al Freej Restaurant
Barza Al Freej Restaurant, one of the most important restaurants in Al Ruwais UAE, offers delicious breakfast and lunch meals, in addition to trays, various juices and ice cream that break the feeling of hot, all of this is served in a warm, welcoming atmosphere that pushes you to want to repeat the experience again.
Location: near the Ruwais Heritage Market
Working hours: 06:00 AM – 10:00 PM (daily)
Contact: 1673 969 056
Kowloon Restaurant
How about trying one of the delicious Chinese dishes served in Kowloon? This restaurant is considered one of the most famous restaurants in Ruwais Abu Dhabi, which offers delicious Chinese dishes made with care, in addition to providing delivery service within the framework of accuracy and speed.
Location: Ruwais Mall (and other branches)
Working hours: 12:30 pm – 03:00 pm, 06:00 pm – 12:00 midnight (daily)
Contact: 02 876 6061
Other Restaurants
Al Ruwais City includes a good number of various restaurants that offer different types of dishes that suit all tastes, including:
Pizza Hut
Tasty King
Lebanese Bawadi
Hatam Restaurant
Iron Restaurant
Al Caffe Ji Roma
Subway
Kentucky Fried Chicken