There is no doubt that electronic devices play a major role in everyone's life, as it makes it easier for us to carry out daily tasks and enjoy our day perfectly. Since Dubai is known to be a shopper's paradise and given the importance of technology and its role in achieving Dubai's future vision, many international brands related to electronics have opened branches in the emirate. Dubai electronics market is famous for the latest devices and the best deals that you will not find anywhere.
DUBAI ELECTRONICS MARKET
For those looking for the best electronics market in Dubai, the following list includes 5 unique stores that you can visit to purchase the latest devices.
E MAX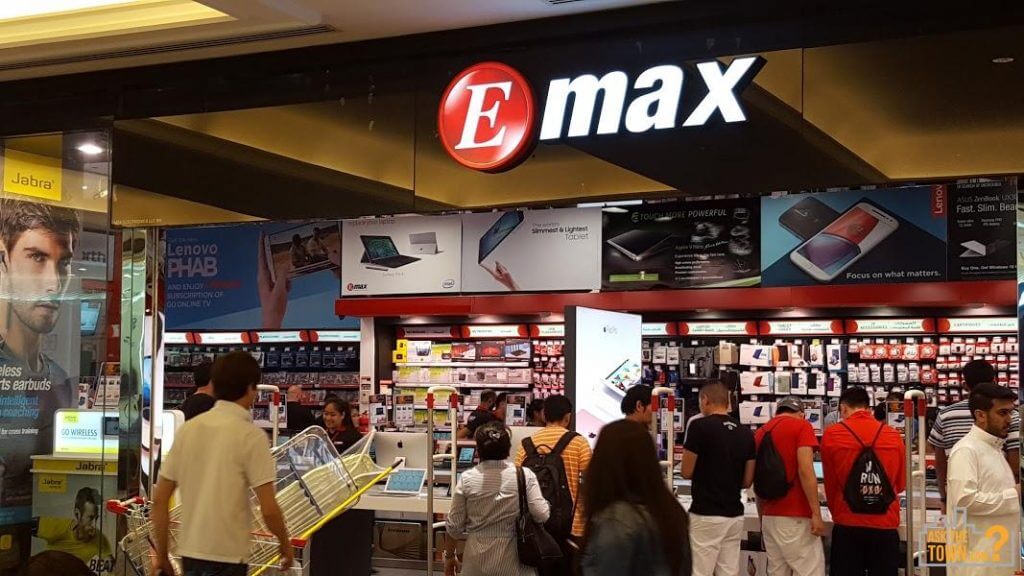 E-Max is an electronics store in Dubai that is known for the best offers and electronics that include 800 international brands and 100,000 devices under one roof. Established in 2006, this store has more than 30 branches in 3 different countries.
You can find all the electronics you are looking for in eMax, such as laptops, tablets, televisions, refrigerators, washing machines, electronic game equipment, and more. The store also provides the best discounts on its website.
You can subscribe to the exclusive eMax Pride online shopping membership, which allows you to receive a discount of AED 299 directly upon subscription. You can also take advantage of the mobile phone exchange offer, under which you can exchange your old phone with a new one under certain conditions.
E-Max branches in Dubai
Emirates Mall
City Center Mirdif
The Oasis Mall
Al Reef Mall
The Dubai Mall
Center Point
Trade Center Street
Ibn Battuta Mall
Jebel Ali warehouse
Dubai Festival City
City Center Me'aisam
Al Ghurair Center
Communication
You can contact the eMax store in Dubai at the following number: 800 3629
JUMBO ELECTRONICS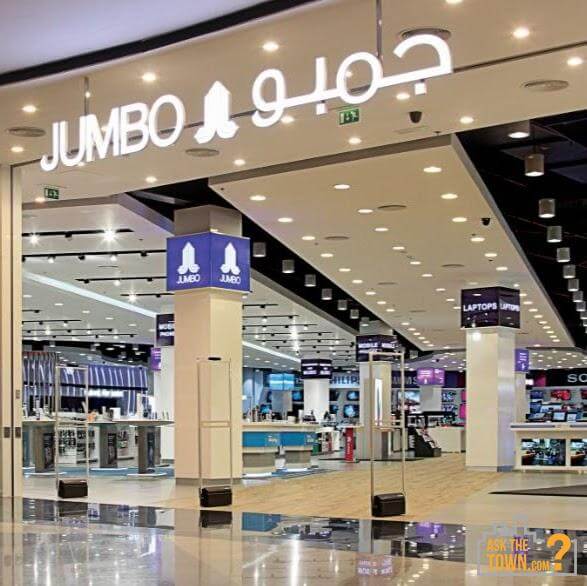 Jumbo site in the Emirates is very popular for those looking for Dubai electronics at the best prices. The company has adopted the latest innovations and technologies for 4 decades and has managed to create a highly successful online store that displays phones, computers, home theater systems, amplifiers, games, cameras, accessories, etc. There is also a jumbo store available in several locations in Dubai.
To ensure high quality, the product can be ordered and the payment on the delivery option selected to verify the product before payment. Jumbo is staffed with highly trained personnel. If you have any questions about the brand you want to choose, just contact them or visit this huge Dubai Electronics Show.
Jumbo branches in Dubai
Al Mankhool Street
Deira City Center
The Dubai Mall
City Center Mirdif
Sheikh Zayed Road, Junction No. 3
Communication
You can contact Jumbo store in Dubai at the following number: 800 58626
VIRGIN MEGASTORE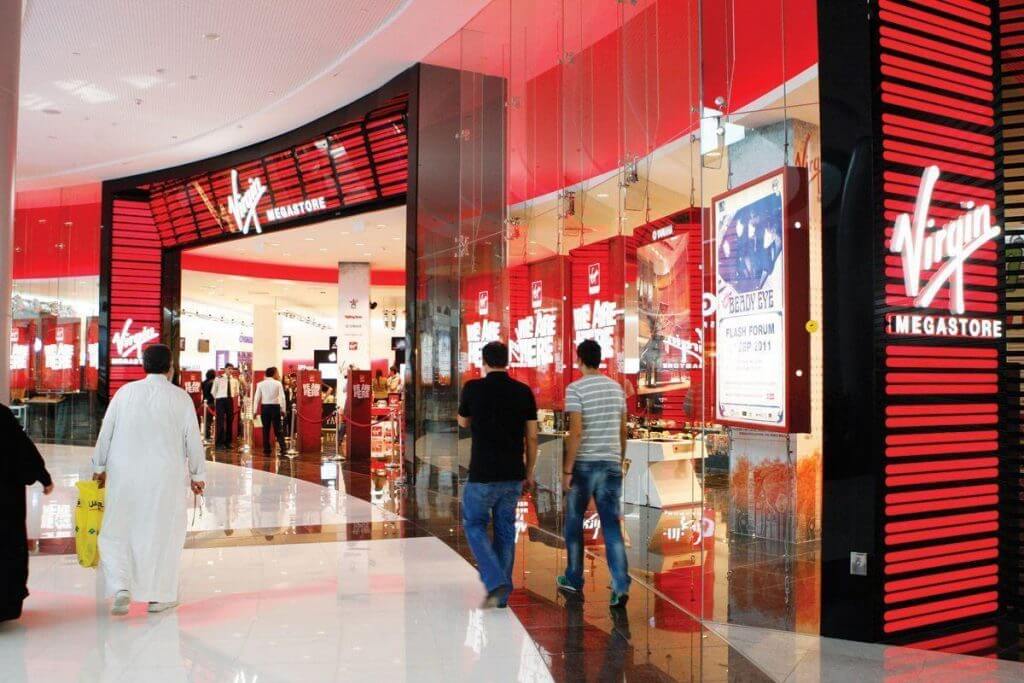 Virgin Megastore is a world-famous boutique, and its electronics division includes all the leading brands. Virgin Megastore is well known in the Dubai electronics market, and it includes high-quality electronics, such as headphones, computers and games, in addition to phones, accessories and others.
With Virgin Circle points, you can collect points when you buy and use them later in one of the offers. You can also pre-order your favorite products to ensure you get them once they reach the warehouse. Moreover, if your bank is a partner of Virgin Megastore, you can take advantage of the installment plan at 0% interest. Virgin Megastore is one of the ideal options for those looking for electronic stores in Dubai that include all modern appliances.
Virgin Megastore branches
The Dubai Mall
Emirates Mall
Dubai Marina Mall
Mercato Mall
Deira City Center
City Center Mirdif
Communication
You can contact Virgin Megastore in Dubai at the following numbers: 800 86342 or 04 435 9434.
CARREFOUR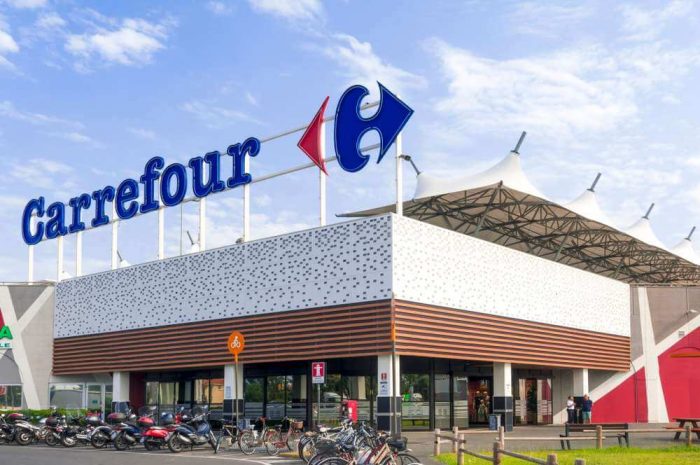 Carrefour is known as one of the most famous store chains in the world, and its first branches were opened in the UAE in 1995. Carrefour has gained wide fame due to its reasonable prices and numerous promotions, and Carrefour is not limited to products and supplies of goods, where many people choose to go to the Carrefour Dubai Electronics division. To buy different electronic devices, especially household ones. You can visit Carrefour stores or shop online. With store offers, you can get some great deals on electronics.
You can choose the same day delivery option when purchasing online. Sign up for the My Club loyalty program and start collecting points immediately from any Carrefour store or website.
Carrefour branches in Dubai
There are more than 24 branches of Carrefour in Dubai, so it is easy to find a branch soon on your residence.
Communication
You can contact the Carrefour store in Dubai at the following number: 800 73232.
LULU HYPERMARKET
With more than 174 branches in the Arabian Gulf, Lulu Hypermarket is part of the Lulu World Group and one of the best and most prominent stores in the region. Lulu Hypermarket is one of the excellent options for those looking for electronic stores in Dubai, as it is distinguished by its special prices and discounts.
Over time, Lulu Hypermarket has gained a great reputation in the electronics world and has proven its worth by providing distinguished electronic services in the Emirates. The store offers daily deals on electronics, where you can find items with a discount of up to 33%.
Lulu hypermarket branches
Lulu Hypermarket has many branches in Dubai, which is a frequent destination for many customers.
Communication
You can contact Lulu Hypermarket in Dubai at the following numbers: 04 298 8850 or 04 298 8880.
By this, you have met the best Dubai electronics market stores that are well-known in the emirate.