Are you aware breakfast is one of the crucial meals of the day?  You must not joke with your breakfast. Because it helps to stir up the metabolism of the body by burning out calories. Dubai is one of the countries that have places where families and friends can have a good time as they take their breakfast. From great views of the sea, beach and more, hop along with us to know the top breakfast places with outdoor views in Dubai. 
Breakfast Places With Outdoor Views In Dubai
Boardwalk Restaurant was launched 25years ago. Been in the industry since long, you surely cannot wrong with this one! It remains one of the best restaurants since its inception. Boardwalk has broken the record to be the top-rated Restaurant in Dubai. Based on the equipment/facilities surrounding the restaurant, it gives a non-traditional view that can never be comprehended.
Time: Opens from 12 pm to 12am from Sun-Thu
From Fri-Sat, it opens from 11:30 am to 12am
Location: Dubai Creek Golf & Yacht Club, Garhoud, Dubai
Price: AED 325 approximately for two people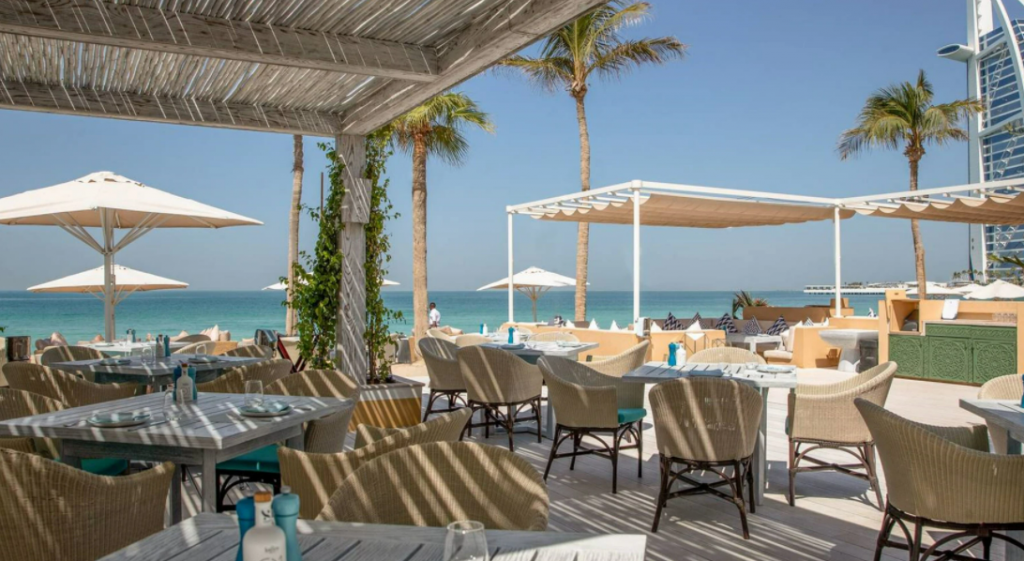 Shimmers is located in one of the best places in Dubai on the Madinat Jumeirah's private beach. You can get the most stunning and amazing views of Burj Al Arab and the sea from here. The Shimmers restaurant is perfect for a date with the lovely views around and the sounds of the water while enjoying a meal on the beach! Shimmers-Jumeirah Mina A'Salam has been in the restaurant industry for decades. The view is so tremendous that it might surprise you. What makes the restaurant stand out from others is the kind of food they prepare for their customers.
Time: Opens daily from 1 pm to 12am
Location: Jumeirah Mina A Salam, Dubai
Price: AED 310 approximately for two people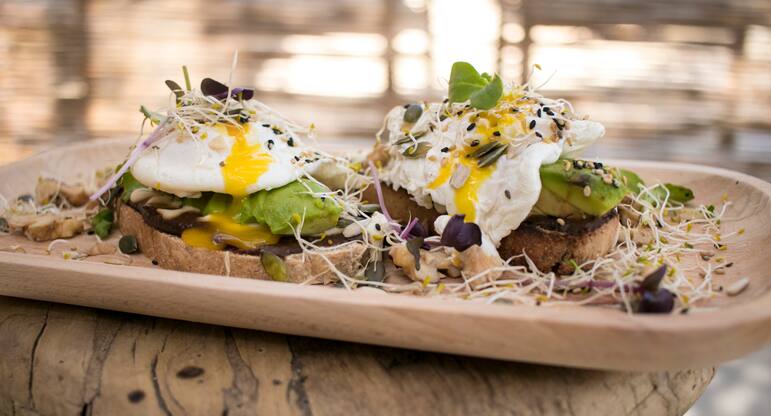 Looking for healthy eating venues with pleasing aesthetics? This healthy eating cafe is a hot favourite among the locals. Their main purpose is to provide healthy meals for their customers so that they can have a better time and eat healthy at the restaurant. They have a chic and vibrant ambience inside. They also have a store that offers beauty, jewellery and fashion products for you.
Time: Opens Sun- Sat from 8am to 10pm
Location: Jumeirah 1, Dubai
Price: AED 190 approximately for two people
The Farm is undoubtedly one of the dreamy places to dine at. It is surrounded by dense greenery and botanical gardens. On the other end are landscaped lakes and natural waterways. The Farm serves wholesome food in a tranquil and peaceful setting.
It is one of the best when it comes to having a relaxed dining experience. It is a nice place to visit because it has a calm and relaxed vibe that makes you enjoy your food. And we all know how comforting that can always be!
Time: Opens Sun- Sat from 7:30 am to 10:30 pm
Location: Al Barari, Dubai
Price: AED 340 approximately for two people
This West Palm Beach is a dream destination to many. Their breakfast menu is the icing on the cake. Arrive early to secure a table near the water's edge. Dine on a variety of sumptuous and hearty Asian options, such as the Asian Omelette with minced chicken, salad, and steamed custard bun. Regular customers like the Koko English, which comes with two eggs of your choice, baked beans, spinach, vine tomatoes, and other sides.
They have the most beautiful ambience with amazing views of Ain Dubai. You can catch a lot of Insta Worthy photos here as you enjoy your visit here.
Time: Opens Sun-Thu from 12pm to 12am
From Fri-Sat from 8am to 11am and 12pm to 1am
Location: West Beach, Dubai
Price: AED 350 approximately for two people
Craving to have seafood? This Greek-inspired seafood restaurant delivers authentic Aegean cuisine in a laid-back seaside ambience, thanks to its ideal position and tables directly on the beach. Order a series of sharing plates in the classic Greek style to sample traditional salads, tangy tzatziki, olive-oil-soaked vine leaves, and expertly cooked fish souvlaki. With their comfortable seating and amazing sea facing view, this is hard not to miss out.
Time: Opens daily from 12pm to 4pm and then from 6pm to 11pm
Location: Dubai Marina, Dubai
Price: AED 250 approximately for two people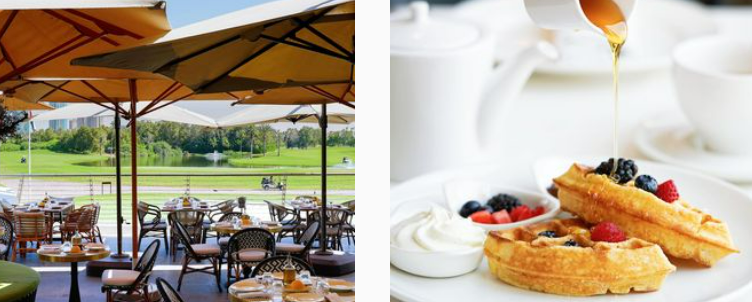 When dining with a view of the undulating greens of a golf course, we always feel at ease. Carine, a stunning French restaurant, also serves a fantastic weekend breakfast. Dishes like scrambled eggs with black truffle and the beautiful strawberry tartine with homemade peach jam have a classic French flair. The stunning views of this restaurant makes it a must among the top 10 breakfast places with great outdoor views in Dubai.
Time: Opens Sun-Thu from 12pm to 2:30 pm and then from 7pm to 11pm
On Fri-Sat, it is open from 9am to 11pm
Location: Emirates Golf Club, Emirates Hills, Dubai
Price: AED 530 approximately for two people
What can get better than dining on the 122nd floor of the tallest building in the world? It literally feels like breakfast in the clouds here. The decadent menu of the breakfast in the Atmosphere includes an enormous cold platter with fruits, pastries and more, followed by a main course and sweet of your choice. This elevated dining experience and spectacular views will make you come here again for sure.
Time: Opens daily from 7am to 2am
Location: Burj Khalifa, Downtown, Dubai
Price: AED 900 approximately for two people

Are you ready to take your search for amazing breakfast views further? 1484 by Puro is the place to go if you are willing to take a step further. It is now the highest restaurant in the UAE and stands at 1,484 meters above sea level. It is atop Ras Al Khaimah's Jebel Jais mountain. Breakfast items include eggs, pancakes, granola among many others. They are served to you on a large terrace with spectacular views that makes it a breakfast place with outdoor views.
Time: Opens daily from 7am to 7pm
Location: Al Rams, Ras al-Khaimah
Price: AED 240 approximately for two people
Want to eat a heavy breakfast on a budget? Their concept of breakfast brunch is extremely nice and is a value for money. In this, you can order up to six meals from the menu, along with a hot drink or a fresh juice. Avocado toast, organic eggs,pancakes, and breakfast bowls are among the many breakfast staples on the large menu. You can also get an amazing view of the countless yachts from here.
Time: Opens Sun-Wed and Sat from 8am to 11pm
On Thu-Fri from 8am to 12am
Location: Palm Jumeirah, Dubai
Price: AED 10 approximately for two people
These places are worth a visit. Amazing view with delicious food is a Win-Win situation. It will make you feel like you are having breakfast in the scenic view of nature. These restaurants have Instagram worthy aesthetics which are loved by all.
These restaurants have become the go-to breakfast place for many people as the view gives a peaceful vibe. Mornings with mouthwatering breakfast and a peaceful environment is what all crave. Make the best start of your day with one of these restaurants.