This year's edition of the Dubai Shopping Festival features optical drones that grace the Dubai sky every evening with sound and visual effects.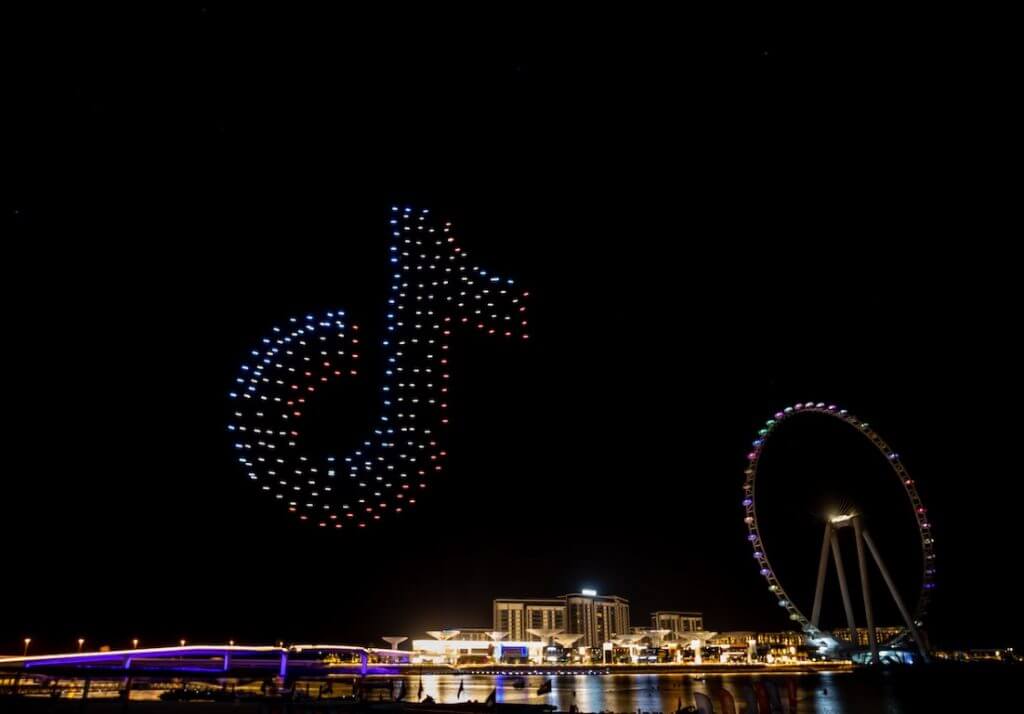 300 advanced drones take off over the beach area opposite the Jumeirah Beach Residence project, Bluewaters and Sheraton Jumeirah Beach Resort in a show that will be presented for 45 days throughout the duration of the Dubai Shopping Festival, making it the longest running air show of drones in the Middle East, Europe and Africa.
Visitors and residents can enjoy the amazing shows twice every night from December 17th to January 30th, as drones go out to present the most amazing shows at 7 pm and then 9:30 pm. The show will last for 4 minutes and visitors can watch it for free.
The premiere, titled "Dubai the City of Adventure", shows the various activities and destinations Dubai has to offer during the festival, as Modhesh and Dana, the two lovable characters, explore the activities and experiences of the emirate.
The second show, titled "Dubai Between Past and Present," provides snapshots of the history of Dubai, as it reviews the history of the emirate and its journey towards the future, to the tune of the official song of the Dubai Shopping Festival "Dubai Another Planet" by artist Rashid Al Majid.
The drone shows, organized by the Dubai Festivals and Retail Corporation within the framework of the Dubai Shopping Festival and in partnership with the Beach project opposite to Jumeirah Beach Residence and Bluewaters, highlight Dubai's position as a leading tourist destination in the world, and the Tik Tok application broadcasts the show in 22 countries around the world.
Shahram Shamsi, CEO of Merex Investment Company, said: The Dubai Shopping Festival is one of the most popular festivals among travelers and shoppers around the world. It is also one of the most anticipated and distinctive events during the year among the residents of the United Arab Emirates. Today, it is a safe destination through integrated and diverse campaigns in the wake of the COVID-19 pandemic.
He added: Our goal is always to enrich the lives of Dubai residents and visitors with unparalleled experiences in the most attractive and distinctive destinations in Dubai, including City Walk, The Beach and La Mer, and we invite everyone to enjoy the unique Dubai atmosphere over the next six weeks, and we hope that the plans we are working on will contribute. For months, along with the various interactive activities, paving the way for a new and positive beginning on various levels.