What can be more exciting than the return of the Dubai Design Week? And that, too, in November! We know how excited you are to trail around the impeccably artistic destinations. So, in order to help you not miss out on the most exciting, we have the following list. These are the 5 cool things to check out when Dubai Design Week returns in November.
Must visit things at Dubai Design Week
Dubai is a city consisting of architecture and infrastructures reflecting sustainability and creativity. It is, thus, proudly referred to as the "city of the future"! And 2040: d3 Architecture Exhibition exhibits the outlook of this city as what it would look like in the year 2040. Five renowned architectural firms present this program. Thus, if you are keen to know what this beautiful city will turn out to be like in the future, this festival is the perfect one for you to catch!
Venue: Atrium 6 at d3
Time: 8-13 November 2021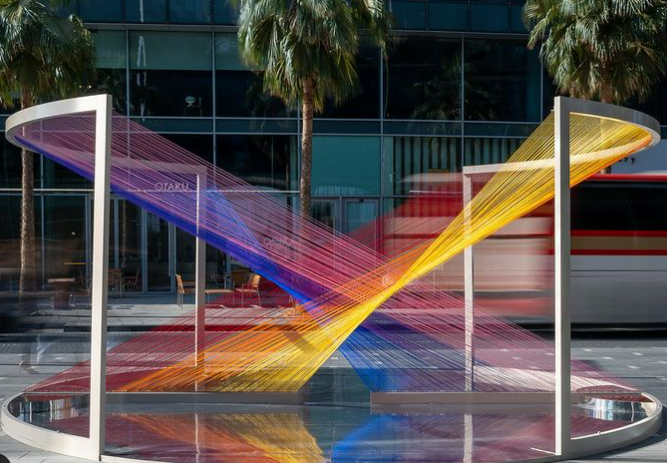 The UAE Creatives Meet has been integrated with a contemporary twist. And it is a unique part of the Dubai Design Week. It brings together the various creatives, artisans and many small businesses. They present exquisite, handcrafted products that are sourced with responsibility. This event would take place in a traditional 'Bazra' setup, and it would be a meet of the local creative community. Thus, get ready to be inspired and awestruck at the level of artistry and creativity of this event while you envision the masterpieces of some very talented artists.
Venue: 1 Life. Dubai Design District (d3)
Time: 8th – 13th November. 5 pm
Photo link: https://www.instagram.com/p/CWAhy_5p-zw/
Outdoor installations
There is no way that you can miss the fantastic and exceptionally creative outdoor installations of some of the most renowned and talented designers! The Dubai Design Week offers you the opportunity of blessing your sig with some of the most striking designs or outdoor installations. There will be 15 installations of designers like Kristina Zanic Design Studio for Trend Middle East, Ana Carreras, Iman Almidfa and Hessa Ali Alechla. Thus, don't forget to check out these cool installations of this festival!
Venue: Dubai Design District (d3)
Time: 8th – 13th November
The Global Grad Show is the event in the Dubai Design Week that upholds the future talents of the region. It brings together the 50 best projects of social impact innovation. And these projects are propagated by the most skilled and proficient graduates of around 470 universities across 70 different countries. These highly talented minds would be presenting and addressing issues that include desertification, waste management and accessibility through to nutrition of a child. Thus, witness such talent and talks at the Global Grad Show and be a part of the future bright minds' meet!
Venue: Dubai Media City Building 7 – Office 403 A – Dubai Design District
Time: 9 am- 6 pm; closed on Fridays and Saturdays
The Making Space integrates over 80 hands-on workshops under the theme of 'Paper, Plastic + Play'. And, it allows visitors of all age groups to explore and experiment with the different ancient and innovative creation methods. Thus, this is one of the most exciting and fun events in the Dubai Design Week. The event emphasises being environment-friendly. Thus, with the motto of saving nature, you can spend quality time at this event.
Venue: Dubai Design District (d3) Building 6, R05
Time: 8th – 13th November; 11.30 am- 9 pm
These were the 5 most interesting events to catch at this festival. It includes ending creative, artistic and exciting programmes and events that will make your week most fascinating enthralling. Thus catch on to these 5 cool things to check out when Dubai Design Week returns in November and have the most splendid way!
Download The Dubai Design Week App to plan your visit now: https://www.dubaidesignweek.ae/dubai-design-week-app/