Ask a pet owner about their love for his pet, and he would be out of answers. It's simply because pets are priceless, and there are no words to describe their love for them. However, you must have often compromised on keeping your pet at your neighbor's house so that you can go for a trip. Not anymore! Because here are some of the staycations in Dubai which invite your pet with you.
Delta Hotels by Marriott Jumeirah Beach, Dubai
This 4-star hotel in Dubai is a total treat to be in, as it gives fantastic accommodation to the hosts, guests, and their cute pets. On 4th October 2020, this place announced its idea of accommodating the pets in the hotel, so no family has to leave their companion home. For this, the ferry is facilitated for the pet to travel with the family. And what's more! They are even allowed into the rooms so that the entire family gets to stay together.
www.deltahotelsjumeirahbeach.com
Radisson Red Dubai, Silicon Oasis
As the name says, Radisson Red, it completely sticks to the point. The walls of this hotel are covered in quirky red patterns all around. And when it comes to pets, they provide facilities such as pet bedding and water/food bowl.  Also, pet broth and pet ice creams are an absolute treat for the animals to enjoy.
Bin Majid Beach Resort
This is one of the pioneering resorts in Dubai which is animal-friendly. You will find several staycation packs with bedrooms allowing 2 pets in one room. The deal inclusions like these make the vacations affordable. And the best part is the long and beautiful beach where the father, mother and their pets will have the best time of their life. Enjoy snugly stays and mesmerizing life on the private beach of this luxurious resort. And when it comes to pet service, then your pet is welcomed with a welcoming pack. The little pooch can even be taken on the beach with you. And when it comes to the rooms, it is as convenient as home. They can even be taken to pet care for a pamper session.
https://www.binmajid.com/hotels/beach-resort
W Dubai – The Palm
No hotel can be more welcoming to pets than this W Dubai – The Palm. This place has always been loving to pets and warmly welcomes them, who have come for their vacation. The guest pets are given a welcome pack of bed, bowl, and ball. They have some food items for pets (fish and steak) as well and a park to play. However, the pets are not allowed on the beach, considering the safety purpose. But they can join you in your room and the garden area.
https://www.marriott.com/hotels/travel/dxbtp-w-dubai-the-palm/
Hotel Indigo, Dubai Downtown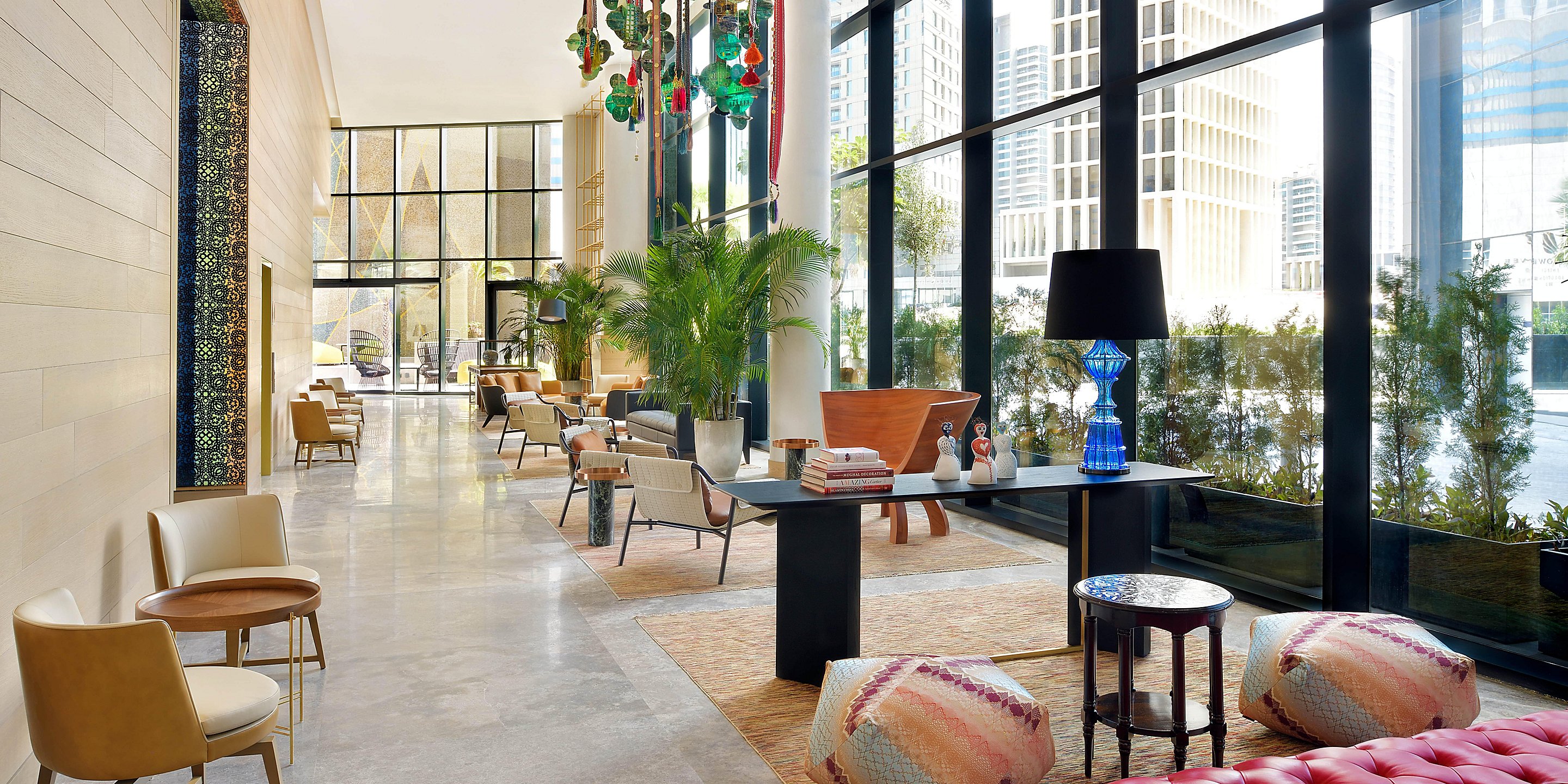 Hotel Indigo is another such place where your pets will be lovingly welcomed. However, Indigo has specific guidelines which have to be followed to ensure safety. The dogs are identified through registration cards. And the pets shouldn't have a weight of more than 20 kg and must be properly escorted to avoid any mishaps.
https://www.ihg.com/hotelindigo/hotels/us/en/dubai/dxbbp/hoteldetail
These are some of the pet friendly hotels in Dubai where all can come and have a great time. NOT TO FORGET: complete vaccination and responsibility of the pets are a compulsion at all places. Stay safe and stay fun-loving.