Centara Mirage Beach Resort Dubai is the newest and an amazing vacationing spot to try out in Dubai. The destination has brought about Arabian adventures and Thailand inspirations together for a luxury experience for all. Its speciality is the new way of providing hospitality facilities that has added to the list of adventures and luxury. The place pioneers in providing Thailand culture in the Emirates. Moreover, Centara Mirage Beach Resort Dubai is the first ever Centara property providing the true 3rd Mirage-family resort culture, from Thailand. Indeed, the family-hospitality from Thailand has been brought all the way to Dubai through this place.
The vivacious ambience of Centara Mirage Beach Resort Dubai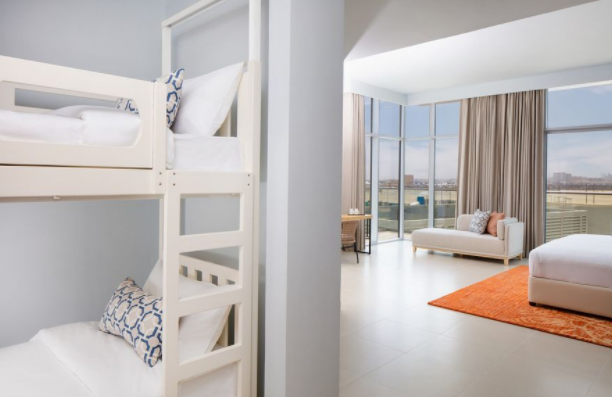 The resort offers bright 32 to 95 meters of contemporary spaces overlooking the panoramic view of the city and seafronts. This resort offers 607 rooms and suites (mirage suites, superior family rooms and couple bedrooms) with amusing interiors and luxury to win hearts. Nestled in Deira Islands, the place offers stunning sea views of the Arabian gulf.
It is a world in itself with giving a complete family exposure. Parents can have their own time while there is a lot to explore for the kids. The happening waterpark, candy-themed kids' spa, clubs for them and parks are way more for the kids to spend their days and nights at. The rooms also have bunk beds for kids in the room.
The Food Feasts At Centara
Authentic Asian cuisines, Thai cuisines, Argentinian Grills and 7 more types of cuisines are here for an outstanding food and dine experience. Each of these are headed by expert chefs to provide the true food essence. All the food-lovers have something amazing to explore throughout. Since it is a beach resort, you can never miss out on the seafood served by the sands. This beach resort assures the same and gives outstanding foodie delight, drinks at Waves pool bar and light snacking. There is a premium Sheesha lounge and Lebanese restaurant called Sheesh Rooftop restaurant. It is an ultimate spot to host professional meetups and family hangouts.
Deira Islands in Dubai: the new little coastal area has given a boom to tourism, entertainment, travel, retail and luxury. Just steps away from the newly opened Souk Al Marfa marketplace, it offers amazing shopping experiences. This family-centric hotel has a lot to offer to the people with its world-class ambience, hospitality, food and services.