The Dubai Electricity and Water Authority has launched a special smart application that allows interested people from all over the world to visit the "WETEX" and "Dubai Solar Energy" exhibitions 2020 … using smart devices through the "iOS" and "Android" platforms in addition to To the possibility of visiting the exhibition through the exhibition's website, allowing you to wander around the exhibition without the need to travel and see the latest smart technologies and innovative solutions that are presented for the first time, especially in the fields of renewable energy, water and sustainability, in addition to participating in workshops, meetings and specialized seminars with a group of experts and specialists from all over the world in various fields of green economy, smart cities, innovation and sustainable development.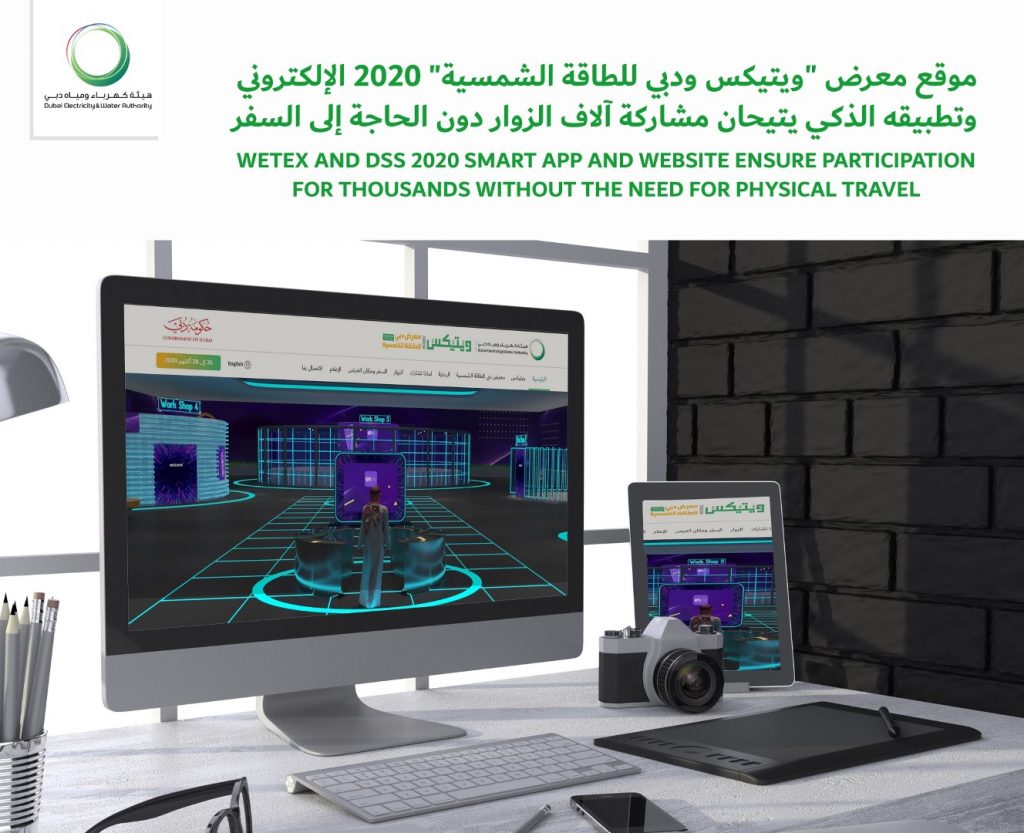 The Authority is organizing the twenty-second session of the Water, Energy and Environment Technology Exhibition "WETEX" and the fifth session of the Dubai Solar Energy Exhibition via a virtual online platform under the guidance of His Highness Sheikh Mohammed bin Rashid Al Maktoum, Vice President and Prime Minister of the UAE and Ruler of Dubai, "may God protect him" and under the patronage of His Highness Sheikh Hamdan bin Rashid Al Maktoum, Deputy Ruler of Dubai, Minister of Finance, Chairman of the Dubai Electricity and Water Authority.
His Excellency Saeed Mohammed Al Tayer, Managing Director and CEO of Dubai Electricity and Water Authority and founder and president of "WETEX" exhibition and "Dubai Solar Energy" exhibition, affirmed the authority's keenness to harness its advanced digital infrastructure to allow companies, government and private institutions, and thousands of exhibitors, visitors, participants, officials and decision-makers in all sectors. Energy, water, renewable energy, environment and sustainability for the exchange of knowledge and experiences, making deals and building partnerships so that "WETEX and Dubai Solar Energy" maintains its position as one of the largest and most important global exhibitions in the water, environment and energy sectors, which supports the UAE's green development strategy.
The carbon-neutral 3D version of the exhibition, the first of its kind in the Middle East and North Africa region, provides a new experience for exhibitors and visitors around the world.
The exhibition halls include the reception area, the main hall, the water hall, the energy hall, a virtual honoring ceremony, the sponsors 'stand, the free B2B business meeting rooms, the B2G meeting rooms, the innovation hall and the sustainability hall.
The visitor must log in through the smart application or the exhibition website, create his own profile, add a personal picture, or choose an interactive avatar "Avatar" to create a lively atmosphere as if he is going through a real experience.
Visitors can view the exhibition agenda, floor plan, with an explanation of how to easily access any area, the exhibitor list, with an explanation of how to communicate directly with them, the list of speakers and the biography of each speaker. Private video for up to 5 participants.