Dubai illuminated some of its most prominent landmarks such as the Burj Al Arab Hotel, the Dubai Frame, and the Imagine Show at Dubai Festival City in the colors of the Saudi flag to celebrate the 90th National Day of the Kingdom of Saudi Arabia.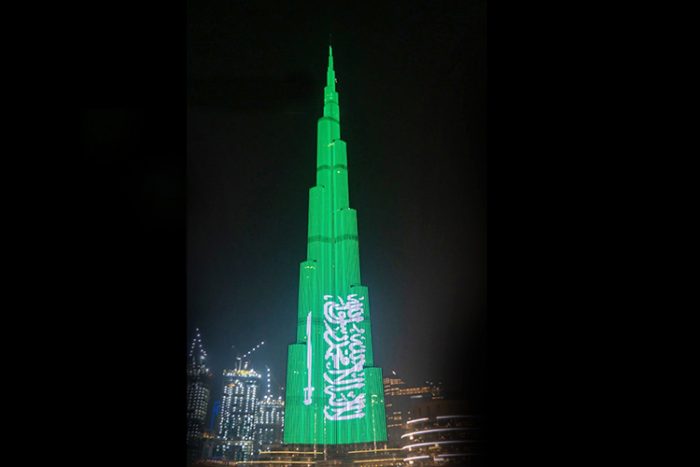 Saudi citizens residing in the country, residents of Dubai and its visitors watched the amazing offers that announced the launch of a series of distinguished promotional and family events on this national occasion, which continues to this day to celebrate the close fraternal relations between the UAE and Saudi Arabia.
Visitors to the famous seven-star Burj Al Arab hotel in the Jumeirah area enjoyed watching the magical green lighting to celebrate the occasion in a wonderful show that lasted from sunset until midnight.
The "Dubai Frame" was also lit in the colors of the Saudi flag to celebrate the occasion .. While visitors to "Festival Bay" at the "Dubai Festival City Mall" witnessed the return of the award-winning "Imagine" show after six months of renovations with two stunning shows at 7 o'clock: 40 pm and 8:30 pm, as the two shows featured a mixture of dancing fountains, colorful laser projections, and the music of the national anthem of the sisterly Kingdom of Saudi Arabia, in addition to a group of Arabic songs.