The Dubai Police General Command confirmed that it will continue monitoring violators of the preventive measures and precautionary measures adopted by the Supreme Committee for Crisis and Disaster Management in Dubai in the face of the emerging coronavirus (Covid-19) pandemic aimed at limiting the spread of the virus and protecting all individuals. Society, emphasizing that the fines mentioned in the schedule of violations and administrative penalties issued by a decision of the Attorney General are applied to all violators.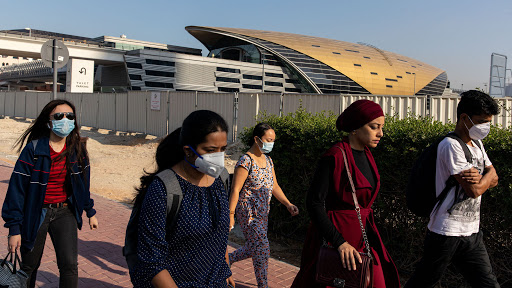 Dubai Police clarified that the directives of the wise leadership regarding protecting the health of society and safeguarding the safety of all its members are clear and that Dubai Police spare no effort in cooperating and coordinating with all concerned authorities, especially the Control and Control Center to combat Coronavirus and the Dubai Health Authority in order to achieve this The goal is very important, as this goal represents one of the main tasks of Dubai Police, especially at this exceptional time, noting that the cooperation of the public, whether citizens or residents, as well as visitors, is one of the most important elements of success in fighting the virus and reducing the chances of its spread.
As part of its efforts to ensure compliance with the precautionary and preventive measures followed and limit the spread of the virus (Covid-19), the Dubai Police General Command issued 141 violations and issued 1422 warnings in four shopping centers in the Emirate of Dubai, within one day, yesterday, Friday. Field tours carried out by the investigation patrols, in which a group of volunteers participate in their implementation to ensure that everyone adheres to the preventive and precautionary measures in place to limit the spread of Covid-19.
And in detail .. Dubai Police issued 4 violations and issued 542 warnings of the necessity to adhere to preventive measures and social distancing in the Mall of the Emirates, and Dubai Police issued 92 violations and issued 620 warnings against crowding in four locations in the Dubai Mall .. While the number of violations it has issued has reached Dubai Police in Mirdif City Center reported 9 violations, while 90 warnings were issued and directed against crowding in 4 locations within the center, in addition to issuing 36 violations, issuing 170 warnings, and directing not to congestion at 5 points in Dubai Festival City Mall.
The Dubai Police General Command affirmed the keenness of all its cadres to continue their roles each in his position and to always remain a watchful eye for the security and safety of the homeland and the citizen and to address all challenges of their diversity and multiplicity, and that protecting society with all its components, citizens, residents and visitors is an honor and a duty. Police personnel and all their employees compete to do it fully at all times and under various circumstances … indicating that everyone's cooperation and unified efforts at this stage is a prerequisite for overcoming it and overcoming its consequences in peace.
And she noted that Dubai Police will intensify its efforts in tracking down the violators of the preventive measures and subjecting them to the fines stipulated by law, in order to preserve the safety of society and the health of all its members