Tickets to the much-awaited Global Village event were finally released yesterday. Authorities declared that those who decide to buy tickets online may get a rebate of 5 Dirhams per ticket. So, Buying tickets online may be a bit lighter on your pockets. The tickets will cost AED 20 for those who wish to buy them on arrival at the festival. Whereas, the guests who decide to buy their tickets online can get them at a lower price, i.e. AED 15.
The Global Village festival sees an enormous amount of footfall each year.  Because of this, the authorities have had to manage large crowds at the ticket booths. Sometimes managing such a huge crowd may seem like a herculean task.
What arrangements have been made to solve the various issues?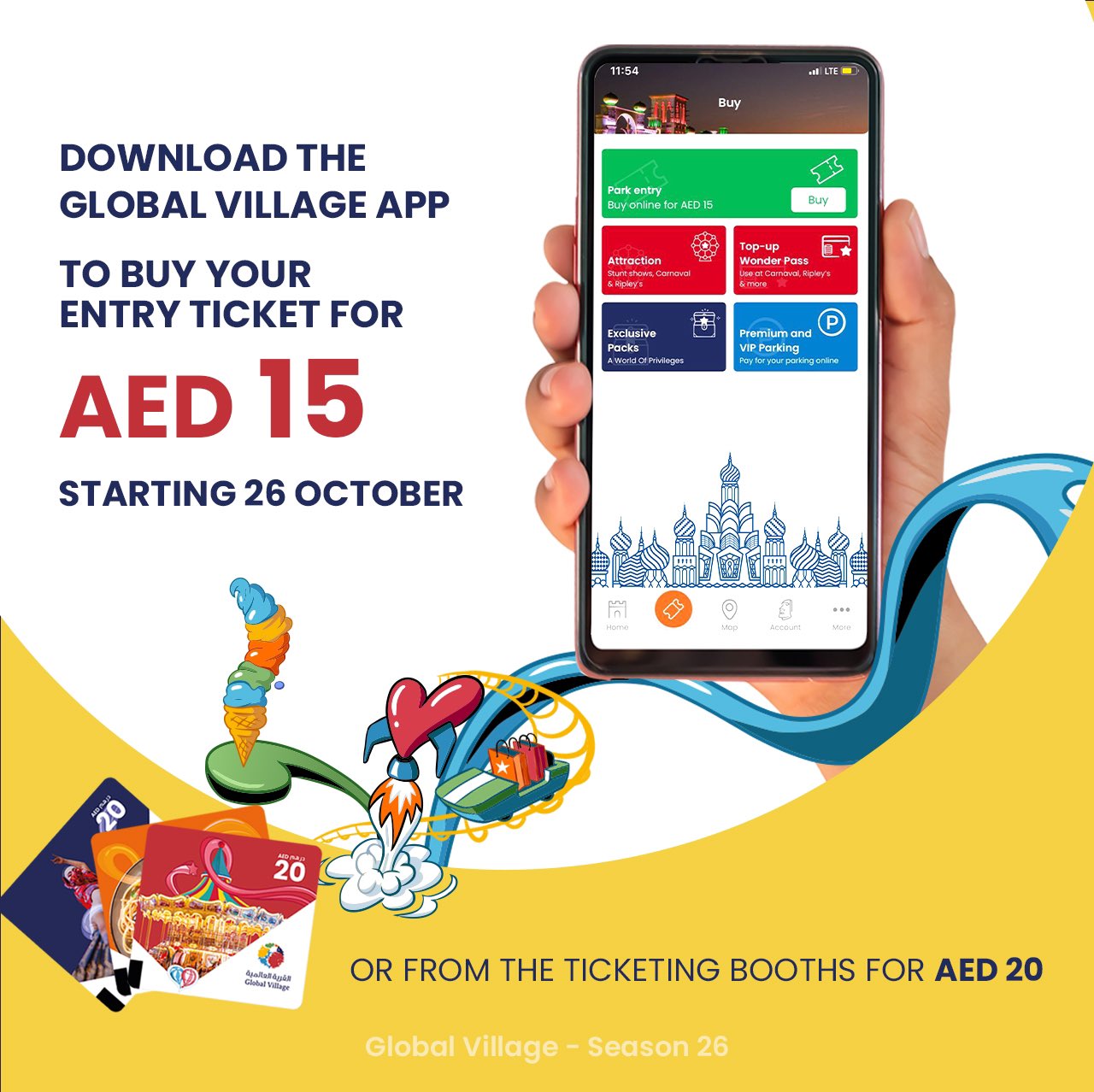 So this year to circumvent these large crowds the Global village organizers have decided to promote the online sales of tickets with their new pricing strategy.
The authorities wisely premonishing the fact that online sales would draw a large amount of traffic to their website, revamped their website during last year's silver jubilee celebrations.
The website along with the Global village mobile app will transform the festival experience for the guests. This app will help guests with ticket sales and seamless entry. Along with that this app will also help you navigate around the festival grounds. Other functionalities include; Wonder Point top-up for rides and attractions, personalized dashboards. These dashboards will cater to your individual interests and needs.
The new update will also help with car-parking payments using payment apps like Apple pay, Gpay, etc.
It will also highlight available parking spots.
How will this help?
Buying tickets online and using the app will ensure your personal safety and health. It will ensure that you no longer have to be near others in long ticket lines. Other than that, using the mobile app and website is fast, and eco-friendly.
The event will start on October 26, 2021. So buckle up, get your tickets and prepare to enjoy the various attractions at the Global village.
Want to know what's new this time? Click here!