Heard of Souk Al Marfa already?
Well, that's a Brand-New Waterfront market in Deira Islands, Dubai. And yes, it's a must to check out.
If you are all set to go here then do read this blog to plan your visit.
What is Souk Al Marfa all about?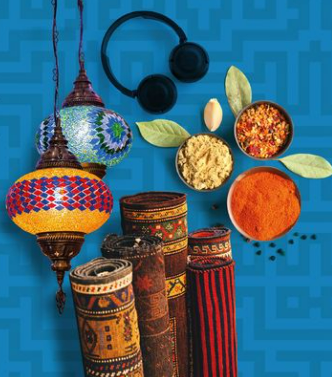 While there are other existing Souks in Deira Islands already, Souk Al Marfa is the latest addition. It's an indoor fully air-conditioned wholesale marketplace that stretches 1.9 kilometers along the beautiful waterfront.
Souk Al Marfa created by Nakheel, includes 400 shops. It's like an all-inclusive marketplace that boasts of everything right from fashion to decorative items to electronics and more.
Besides, there is also an authentic Thai market to explore that offers handicrafts, clothing items, and several street-food options to satisfy your taste buds.
Not only this, in the forthcoming weeks, another 1000 plus new shops are set to open. In fact, the number of shopping establishments is sure to multiply even more towards the end of 2021. This is likely to make Soul Al Marfa as the UAE's largest wholesale Souk. And, of course, there would be no other waterfront market like this.
It will strengthen Dubai's presence in the international market
Dubai is the world's third largest re-exporting hub. And, Souk Al Marfa is ought to strengthen the position of Dubai in this.
Souk Al Marfa will create a large-scale opportunity for the sellers across the gulf nation to trade in and out. By concentrating the multiple traders it promises a great shopping experience to the customers as well.
Have plans to visit Souk Al Marfa?
If yes, we recommend that you plan it before Wednesday, September 1. Why? Well, because RTA is all set to operate FREE Shuttle service from Dubai's Gold Souk from 6 AM to 11 PM. There will also be buses to and from selected Deira hotels, including Hyatt Regency Dubai, Ibis Deira City Center, Sheraton Dubai Creek Hotel & Towers, and Pullman Dubai Creek City Center!
Can shopping get any better?
We are sure you would love to explore this new market by Nakheel. So, hope to see you soon at Souk Al Marfa.