Schools started operational in UAE after a closure of nearly six months, due to the pandemic. Children were taken in by parents or collected by bus in an organized operation with a series of safety precautions in place.
Yellow buses were less than half full, as part of physical distancing measures, and parents were urged not to cross on to school grounds where possible.
"Academic life has returned and our schools are filled with hope, ambition and success," the Ministry of Education said. At the end of the first school day, the ministry said pupils had demonstrated commitment to health and safety measures. Last week, teachers, school staff and bus drivers across the country were tested for corona virus in a major campaign to prevent the spread of infection.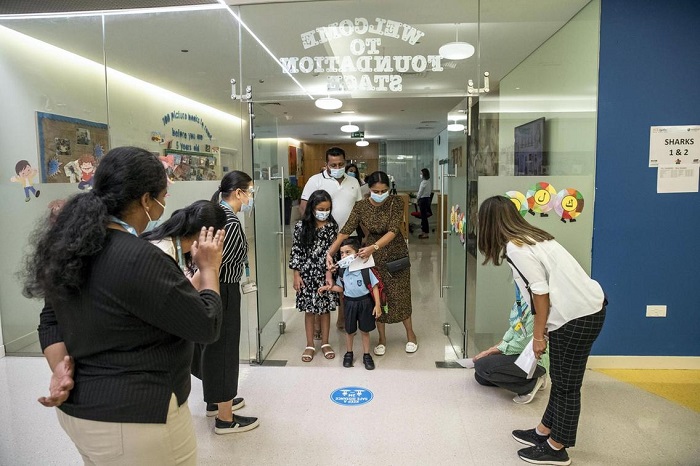 "Every effort is being made to try to make it as smooth and safe as possible," said Darren Gale, principal of Horizon International School, an independent British curriculum school in Dubai.
"We rely on community spirit and everybody reading the information and the literature. "Naturally, there are some tweaks that we need to make. There's no such thing as a perfect system. But generally, it's gone very, very well this morning."
Abu Dhabi and Sharjah's education authorities are to stagger the return to classes. Abu Dhabi's primary schools can open from Sunday and Sharjah schools will open in two weeks. In Dubai, all schools could open from Sunday, with a number choosing to open midweek. Parents with children of any age can elect to continue e-learning.
"It's been five long months and we're really very excited to get our children back," said Matthew Hagan, head of English at Horizon. "There's a great buzz and atmosphere around the school at the moment. It's different, but it's good to be back."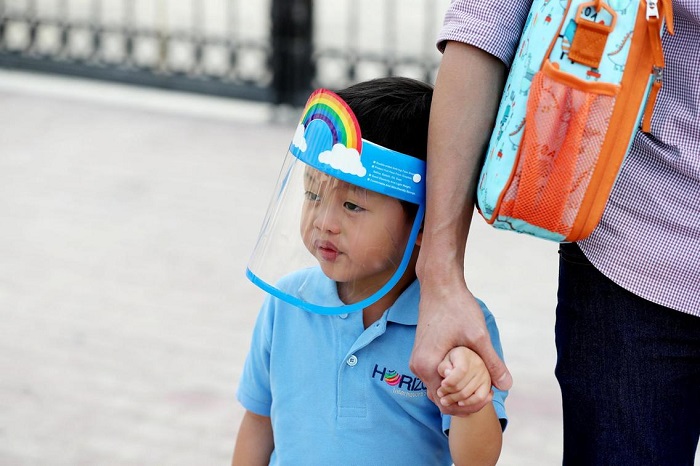 Tarryn Patel, a Grade One teacher at American Academy for Girls in Dubai, said much of the first day back would be spent helping pupils become used to the new precautions. "Today we'll be walking our pupils through some of the important rules that we need to be following while we return to the new academic year," she said.
In Abu Dhabi, children under 12 were back in class on Sunday. High school pupils are to return in four weeks' time, in September or October, as part of a plan to stagger the numbers.
At Brighton College Abu Dhabi in Khalifa Park, about 800 pupils from First Standard to Year 6 were back, or 75 per cent of the total number at the school. "This shows the pupils just want to come back and have social interaction," said headmaster Simon Corns.
"I'm against staying at home for too long, it is damaging for the pupils. My concern is getting senior years to come back to school soon." Initially, the school was told it would take about one month for that to happen. "I know they [the authorities] are trying to keep it safe," he said.
At American Academy for Girls, about 200 pupils were back on Sunday, while a different set of 200 children will attend school on Monday. A further 100 pupils chose to learn online from home. Children will be studying together in small bubbles of about 10 pupils.
"We have made clusters in the building to keep children in their bubbles while teachers will move from one class to another," said principal Casey Cosgray. "We are using outdoor spaces for breaks and we converted a music lab into a physics classroom to have more space.
"Pupils will have mask breaks when they will take off their mask for a few seconds. This has a social, mental and emotional impact."