Dubai has many restaurants that offer a variety of options from breakfast, lunch, and dinner dishes, and perhaps the most delicious breakfast restaurant options in Dubai, which can also be eaten at any time of the day, are Manakish.
 In this article, we will mention the most important Dubai Manakish restaurants that offer delicious Manakish in order to save you the trouble of searching and for your task only to order your meal from one of the Arab restaurants in Dubai mentioned in this article without spending time and effort in searching and investigating.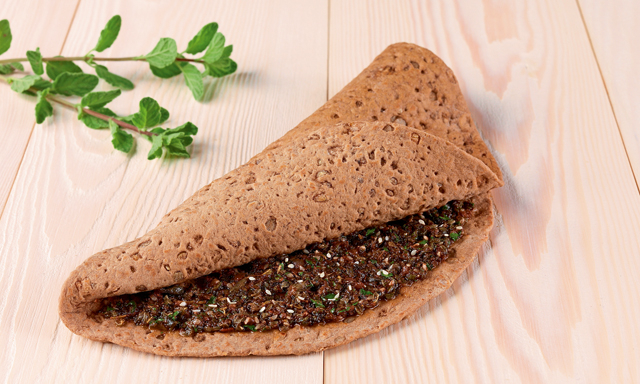 The emirate of Dubai includes many distinctive Manakish restaurants that offer fresh Manakish along with other types of pastries, including the following:
Maeesh Restaurant
If you have never tried eating Manakish from a Manaish restaurant, then you have not eaten Manakish thyme in your life, how not, as this famous restaurant offers the most delicious thyme pastries in oil using the finest types of Palestinian thyme that takes you on a journey that you feel the scent of the hallways and lanes of Jerusalem.
Location: Ground floor, main building of Dubai Investment Park
Working hours: 07:00 AM – 12:30 AM (daily)
Contact: 04 264 6728 548 287 600
Forni Pizza Restaurant
Forni restaurant offers the best manakish in Dubai, in addition to pastries such as cheese, pizza of all kinds, chicken sandwiches and sandwiches suitable for vegetarians, as well as various salads and desserts such as apple pie. Forno restaurant serves side orders such as chicken wings and french fries, as well as cold and hot drinks of all kinds.
Location: Jumeirah Village Triangle (and other branches)
Worktime:

09:00 AM – 02:45 AM (Saturday – Wednesday)
09:00 AM – 03:45 AM (Thursday and Friday)

Contact: 800 36 764 04 451 8679
Manaesho Dubai Restaurant
Would you like to eat the freshest Dubai manakish that smells like thyme? So head to the Manakisho Restaurant, which offers the best manakeesh in Dubai, along with delicious falafel and delicious pastries made using the finest types of dough, and it should be noted that Manakeesho is on the list of Lebanese restaurants in Dubai.
Location: Shop S15, Dubai Investments Park
Working hours: 07:00 AM – 11:00 PM (daily)
Contact: 04 885 9554
KINGS PASTRY RESTAURANT
Savor the manakish made in one of the most famous manakish stores in Dubai, where Kings Pastry Restaurant offers the most delicious fresh thyme pastries, as well as cheese, kashkaval, sausage, meat, muhammara, spinach, meat, vegetables and many other delicious pastries. It is worth noting that falafel, kibbeh, rosary and grape leaves have been added to the restaurant's menu to enjoy what you like of them.
Location: Ground floor, Dar Al Zahia Building, Hor Al Anz
Opening hours: It is open around the clock
Contact: 04 254 7766 7945 465 056
Manoushe Street Restaurant
If you want to order delicious Manakish for your workplace, home, or wherever you are, your first choice is Manoushe Street Restaurant, which specializes in delivering orders all over Dubai around the clock.
Location: Ground floor, Al Ghurair Center, Deira (and other branches)
Opening times: around the clock
Contact: 600 667 566
Gulf Pies Restaurants
You will not need to travel to Lebanon to eat Manakish anymore, in Dubai there are many restaurants that make authentic Lebanese Manakish, such as the delicious Gulf Pies Restaurant! The restaurant's skilled chefs prepare delicious pastries that make you melt in flavor and help you start your day with an energetic and lively start.
Location: Jumeirah Road (and other branches)
Working hours: 07:00 AM 12:00 midnight (daily)
Contact: 04 342 0028
Something Baked
Ask and wish from Something Bake Restaurant, as this restaurant offers the best manakish that you may taste, as the secret lies in the way to prepare the distinctive dough, the type of fresh original oil and the delicious carefully selected thyme. The restaurant also offers all kinds of pastries that you might think of, including cheese, muhammara, vegetables, chicken, meat and other options that are unique to this wonderful restaurant that offers the most delicious manakish saj in Dubai.
Location: Shop No. 17, Tower J2, Cluster J, JLT
Working hours: 07:00 AM – 12:00 midnight (daily)
Contact: 04 362 9445
Mantoucheh Restaurant
Have you tried eating the manakish made on the saj before your eyes? Mantoucheh Restaurant offers the best saj manakish in Dubai, prepared on the authentic Lebanese way, which you should try as soon as possible, in addition to many other pastries and saj sandwich options with your favorite flavors that you choose yourself.
Location: Saba Tower 1, Cluster E, JLT
Worktime:

08:00 AM – 11:30 PM (daily) / Inside the restaurant
09:00 AM – 11:00 PM (Daily) / Delivery

Contact: 0638 711 052/8170 277 04
Al Manakeesh Restaurant
The first branch of Al-Manakeesh Restaurant was established on the wood in the United Arab Emirates in 2008, and within five years the store manager was able to deservedly open eight branches of the restaurant in the Emirates and three branches in the Sultanate of Oman. It denotes excellence, success, and masterful work, so it is worth trying to eat manakish on wood, along with other types of pastries offered by this ancient restaurant.
Location: Behind Ramada Hotel, Al Barsha (and other branches)
Opening hours: It is open around the clock
Contact: 6008 54600
Mister Manoush Bizaria
Mister Manoush Bizaria is one of the best Manakish boutiques in Dubai, as it is characterized by offering delicious pastries and delicious manakish that leave a wonderful impact on the soul and give you a feeling of wanting to re-experience over and over again.
Location: Al Warqa
Opening hours: 12:00 noon – 06:00 pm (daily)
Contact: 04 284 0600
Other restaurants
Manoushe Al Mashi
Mister Pies Restaurant
Fatayer on your way
Zait and Zaatar Restaurant
Harat Al-Sham Restaurant
Al Reef Lebanese Bakery