Wondering what to take as a memory with you from a trip to Dubai? Well, from aromatic Arabian perfumes to traditional lanterns, the 'City of Gold' has a lot to offer. So, it calls for some serious research to choose the one. No worries! The list of top 8 Shopping Souvenirs in Dubai is here for you with all details like pricing and where to buy.
So, without wasting time, let us hop on to know more!
Dates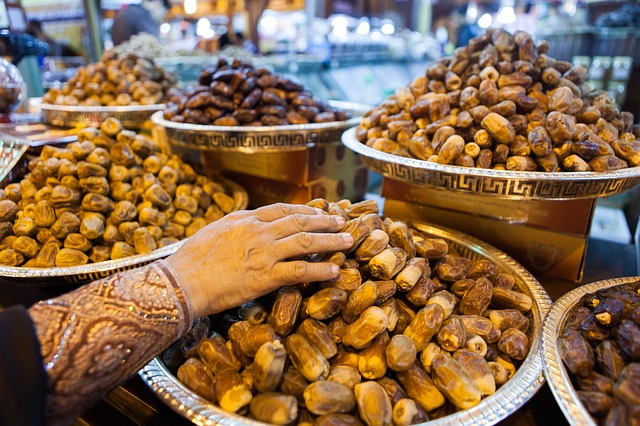 Well, the entire world knows that Dates are a special feature of UAE culture. It relates to their hospitality and religious sentiments. Also, it is the first thing the Muslims eat to break their fast.
Dubai has a presence of a wide range of healthy dates. These are available in dry, sweet, chewy, biscuit, syrup, and others. And so many varieties (Majdool, Ajwa, Jordan etc) make it a perfect Shopping Souvenir in Dubai to be taken back. The price may differ as per your purchase quantity. But don't forget to have kilos of Arabian dates which all your near and dear ones will love!
Where To Buy:  Bateel outlets, supermarkets, Dubai Duty Free etc.  
Price Range: Price ranges as per the kind you choose (AED 30 per kg to AED 90 per kg)
Speciality: Nutritional & Delicious and can be carried easily.
Persian rugs and carpets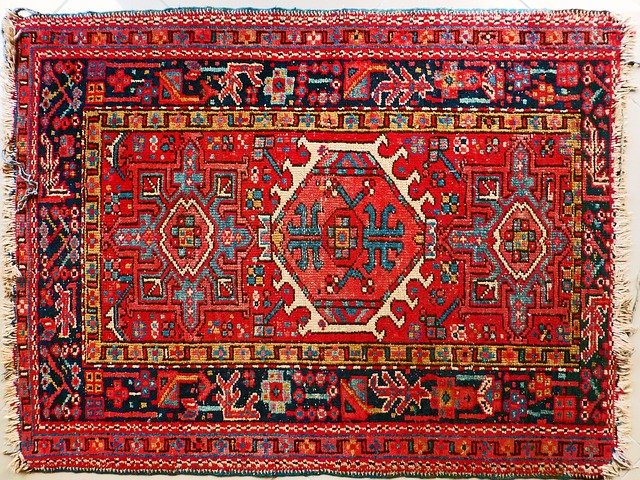 Persian rugs and carpets are the perfect Shopping Souvenir in Dubai to purchase in Dubai. They are made using quality natural wool, silk, and vegetable dyes to carve beautiful designs.
National Iranian carpets and Persian carpet houses are some of the famous places for premium quality carpets. If you have a design in your mind, just give an order to make one. They are affordable yet quality material with a traditional yet classy design, making them worth every penny!
Where To Buy: National Iranian Carpets @ Souq Madinat Jumeirah, Persian Carpet House and Dubai Textile Souq
Price Range: AED 400 and above
Speciality: Use of natural wool, silk & vegetable dyes.
Arabic perfume oils
Arabic perfume oils and attars are known for their exceptional fragrance. The best part is they are alcohol-free and suits both men and women.
There are different ranges of attars available as per fragrance. You can smell and have one that soothes your senses. Also, you can ask the seller to mix your chosen perfumes to prepare one for you.
Where To Buy: Perfume shops in malls, the airport and Perfume Souq in Deira
Price Range: From AED 90
Speciality: Natural (Alcohol-free)
Dubai Spices
One of the takeaway souvenirs in Dubai is the colourful spices that give a sensory experience. The aromatic spice souk of Dubai will not let you just pass by it.
There are hips of exotic spices and herbs available in Dubai's heritage area. These will surely make your meals flavorful. Also, you can get a good discount over purchasing in bulk. Get these spices to do some experiment with your favourite recipe!
Where To Buy: Spice Souq, Supermarkets
Price Range: AED 10 to AED 25 per pack
Speciality: Good for anyone who loves cooking
Gold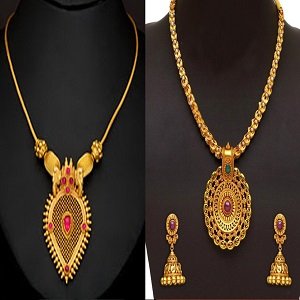 Dubai is well known for its luxurious lifestyle, so here comes our next souvenir, gold! The traditional jewellery of Dubai, long necklaces and heavy bracelets are worth stopping by.
Dubai's gold souk offers a different range of Gold jewellery exhibiting classy to modern design. Unique bangles, necklaces, belts, anklets, and other pieces of jewellery are worth having. It is often said that purchasing gold in Dubai is cheaper. Well, the price varies as per choice, but one thing is sure you won't regret the purchase.
Where To Buy: Dubai Gold Souq, Gold and Diamond Park, branded outlets in different malls.
Price Range: AED 214 for 1 gm
Speciality: Purity & Quality
Lanterns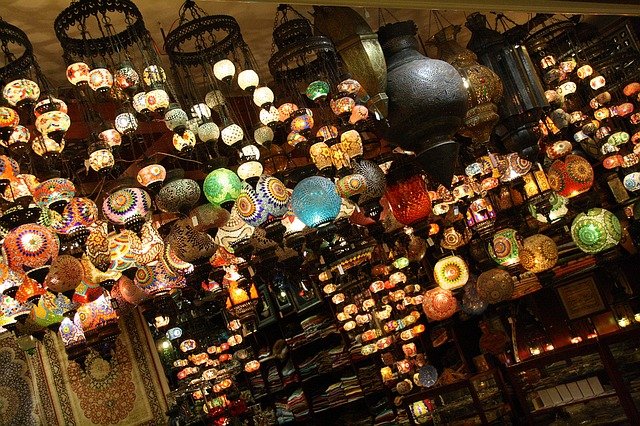 Lanterns have a major significance in the culture of the UAE. Traditionally lanterns are lit up at the start of Ramadan in Islamic states. But lanterns are not just for holy months, it is for decorating the homes and driveways.
The lanterns made of copper and tin with classy carving and filigree work are most liked. Also, some lanterns have glassy pearls woven into the design. If your budget is a bit low, go for lanterns made with aluminium and glass. Be it hanging or table lanterns, they are worth shopping for souvenirs in Dubai.
Where To Buy: Local shops, Dragon Mart, Deira Grand Souk etc
Price Range: Starting from AED 40
Speciality: Filigree work (using gold, silver, copper wire)
Arabian Coffee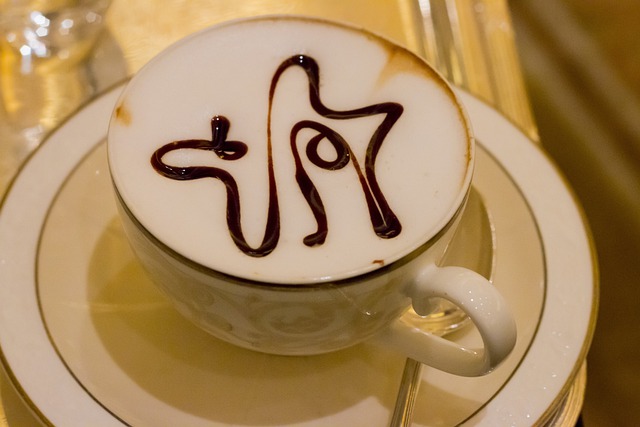 One of the legendry cuisines of Arabia is 'Qahwa', the traditional coffee of UAE. Qahwa is a symbol of hospitality in Arabia, and the first thing offered with dates to the guests to show welcoming gesture.
Qahwa processing happens using green coffee beans and cardamom, giving an intense flavour. If you are shopping for souvenirs in Dubai, do take a traditional taste of Arabia, and Qahwa is available in every spice market of Dubai.
Where To Buy: Specialty Coffee Stores & online
Price Range: Starting from AED 22
Speciality: Intense & tasty
Coffee Pots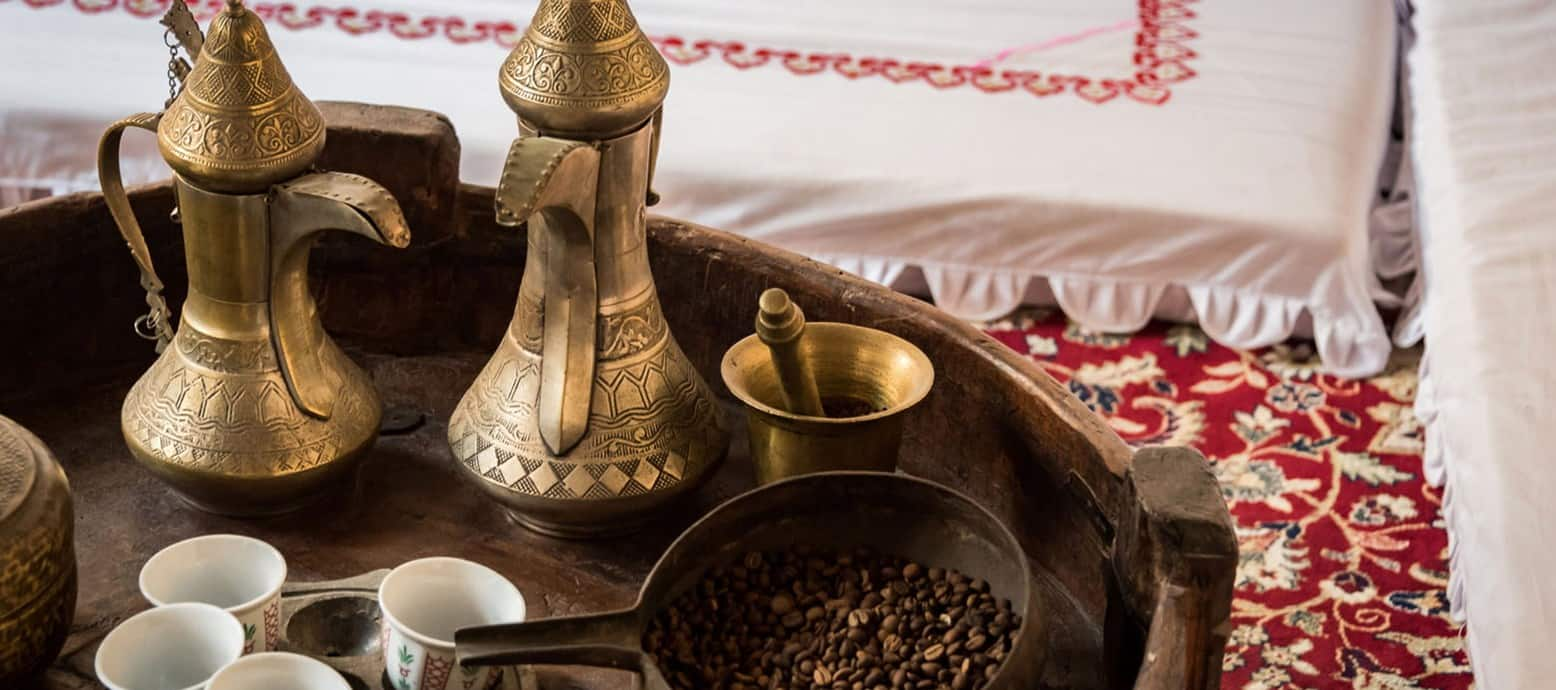 How about enjoying Qahwa in traditional coffee pots? Arabian coffee is served in 'Dallah', a tall coffee pot with a long spout. Often visitors purchase dozens of mini cups known as 'Finjan' with Dallah to have a set.
Dallah comes in various designs with classy patterns. The price of the coffee pots depends on the quality and style. In UAE, Dallah is also placed at the entrance to show the gesture of hospitality.
Where To Buy: Deira Grand Souk, Souk Madinat Jumeirah and Other souvenir shops in malls.
Price Range: Starting from AED 100
Speciality: Traditional design.