His Excellency Major General Saif Al Zari Al Shamsi, Commander-in-Chief of the Sharjah Police, attended the graduation of the "Certified Positive Mentor" course at the Sharjah Police Officers Club in the presence of Brigadier Aref Al Sharif, Director of the General Department of Resources and Support Services in Sharjah Police, Colonel Amina Al Shawq, Director of the Human Resources Department, and Mrs. Linda McLoughlin is director of the Board of Directors of the International Coaching Federation.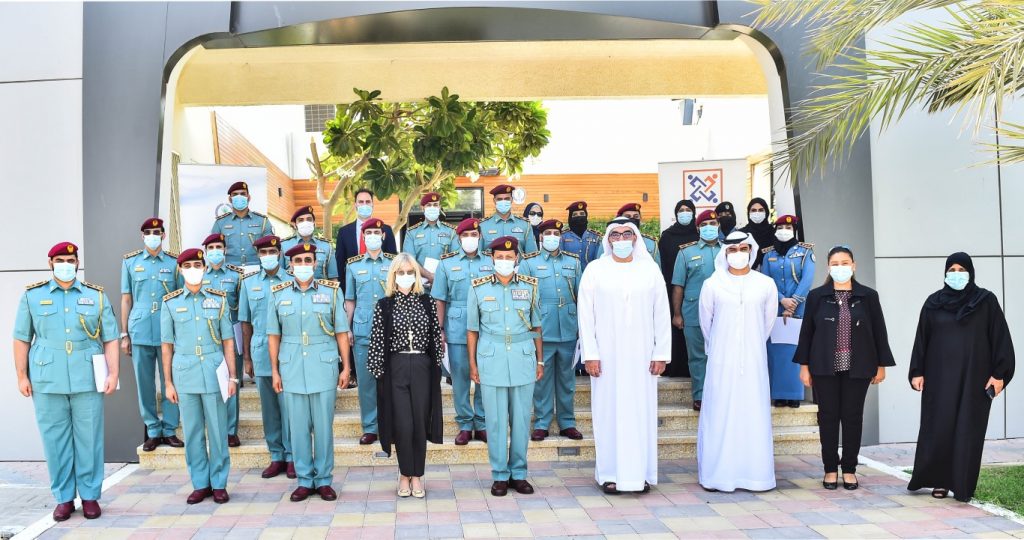 The course is the first of its kind at the level of the Ministry of Interior, in which 20 recruits from the Sharjah Police General Headquarters from various departments participated and lasted for three months and included exercises and workshops on self-knowledge and how to deal with different personalities and accept the other through 71 focus sessions for 106 hours Actual.
His Excellency the Sharjah Police Commander-in-Chief affirmed the leadership's keenness to spread the positive spirit in the souls of Sharjah Police's employees, urging them to develop their skills and abilities so as to benefit society as a whole, praising the course program, its personal and practical impact, and its positive results at the level of the leadership's employees.
Al Shamsi called on all graduates to apply the information they received during the course period and transfer knowledge to their colleagues, which would positively reflect on the work environment to acquire more skills to improve job performance and qualify them to work as professional mentors and to add more knowledge and skills in a positive spirit.
The "Certified Positive Mentor" course is distinguished as the first Arabic language course organized by the Sharjah Police General Headquarters in cooperation with the Sharjah Foundation for Capacity Development in accordance with the principles and standards of the International Coach Federation "ICF", the largest global leading body in the field of training, with the aim of training leadership personnel on the foundations and principles of effective guidance and the empowerment of associates Out of eleven competencies in coaching, learning about some psychological axes, and how to help others through "Coaching".