The Sharjah Police General Command launched the second phase of the "Hope Vehicle" initiative and put it into service, in cooperation with the Patient Friends Charity House in Sharjah, with the aim of simplifying procedures, improving services for guests, promoting a culture of customer happiness, continuous development of services provided, activating partnership and communication channels between entities Concerned with providing services in penal and correctional institutions.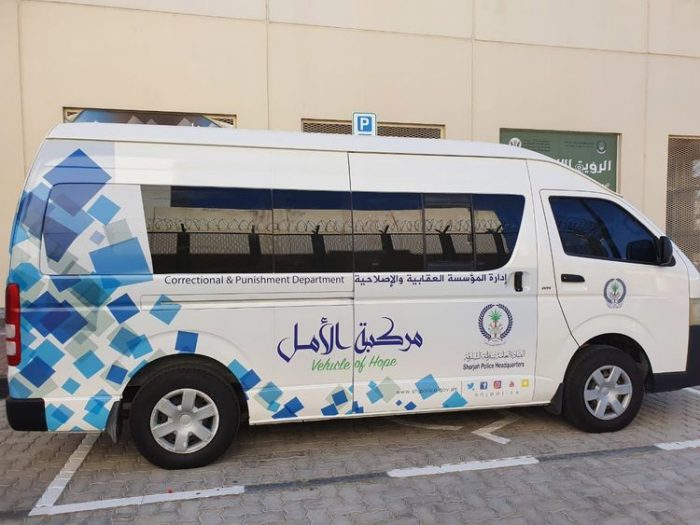 The Al-Amal vehicle is characterized by special specifications concerned with transporting the inmates of the institution, especially those with disabilities and the elderly, to hospitals and treatment centers to receive the necessary medical care for them. The idea of ​​the vehicle is a true translation of the vision of the ambitious leadership in the field of making use of modern technologies and systems in the development and improvement of operations and services, which enhances its goals consistent with the goals The strategy of the Ministry of Interior aimed at instilling a culture of innovation in the institutional work environment and enhancing customer satisfaction with the services provided.
Brigadier Ahmed Shuhail, Director of the Punitive and Correctional Institution Department, said that we seek in Sharjah Police to reach the leadership of our services provided to clients by partnering with various public and private service sectors and activating communication channels with those concerned by using creative means to discuss their needs, expectations and interests and study the possibility of response in support of policies and strategies. Providing and developing services, benefiting from them, and working on improving and upgrading them for the better. We launched the "Hope Vehicle" initiative to transport the institution's inmates to hospitals in a manner that takes into account their psychological and health condition.
Brigadier General Shaheil thanked the Patients' Friends Charity House in Sharjah and all the leadership's strategic partners who contributed to launching the second phase of the initiative until it became a tangible reality for serving the inmates of the penal and correctional institution.