This morning, the UAE's camel fields witnessed the start of the second week of preliminary races, within the 2020-2021 camel racing season, which was organized by the UAE Camel Racing Federation, with the participation of a large number of owners from tribes in the country and the countries of the Gulf Cooperation Council.
The competitions for the first day of adult age were dedicated to the folds category, over 16 routes for a distance of 5 km.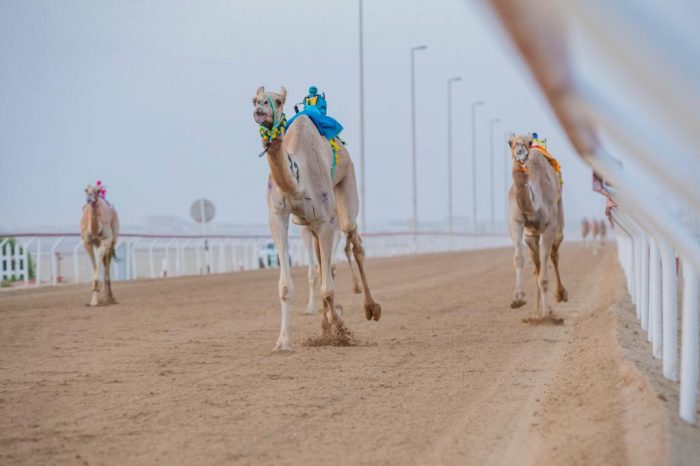 In Al-Wathba Square, "Al-Baida" by Tayy Ghanem Al-Mansoori flew to the first half of the local firsts, recording a time of 7:52 minutes, while Khalifa Abdullah Al-Dhaheri flew "Al-Baida" with the title of the second half of Al-Abkar Al-Mahjat with a time of 7:53 minutes.
"Masoun" by Suhail Dhoeb Al Ameri won first place in the third game with a time of 8:03 minutes, while "Sulaymani" by Salim Ali Al Ghailani led the fourth game after reaching the finish line with a time of 7:57 minutes.
"Al-Dhabi" by Maktoum bin Ali Al-Sabousi snatched the law of the fifth game with a time of 8:04 minutes.
The best time in the Al-Thanya competitions came through "Al-Deeb" by Ghaleb Sultan Al-Mansoori, which you achieved in the fourteenth round, which was dedicated to the production of Al-Dhanaya Al-Mahjarat on the floor of the western field in Al-Wathba, recording a time of 5:52 minutes.
In Jubail Square, "Wasfa" by Hamad Dbib Al Shamsi dominated the first half competitions, achieving a time of 8:19 minutes. Meanwhile, "Mari'a" by Mubarak Ali Bin Serdah Al Ameri won the second half, after overtaking its competitions with a time of 8:30 minutes. "Harpah" by Salem Al-Dahak Al-Mansouri grabbed the first half in Ghayathi Square after reaching the finish line with a time of 8:06 minutes, registering the best time in the field.
In "Saih Sabra" Square, "Munhaf" managed to gift its owner Rashid Khamis Al-Hassani Namous the first half, while "Mayassa" by Hamad Tawilib Al-Mansouri won the first place in the second round.
The second week's competitions will be concluded tomorrow, Saturday, with the Al-Hol and Zamoul competitions in all fields of the country.