The office of the UAE Attorney General has issued the initials and photos of people who have recently been fined for violating coronavirus restriction rules.A number of people from different nationalities have been caught in UAE for violation of official Covid-19 safety guidelines, WAM reported on Friday.
The Spokesperson of Emergency and Crisis Prosecution has announced that as part of the country's efforts to combat Covid-19, contain its spread, and ensure the adherence of UAE citizens and residents to instructions issued by the competent authorities, a number of people from different nationalities have been caught in violation of official guidelines.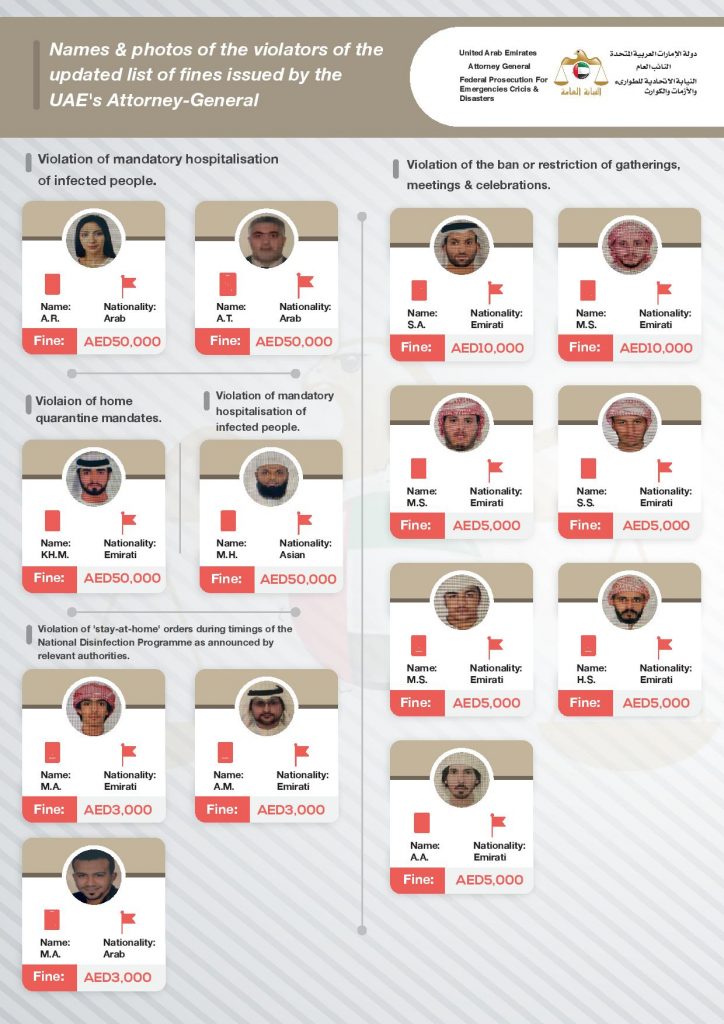 He indicated that the violations committed included failure to comply with quarantine facilities' measures, leaving home during curfew, not adhering to quarantine instructions and violating compulsory hospitalization, violating prohibitions and restrictions on assemblies and gatherings in public places, farms, and estates, and non-compliance with quarantine instructions in private establishments.
He added that legal action has been taken and charges filed against them, adding that fines for these violations range from Dh3,000 to Dh50,000, depending on the nature of the violation.

The Public Prosecution has called upon the public to adhere to precautionary and preventative measures, laws, regulations, and decisions issued by government authorities and said that "violators will be subject to legal action."

The Public Prosecution affirmed that it would take legal action against all those who do not adhere to measures to curb the spread of coronavirus to protect the health and safety of UAE community members and to support government efforts to contain the health, economic, and social impact of the coronavirus.
A man and a woman of Arab nationality, named as A.R and A.T, were fined Dh50,000 for violating mandatory hospitalization despite being infected by Covid-19.
An Emirati man called K.H.M. was fined Dh50,000 for breaking home quarantine rules, while an Asian man had to pay the same amount for violating mandatory hospitalization of infected people guidelines.
Three men were fined Dh3,000 for violation of 'stay-at-home' orders during timings of the National Disinfection Programme, including two Emiratis and one man of Arab nationality.
Seven Emirati men were fined between Dh5,000 and Dh10,000 for breaking the ban on gatherings, meetings, and celebrations. The men – named as S.A., M.S., S.S., M.S, M.S., H.S, and A.A. – were all Emirati nationals.
Here is the list of fines for those who violate Covid-19 rules and restrictions:
• Dh50,000: For violating home and health quarantine rules.
• Dh50,000: For violating the timing for opening and closing restaurants, parks, malls, etc.
• Dh50,000: For opening schools, gyms, cinema, parks, cafes, restaurants, pools.
• Dh30,000: For private tutors who violate the rules.
•Dh20,000: For hosting private tutors by violating the rules.
•Dh20,000: For tampering with tracking device or app.
•Dh20,000: For not placing thermal cameras wherever required.
•Dh10,000: For the companies who move workers between emirates. The vehicles will also be confiscated.
•Dh10,000: For not downloading the Covid-19 tracing app after being infected with the coronavirus.
•Dh10,000: For hosting events, parties or gatherings.
•Dh5,000: Individual fines for attending a party or gathering.
•Dh5,000: For companies or offices where employees don't wear masks at work.
•Dh5,000: For shops for breaking the timing for opening and closing.
•Dh5,000: For refusing to do a Covid-19 test.
•Dh3,000: For violating restrictions during the national sterilisation period.
•Dh3,000: For companies who fail to maintain a 30 percent limit on the workforce.
•Dh3,000: Fines (per vehicle) if more than three people travel in a car without wearing masks. (Members of the same family are exempted).
•Dh3,000: Fines per person for not maintaining social distancing at work or other places such as shops or restaurants.
•Dh1,000: For refusing to redo a coronavirus test after two weeks.
•Dh500: Per individual employee for not wearing a mask at work.
•Dh500: For shops and restaurants and other institutions where people don't maintain social distancing.