You all must be aware of the seven wonders of the world. But UAE as a country loves challenges and that's the reason there are some of the best creations in this country that has proudly bagged their position in the Guinness World Book of Records. Here we have listed some of the Tallest, Largest, Biggest, Highest, and Longest World Records In UAE.
1. World's Highest Outdoor Infinity Pool – Address Beach Resort
Address Beach Resort: a Dubai-based iconic beach view resort that offers numerous relaxation, dining, and entertainment options. It has entered into the Guinness World Records for having the Highest Outdoor Pool in a building.
Yes, it is home to the world's highest infinity rooftop pool that also provides stunning views of the Bluewaters Island, Palm Jumeirah, Ain Dubai, Dubai Marina, Burj Al Arab, and The World Islands.
Enjoy your time in this pool, and in case you get hungry, they have a superb option for that as well! Its rooftop restaurant will make your fine dining experience memorable. With 12 private enclosed air-conditioned cabanas and an open terrace, you are ought to have a lifetime experience. You will enjoy your stay in this resort as it has beautifully decorated suites, hotel rooms, serviced, and residential apartments.
2. World's biggest Shopping Mall – The Dubai Mall
Are you a shopaholic? Then The Dubai Mall is a must-visit for shopping which is the biggest man-made structure that has been ever-built. It is a part of the Burj Khalifa spread over 12 million sq. ft, equivalent to 50 soccer fields. You can get each item on your bucket list in the Dubai Mall. It has over 1200 shops, including one of the world's biggest candy stores, a game center featuring a 3D bowling game, and an ice rink. Plus, you can also enjoy fine dining and movies here as it has over 120 restaurants and cafes, and cinema halls. If you are in Dubai, never forget this place as one of your destinations in your itinerary.
3. World's Largest Aquarium – SeaWorld Abu Dhabi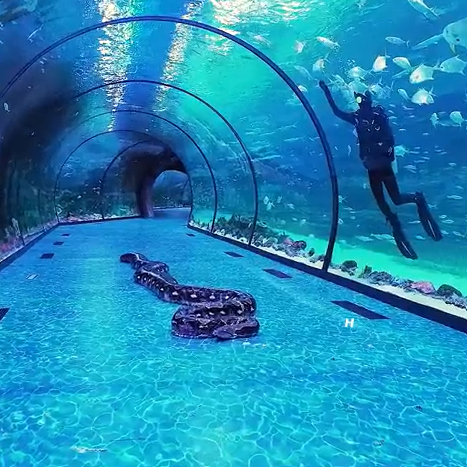 Do Marine life and theme parks bring fascinate you? SeaWorld Abu Dhabi theme park is the upcoming animal research and marine life aquarium that is about to open in 2022 in Abu Dhabi: the Capital City of UAE. It is set to feature the most expansive marine animals that will include sharks, fishes, and sea turtles,……. It will also be home to SeaWorld Rescue and Research Center. This aquarium' experience will indeed tell a "One Ocean" story that will be based on the interconnection between all lives on the earth and the oceans.
4. World's Tallest Hotel – Gevora Hotel
A room with stunning views often qualifies the picture of the perfect room we have in our mind. Wide roads, cars, Skyscrapers, fluffy clouds, chirping of birds feel like it is within our reach. If you want to enjoy these views to the fullest, do consider The World's tallest – Gevora Hotel in Dubai, which also provides 360-degree views of the sky. So enjoy your delicacies with a sip of their High View Mocktails and witness the enchanting views of the famous Burj Khalifa.
5. World's Longest Driverless Metro Network
Love traveling and exploring different modes of transport? Try traveling from Dubai Metro. The Dubai Red Line metro is the longest metro line and is 52.1 km in length. Dubai's second Metro line, the green line, is around 22.5 km. When it is combined with the Redline, it will be longer than "The Vancouver Skytrain".
6. World's Highest Restaurant – At.Mosphere

Where else can the World's Highest Restaurant be found? Your guess is right! It is none other than Dubai, where the tallest building exists. The At.Mosphere Restaurant is located on the 122nd floor of "The Burj Khalifa" building, where you will be served out-of-the-box cuisines of the world. And how can one forget about the pleasant views of the Arabian Gulf and the beautiful surroundings it has. But make sure for advance booking  before driving your path to this highest restaurant.
Want to explore the underwater world? Then here is your chance to dive into the Deepest Pool of the World in Dubai. It is indeed the best venue for underwater divers and is equal to the six giant-sized swimming pools. It is in itself attractive and pictures a sunken city. This pool has two underwater habitats and has over 56 cameras that will cover all the corners of the underwater pool. Besides, it also has a mood lighting system and an underwater sound. This underwater world also has events, conference and meeting spaces, and different shops. You will have the best time of your life exploring this unique underwater world.
So have you visited any of places that hold World Records In UAE? In case you have not then plan your visit for the same. And do share your experience in the comment sections!