Dubai is a city full of architectural marvels, and most of them depict glamour and opulence. Be it the Burj Khalifa, Atlantis hotel, or Palm Jumeriah; the city always surprises you. And this time, they are here with another wonder: the View at The Palm. This property by Nakheel has been open to the public since April 2021. It is here to offer the visitors a 360-degree view of Dubai city. Along with that, they can also relish the beauty of Palm Island. Let's find out more about it.
Overview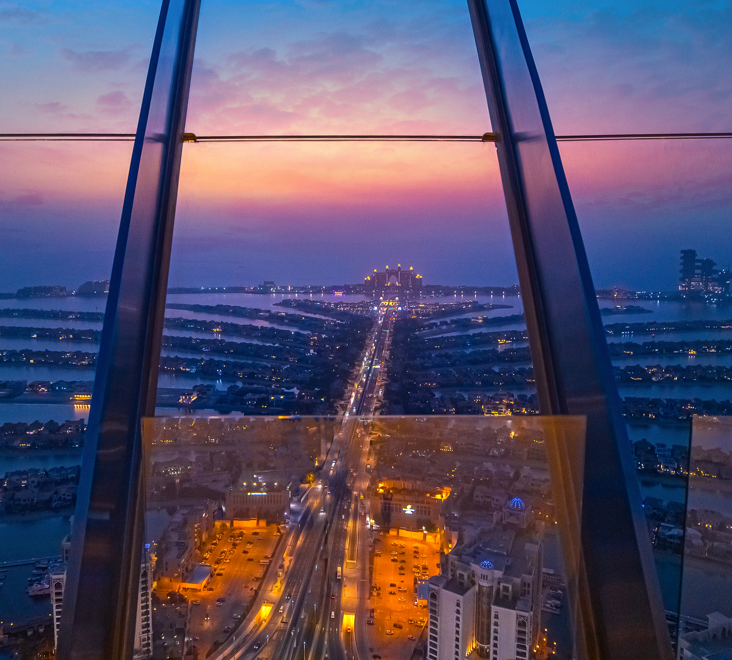 The View at the Palm is an observation deck situated on the 52nd floor of Palm Tower at Palm Jumeirah in Dubai. It's an exotic location from where you can have a spectacular view of the Palm Jumeirah, the Arabian Gulf, and Dubai skyline. You can sense the awe-inspiring beauty of Dubai city from here while feeling the blow of cold wind over your face. 
What to expect Inside The Palm Tower?
The View at Palm can be accessed through the Nakheel Mall. As you make an entry at level 2, you will be greeted by the aroma of fresh Starbucks Coffee and a few gift shops.
Moving forward, you will find an interactive and virtual aquarium tunnel that will refresh your mood. You can spot different types of marine life such as sharks, stingrays, and other fishes on both sides and above.
Then comes an immersive theatre with an LCD screen where you can find out how the world-famous and record-breaking Palm Jumeirah came into origin. Visitors can peek into history and learn about the development phase of Palm Jumeirah through those screens. In fact, there is also a timeline that traces the entire process of Palm Jumeirah construction starting from 2001.
The other highlights include intelligent floors that will show you Palm Jumeirah animation when you put your foot on the floor.
Some smaller screens are also there to show short documentaries while you wait for the elevator. These smart and interactive screens provide access to vital information about the Tower.
The elevator ride to the 52nd floor is also a memorable experience. It has an intelligent interactive screen, which showcases a virtual depiction of Dubai's prominent sites such as Ain Dubai, Palm Jumeirah, and many others. You won't get bored till you reach the 52nd floor as you'll be captivated by admiring Dubai's iconic landmarks.
The Observation Deck is the primary show stopper thanks to its breathtaking view, which is phenomenal. The entire platform is surrounded by a large glass panel, with several binoculars stand available for your comfort of seeing the gorgeous Dubai metropolis.
Experience at The View at Palm
Every major landmark of Dubai, like Ain Dubai, Burj al Arab, Palm Jumeirah, Palm Atlantis, and the majestic Dubai skyline, can be seen from here easily. Thanks to the design of glass panels, you can observe the bottom of the Palm Tower quite easily.
Furthermore, the fronds of villas on the Palm islands, spread out in a magnificent palm form, can be seen from this sky-high deck.
This 52 stories high observation deck has a VIP lounge and areas for private events as well. The view of the city from here at night is truly magnificent, which will give you goosebumps and peace of mind like never before. Also, thanks to its height and location, watching fireworks from this deck will be out of a world feeling. 
Ticket Prices
Due to social distancing restrictions, the observatory deck can handle 350 visitors at once. The ticket prices for adults cost DHS 100, and for children, it cost DHS 69. Tickets are available to buy online, by phone, or in-person at the Nakheel Mall roof plaza, for a day or night experience. 
How to reach The View at Palm?
Dubai International Airport is roughly 25 minutes drive from here, and the new Al Maktoum International Airport is approximately 34 minutes. Thus, you can easily reach here by taxi or your own car as per your need and comfort. Also, the tower is a couple of minutes away from Palm Jumeriah and Marina beach. Taxi service is easily available from there. Howeve, plase note that there is no direct bus facility to this area. But in the coming times, The Palm Monorail will have stations to Nakheel mall.
Other than that, Dubai public transit is quite convenient and is well connected to different parts of the city. Infact it is even safe during Covid 19 era.
Parting Words
So that is all you must know about the newest attraction in the city. Do visit this awesome place and share your views with us. Till then, stay tuned for more such updates.