Usually, when you read a history article or story, it's mostly just dry facts and your imagination. But an amazing photo gives something a bit different. It shows you how it all actually looked, letting you understand the historical moment more intimately.
TIME magazine decided to create a list of the 100 most influential pictures ever taken. They teamed up with curators, historians, photo editors, and famous photographers around the world for this task. What all of the 100 famous photographs share is that they are turning points in our human experience.
Whether it would be a historical landmark, a famous person, or random old pictures of the past – they all have fascinating stories behind them, and we're just about to show you.
1. The Terror of War, 1972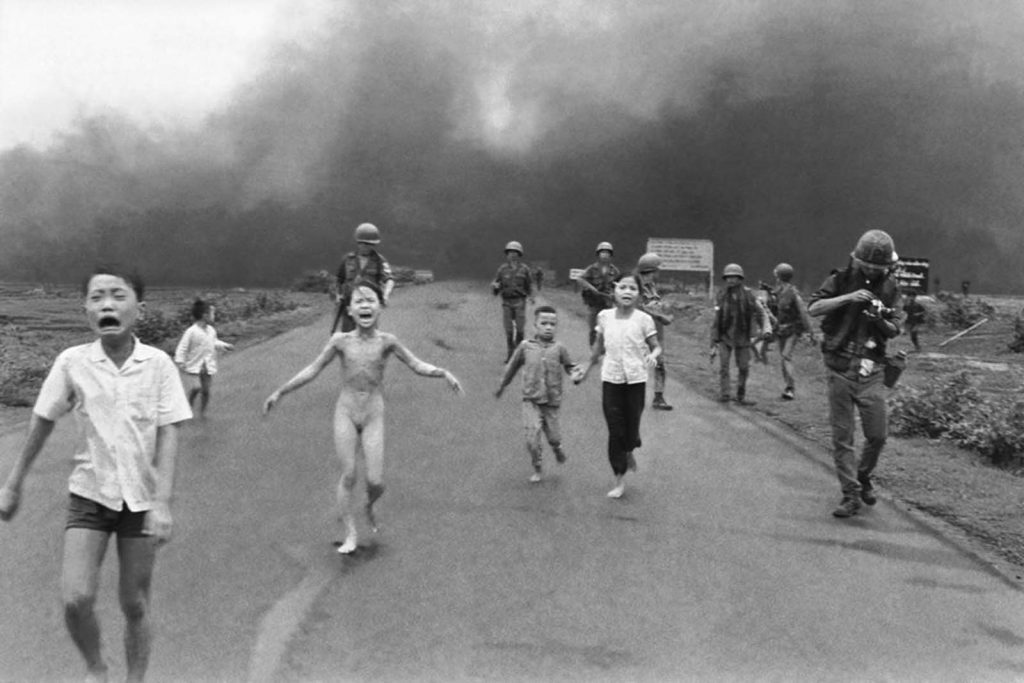 The terror of war or also known as the Napalm Girl is a Pulitzer Prize-winning photograph taken by photojournalist Nick Ut, a Vietnamese American photographer who was working for the Associated Press at that time. The photo shows South Vietnamese forces following after terrified children, including 9-year-old Kim Phuc (center) as they run after an aerial napalm attack on suspected Vietcong hiding places on June 8, 1972.
2. The Burning Monk, 1963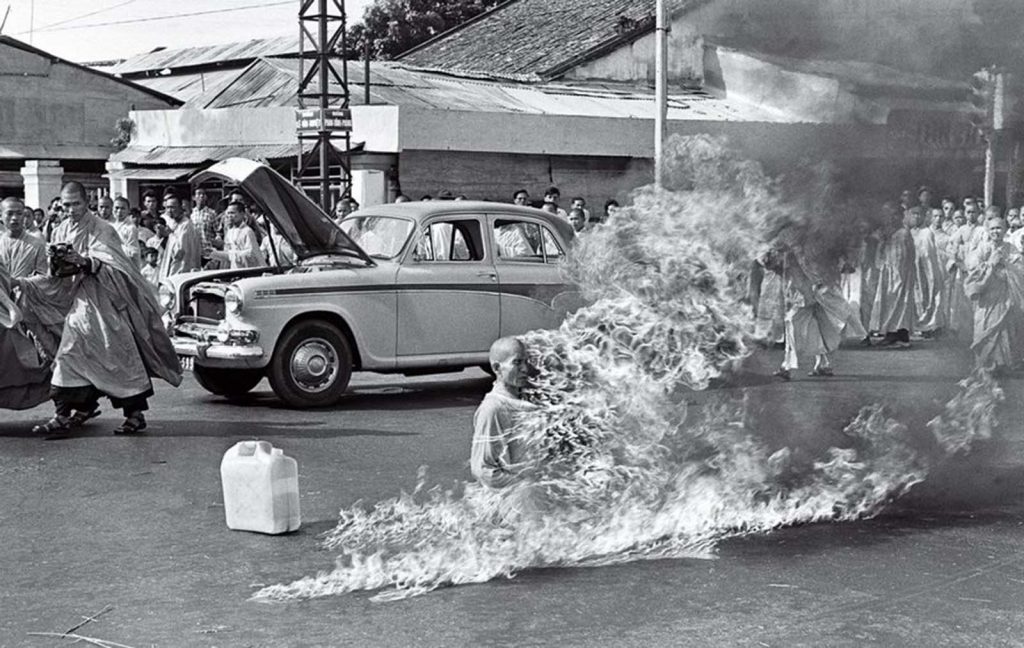 In June of 1963, Vietnamese Mahayana Buddhist monk Thích Quang Duc burned himself to death at a busy intersection in Saigon. He was attempting to show that to fight all forms of oppression on equal terms, Buddhism too, needed to have its martyrs. The self-immolation was done in protest to the South Vietnamese Diem regime's pro-catholic policies and discriminatory Buddhist laws.
3. Starving Child And Vulture, 1993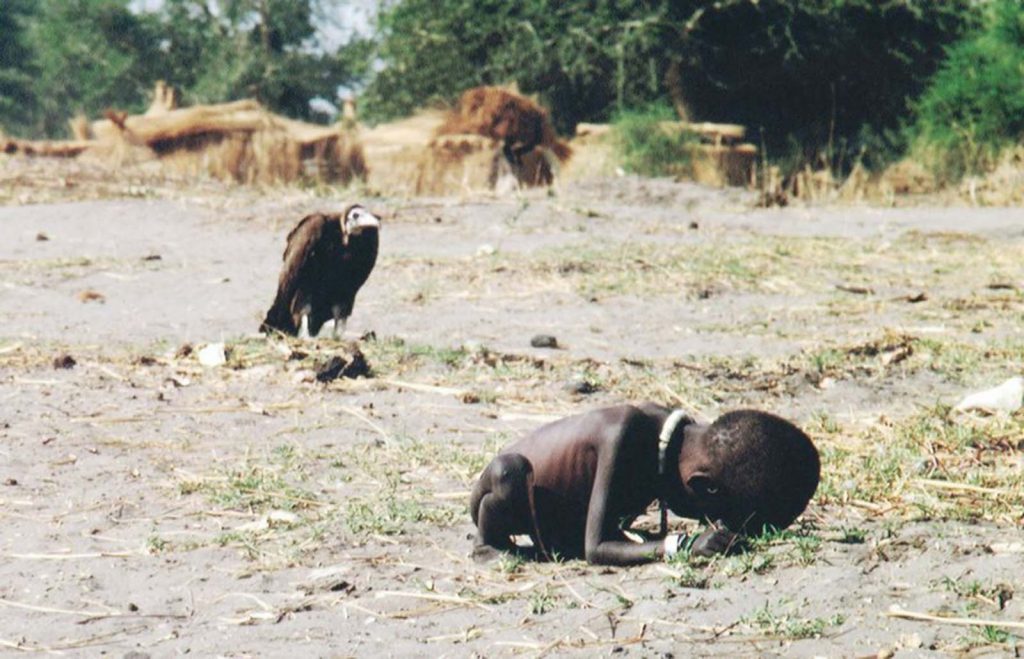 Also known as "The Struggling Girl", is a famous photograph by Kevin Carter which first appeared in The New York Times on 26 March 1993. It is a photograph of a frail famine-stricken boy (initially believed to be a girl) who had collapsed in the foreground with a hooded vulture eyeing him from nearby. The child was reported to be attempting to reach a UN feeding center about a half-mile away in Ayod, Sudan. The picture won the Pulitzer Prize for Feature Photography award in 1994. Carter took his own life four months after winning the prize, writing "I am haunted by the vivid memories of killings, corpses, anger, and pain."
4. Lunch Atop A Skyscraper, 1932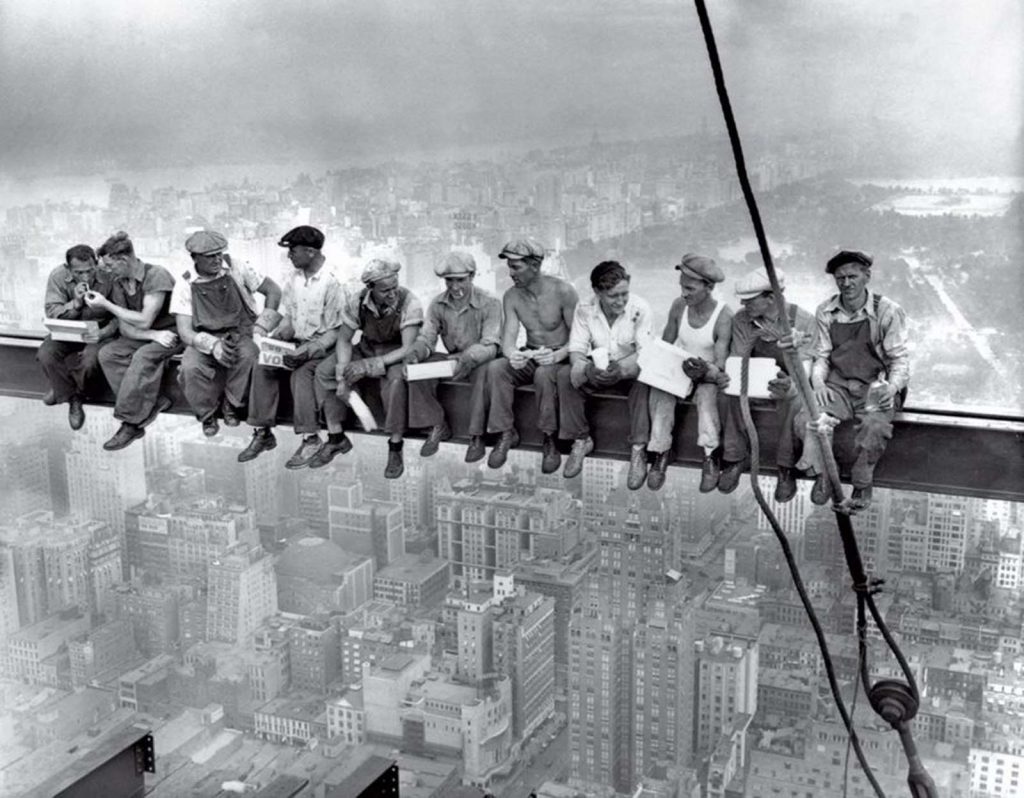 It is a photograph taken atop the steelwork of 30 Rockefeller Plaza, during the construction of the Rockefeller Center, in Manhattan, New York City. By thumbing its nose at both danger and the Depression, Lunch Atop a Skyscraper came to symbolize American resilience and ambition at a time when both were desperately needed.
5. Tank Man, 1989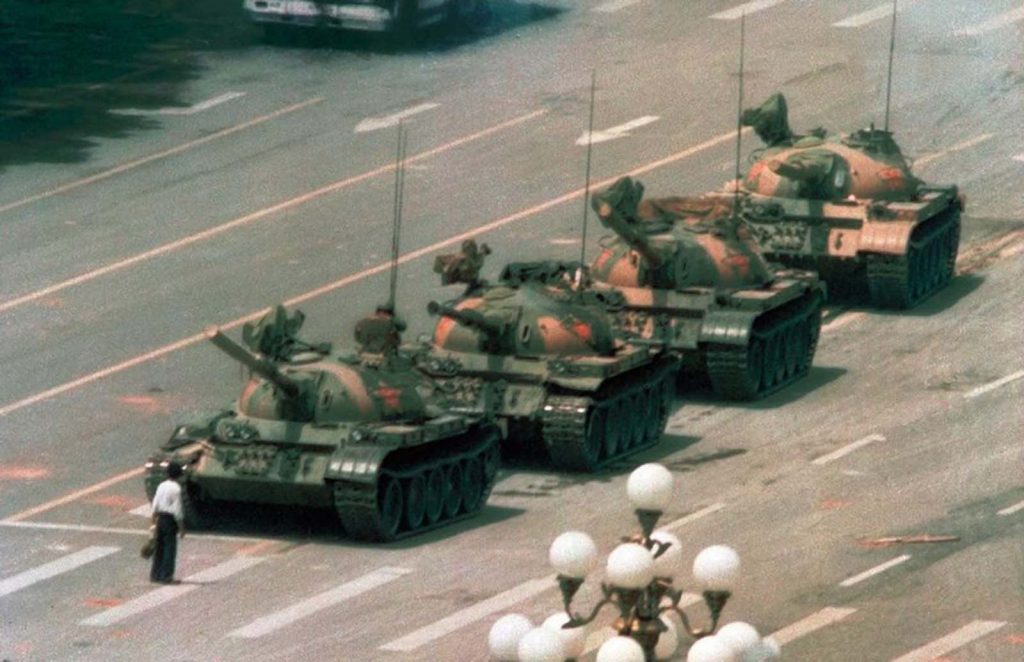 Tank Man is the nickname of an unidentified Chinese man who stood in front of a column of tanks leaving Tiananmen Square on June 5, 1989, the day after the Chinese military had suppressed the Tiananmen Square protests by force. As the lead tank maneuvered to pass by the man, he repeatedly shifted his position in order to obstruct the tank's attempted path around him. The photo was captured by Jeff Widener.
6. Falling Man, 2001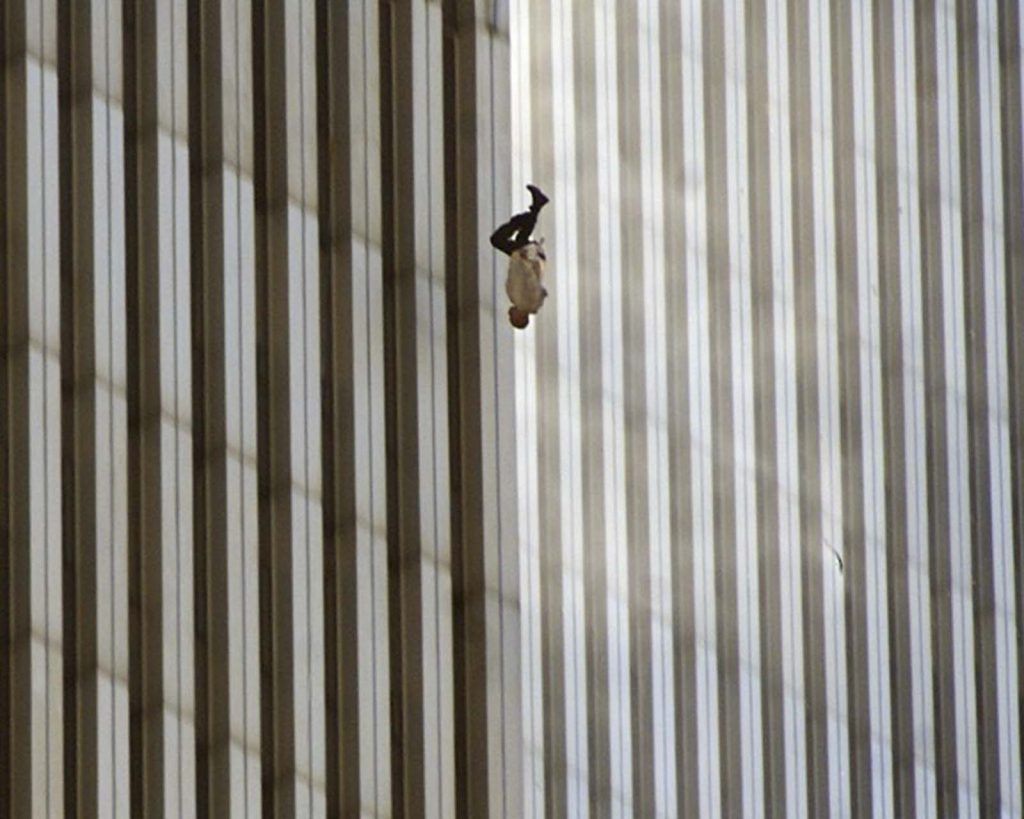 This is a photograph taken by Associated Press photographer Richard Drew of a man falling from the World Trade Center during the September 11 attacks in New York City. The subject of the image was trapped on the upper floors of the North Tower and either fell searching for safety or jumped to escape the fire and smoke.
7. Alan Kurdi, 2015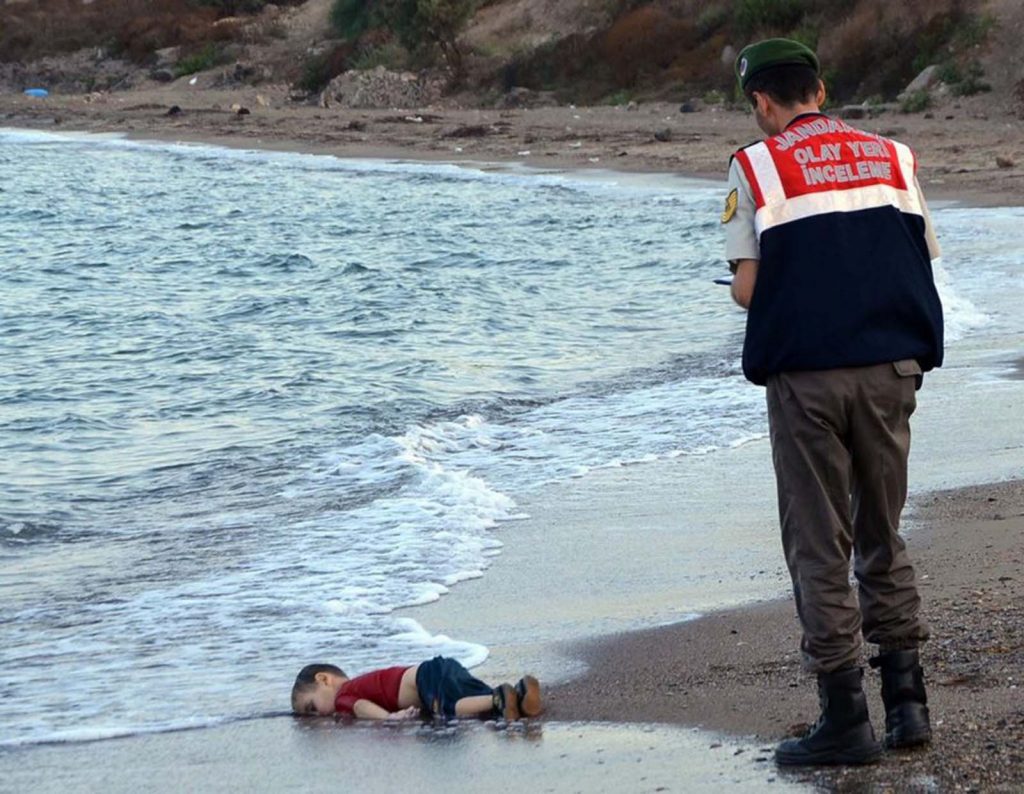 Alan Kurdi was a three-year-old Syrian boy of Kurdish ethnic background whose image made global headlines after he drowned on 2 September 2015 in the Mediterranean Sea. He and his family were Syrian refugees trying to reach Europe amid the European refugee crisis. Photographs of his body were taken by Turkish journalist Nilüfer Demir and quickly spread around the world, prompting international responses. Because Kurdi's family had reportedly been trying to reach Canada, his death and the wider refugee crisis immediately became an issue in the 2015 Canadian federal election.