Madrid: Spain was one of the most corona devastated countries in the world. After going through severe lock-down for three months, the cities are slowly back to action. Still opening of movie theatres remain a distant choice for the authorities.
This is the time where movie lovers are greatly surprised when Drive in cinema is introduced in Madrid. Viewers could drive in, park their car and view the big screen while remaining in the car itself. An excellent way of keeping the social distancing and at the same time, feeling a normal life.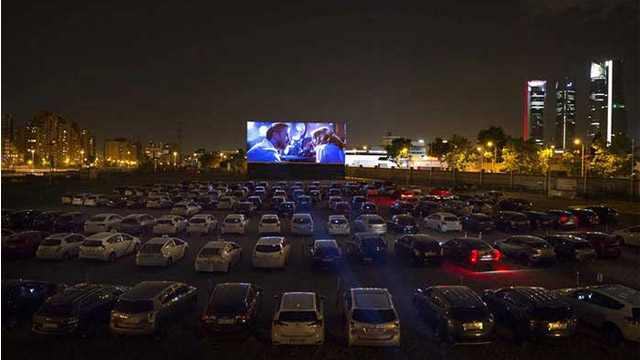 Autocine Madrid Race took pains to establish this Drive-in idea, screening the hit musical "Grease" from 1978. "We are the safest entertainment place in Madrid. It seems like drive-in cinema was made for a time like this," says Madrid Race co-founder Cristina Porta. "Tickets for one month were sold in one day", she added. It was three friends and entrepreneurs who founded the Madrid Race in 2017. They wanted to something that was unprecedented in Madrid; and the result is history.
"We were looking for something exclusive and original that didn't exist in Madrid," says promoter Tamara Istambul. "It was difficult to find something that we didn't have in the capital of Spain, but we found it." The drive-in cinema, the largest by dimensions in Europe, is set on a 25,000 square metre plot in the shadow of Madrid's Cuatro Torres (Four Towers) skyscrapers, in the neighborhood of Chamartín, north of the center. It has a 250 square metre screen, digital projector and FM radio transmitter than transmits the audio straight to vehicles. During the summer, the drive-in also has 160 deck chairs in front of the big screen for those who want to experience the drive-in, but who don't have a car.
"At the drive-in you have privacy and a feeling of freedom; from inside your vehicle you can adjust the volume, air conditioning and heating to your preference. You can smoke if you wish or comment on the film as if you were at home," Istambul said. There are provisions for the viewers to order food and beverages from the Drive-in.
"It's a truly alternative form of entertainment: cinema plus dinner, in the same place, with comfortable and quick access": quotes a spectator. Madrid Race Drive-in timings are from 9:30 PM during weekdays and from 10:00 PM on weekends. Entrance is allowed two hours before the start and tickets are available online.