The 2011 film Mission Impossible – Ghost Protocol was a suspense action thriller starred by Tom Cruise and directed by Brad Bird. Much of its scenes were shot from Dubai and especially a Tom Cruise climb scene on the world's tallest skyscraper Burj Khalifa is one of the ever unforgettable scenes in Hollywood movies.
Behind the scenes
According to the behind-the-scenes material, the studio had to get permission to drill holes and break windows, in order to get Tom Cruise and the cameras out on the building. They consulted with professional climbers and stuntmen, architects, and engineers to reassure everyone that the stunt would be performed safely and responsibly.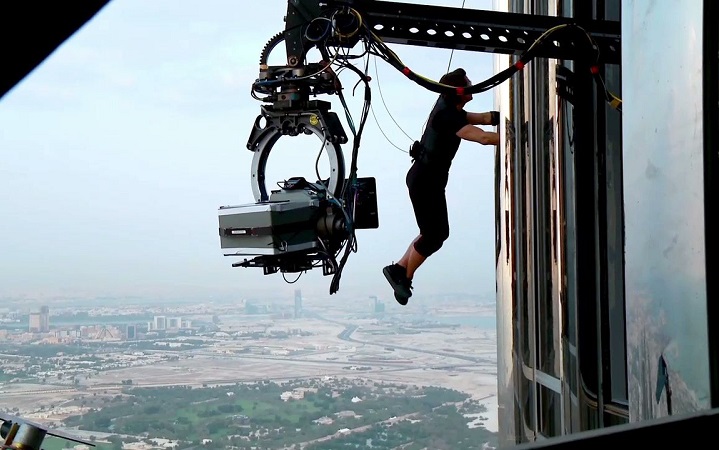 The filming would be slowed down due to the helicopters only being able to be in the air for a half hour at a time. The sequence was shot with IMAX cameras, and those burn through film quickly, reloading the film also added time to the shoot.
While the film shows Ethan Hunt (Tom Cruise) free climbing, in reality, Tom Cruise had to be harnessed, but the strain of that cut off his circulation. His legs would go numb after a while, so he had to be quick as well. Brad Bird admitted that coordinating all this was difficult, but he and his crew tried to be calm and let it the sequence play out. Watch this video for a detailed knowledge on the risky filming of the climb scene:
Tom Cruise was known for his professional stunt scenes without usually, a dupe. Driven by his love for making movies and performing these wild, insane stunts, he seems so game for anything and yet totally Zen about it all. Whether or not he was terrified, he seemed perfectly indulged in the filming. He had to be quick, putting in a performance as Ethan Hunt while also climbing the world's tallest building.
One would think it is insane; but those who know the professionalism of Tom Cruise would never think that he is a daredevil. He was prepared and intelligent, surrounding himself with professionals and experts to help him perform the scene.
What I love about the Burj Khalifa climb is that the climb itself is the obstacle. It's such a simply designed scene: they have to get to some servers and can only get in from the outside. Even if the audience knows that Hunt has to survive the climb, the sequence is just beautifully performed by all involved, and it's remarkably tense.
"That was not easy, but I did it"
Tom Cruise jumping out of the window then running vertically down the building is just genius stuff. Then, seeing his team trying to pull him back inside is incredible. The tension relief after Hunt is safe is completely earned. Then Simon Pegg comes in, after completing his part of the mission, saying "That was not easy, but I did it." It's a really funny line and a great button to this jaw-dropping scene. Watch that mind-blowing scene:
Among his long list of extremely dangerous stunts throughout the years, Tom Cruise's feat of courage on the exterior of the world's tallest building in the fourth installment of Mission Impossible is perhaps his most famous one. Since then, he has continued to defy death in multiple movies with stunts like Mission Impossible: Fallout's HALO jump. Still, Ethan Hunt holding on to dear life to the windows of a skyscraper with only a pair of suction gloves has become a landmark in the history of cinema.
Ghost Protocol takes Tom Cruise's Ethan Hunt to Dubai in search of some nuclear launch codes after Kurt Hendricks, a.k.a. Cobalt (Michael Nyquist), a Russian nuclear strategist, steals a devastating weapon in order to start a nuclear war between the U.S. and Russia. As Mission Impossible fans already know, neither the franchise nor its star tend to take the easy route. So, Ethan Hunt must reach the 130th floor of the 2,722-foot skyscraper and ditch the elevator in favor of a pair of special suction gloves (one of which quickly malfunctions). Of course, he gets a head start of no less than 123 floors, but that only makes the start of his climb even more spine-chilling. As if that weren't enough, he then rappels down the building and makes a jump of faith toward the same window he came out from, barely missing it and hanging from one of his feet with the help of William Brandt (Jeremy Renner) and Jane Carter (Paula Patton).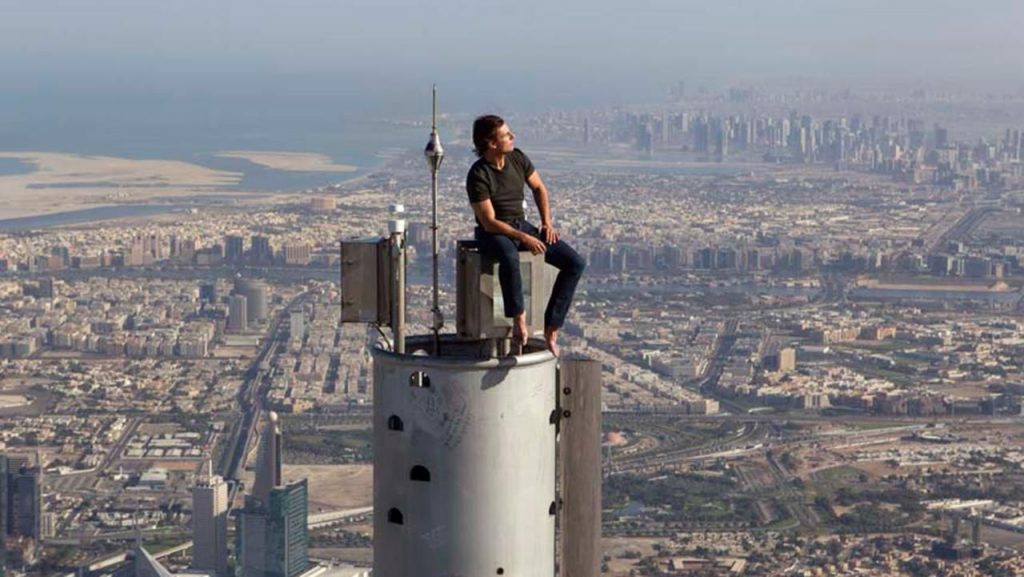 To shoot the sequence, Tom Cruise had to be equipped with a harness that was carefully fixed to strategic points in the building, which required the studio to get special permits to drill on the floors and walls and break around 26 windows. Director Brad Bird — in his live-action directorial debut after The Incredibles and Ratatouille — consulted with multiple professionals from different areas like engineers, pro climbers, and stuntmen to ensure the safety of the shoot. He even considered using a dedicated stuntman, but Tom Cruise chose to do his own stunts — as he's done for the majority of his career.
Months before the stunt crew got anywhere near the Burj Khalifa, they had forged a pretty accurate replica based on hundreds of photos and the real dimensions. The glass was heated up to mimic the searing conditions they'd experience under the United Arab Emirates sun.
Smrz wanted his charge to do so many repetitions that Cruise could do the six minute 45-second stunt sequence in his sleep — including free-falling four stories when his character loses his grip and running across the face of the building in something called an "Australian rappel.".
Of course, nothing truly could prepare them for what it would actually be like stepping into the crosswinds or the dizzying height that turned the rest of Dubai into a picture postcard.
The Burj Khalifa is an engineering marvel, a $1.5-billion metal and glass finger tickling the sky — a landmark that has been requested as a shooting location roughly 1,000 times this year, according to Dubai Studio City, the city's official film authority. Inside there is a projected inscription that begins, "I am the power that lifts the world's head proudly skywards, surpassing limits and expectations."
"At Dubai Studio City, health and safety is of prime importance and all permissions granted for filming need to observe that," Jamal Al Sharif, managing director, Dubai Studio City, said in a statement to the Daily News. "There were safety codes from Burj Khalifa as well that were in place. The mandate was tough but with the coordination of concerned authorities, we pulled it off and today we have the world witnessing the brilliance of Dubai on the big screen."
To be sure that no one had to make a grim call to Katie Holmes on their watch, building management assigned two full-time engineers to keep an eye on things.
"The link to me is always the cable or the harness," says Smrz. "Things can get hung up. There's never a guarantee. We can get it 99.9% safe, but there's always some sort of chance that something can go wrong and there's nothing anybody could do about that."
Every piece of cable used was sent to an engineering facility to be brake-tested. So were the tools that were used to crimp those cables. "I've been doing this for 20-some years, the rigging end of it, you still crimp that cable and you look at the crimp and every time you think man I hope that crimp is right," says Smrz.
The risks in shooting the sequence
Doing the stunts practically, on the building itself, provided so many details that could not be reproduced. The cars on the road reflected in the windows (imagine driving in Dubai and not knowing that Tom Cruise is risking his life thousands of feet above you). The potential threat of the sandstorm; the jolt of every slipped hand! You feel like you're watching it in real time, even seven years later.
The efforts behind this scene by everyone concerned is a direct message to all that if you are determined, no 'Mission is Impossible' here.