In winter, the coat becomes the most important piece in our wardrobe, and that is why international fashion houses are keen every season to present the most beautiful models of coats that vary in terms of their styles, colors and materials made from them, and in autumn and winter 2020-2021, we noted The long coat was one of the most prominent and popular.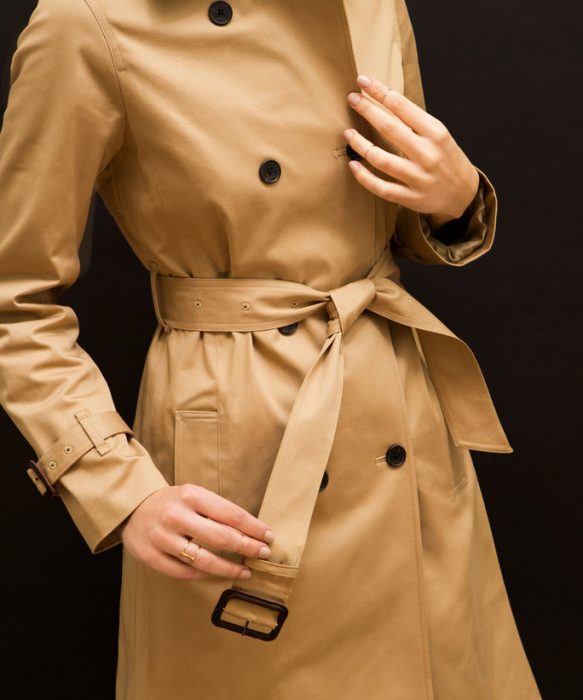 Whatever material the long coat is made of, whether it is cloth, leather, fur or even Shearling sheep's wool, this type of coats suggests a lot of elegance and modernity at the same time, and we have spotted a large number of international stars. The long coat on all winter trips, and here are some ideas for them to coordinate and adopt.
Sienna Miller in trench coat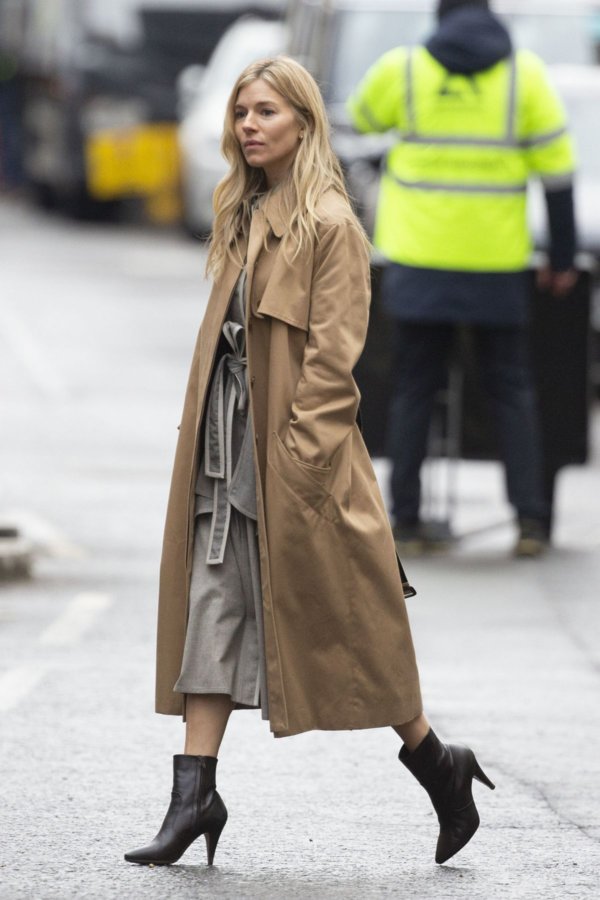 An autumnal look coordinated by British American actress Sienna Miller, in which she chose a light gray coat dress with a belt on the waist from the same fabric, above which she coordinated a beige trench coat, and completed the look with leather ankle boots with high heels in dark brown.
Amanda Holden womens checkered coat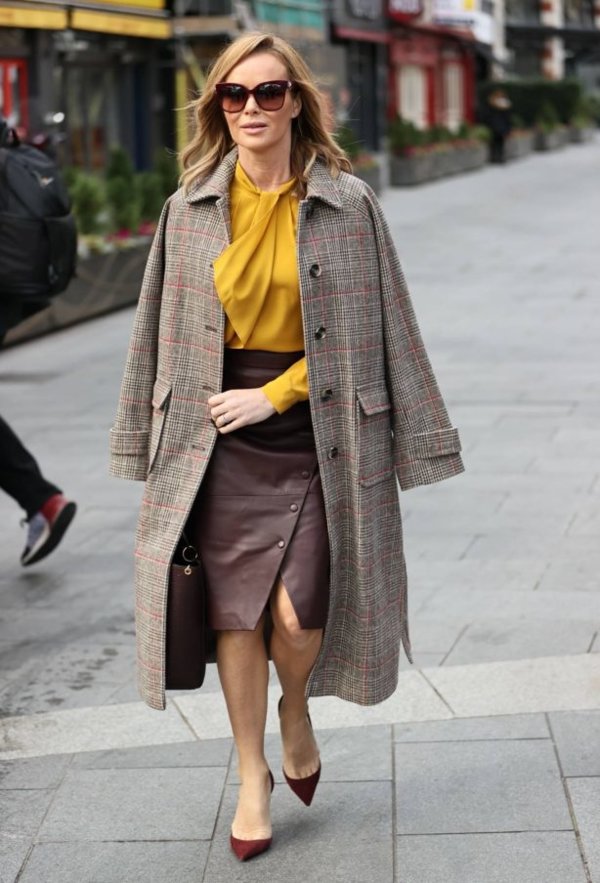 Squares pattern has something of a classic that is completely different from the rest of the engravings that we see or even adopt by women, because it gives the wearer an official character. This is fully understood by the English journalist Amanda Holden, who is known for her elegant classic style. In this look, she chose a mustard yellow top decorated with a tie on the neck, and she coordinated a reddish-brown leather midi skirt decorated with side buttons, and put on her shoulders a long checkered coat
Kim Kardashian in the leather coat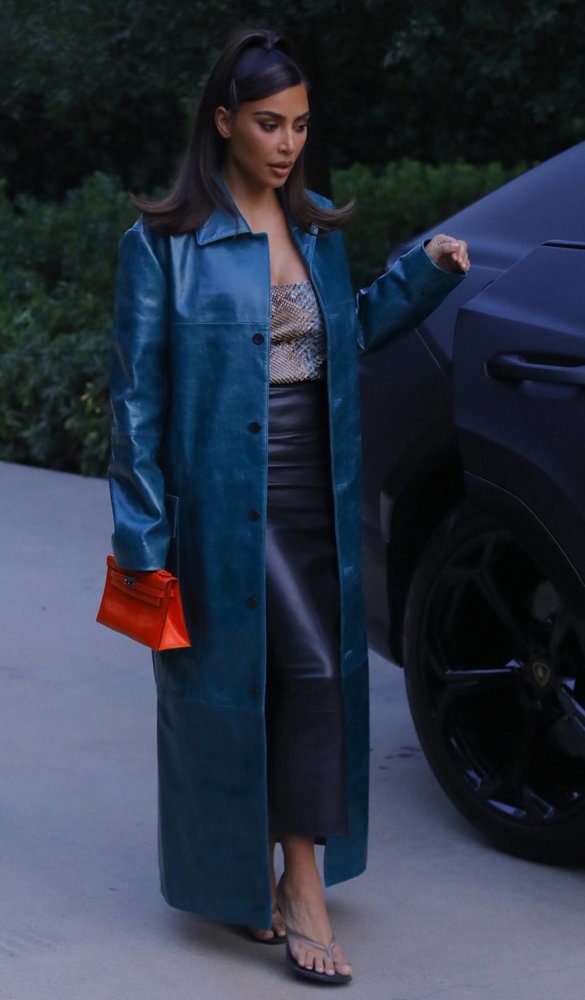 Leather fashion, specifically the leather coat, had the biggest share this winter, especially since you will find yourself stepping out of the cycle of traditional coats and heading to something more luxurious and luxurious, with elegant classic touches at the same time. Adopt in the manner of Kim Kardashian, a leather coat in a vibrant color such as turquoise blue, which the star coordinated with a midi skirt of the same leather material in black, and with which she wore an open-chested top with the most popular snake skin pattern this season. And the accessory she chose with this look was the most prominent, as she wore a high-heeled toe sandal, which is a bold choice that you can replace with high-heeled shoes or boots, and she carried in her hand a small leather bag in bright red, through which she broke the monotony of the look.
Jennifer Lopez in a fur coat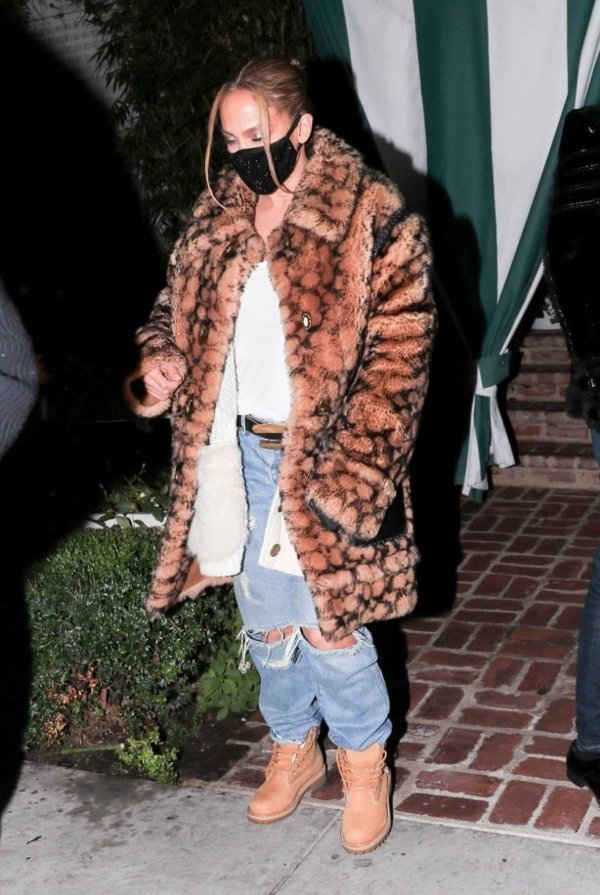 The fur coat is one of the important and distinctive pieces in every woman's wardrobe, as it gives you an elegant and luxurious look as well as the feeling of warmth that you always need, especially in cold winter weather. Dressed in a fur coat, modeled after superstar Jennifer Lopez, who chose it in an animal print and coordinated it in a youthful modern style, with a white fur shirt and cardigan and ripped jeans, and added Timberland boots in beige for a warm look.
Hilary Duff in a shearling coat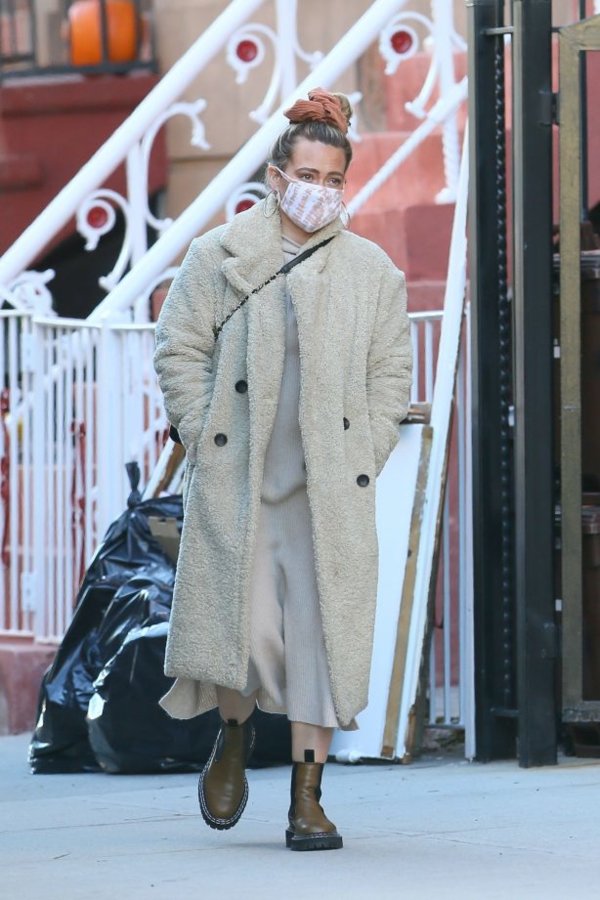 Hilary Duff coordinated a youth casual winter look, and she chose a knit dres, which is popular for this season in beige color, and above it she adopted a long coat in the same color as her shearling sheepskin dress, which is the most prominent coat for this winter. In camel and black colors, she wore a black leather crossover bag.
Jessica Alba in the classic coat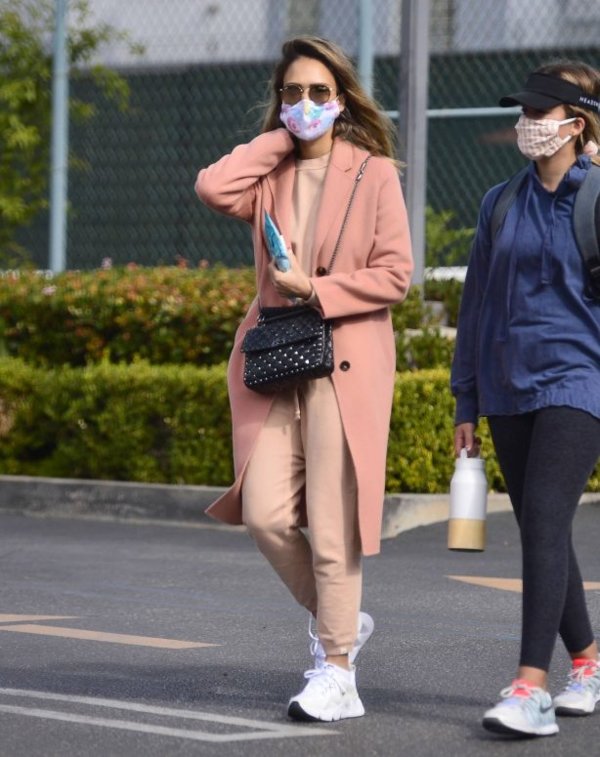 Actress Jessica Alba wore the long coat with a classic design in pastel pink in a comfortable and practical style, as she chose a sporty design in a slightly lighter color, and white sneakers, and attached this comfortable casual look to a cross-bag of leather lined in black, and the look was decorated with framed sunglasses In golden color.
Nicole Williams in linen coat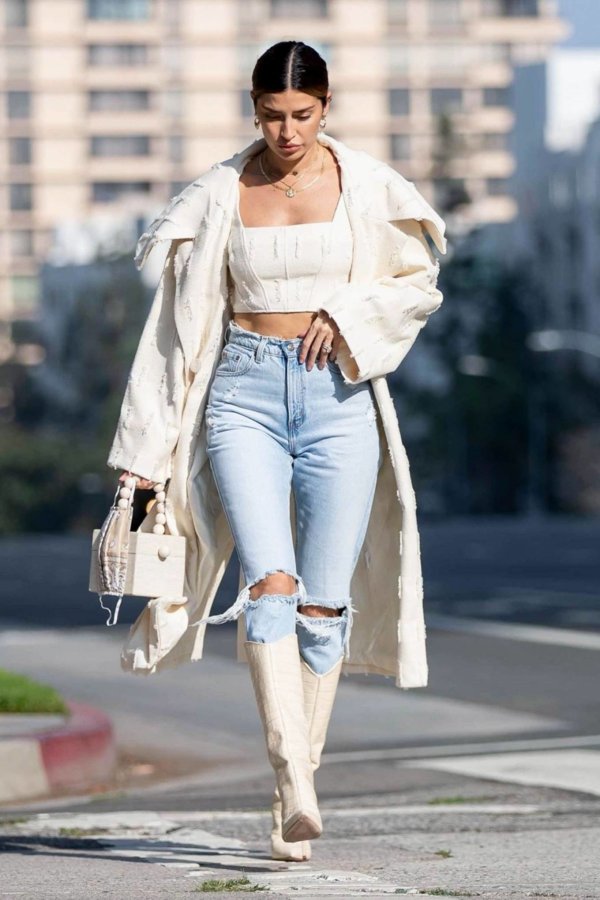 A very modern look, which star Nicole Williams resorted to, as she wore a long coat with an unconventional linen embroidered creamy white, coordinating underneath a cherub top in the same color and material, and blue torn satin jeans, and she paired the look with creamy white accessories, consisting of crocodile leather boots and a bag In the form of a wooden case with a handle decorated with circles.