Planning a vacation to Ras Al Khaimah? It is the gateway to explore and connect with the cultural and historical vibes of UAE. Its 7000 years old culture still has an impact that spreads positivity all around. The magnificent landscapes, the rolling sand at long beaches, and the peaks of Hajar mountain are heart-warming. And there is also a lot of discover than just these. Let's explore more about the top 7 places to visit in Ras Al Khaimah.
See Sunset on Jebel Jais
Do you want to capture the perfect sunset? Jebel Jais exhibits one of the best sunset views. It is a place for photogenic people, especially in the early evening time. The rocks and peaks of the Jebel mountain sparkle with an orangish hue. The beautiful vintage look is worth capturing and enjoying with friends and family.
Jebel Jais is the tallest mountain in the UAE with a summit of around 1,934 meters. It is a part of the Hajar Mountain Range and almost 55 kilometres northeast of Ras Al-Khaimah.
Zipline through the mountains
Do you want to mesmerize by mountains? Well, Jebel Jais has the world's longest zipline namely Jebel Jais Flight. It would be the ultimate choice for all the adventurous souls. The 2.8-kilometre zipline gives exciting sights with an out-of-the-world touch of nature.
The thrill of the flight at a speed of 120 kilometres per hour will give you Goosebumps. For a less-speedy experience, you can go for the 'Jais Sky Tour'. The best part of zipline adventure is the series of sceneries you will cross. Best place to Zipline in UAE!
Have a stary night at Glamping Resort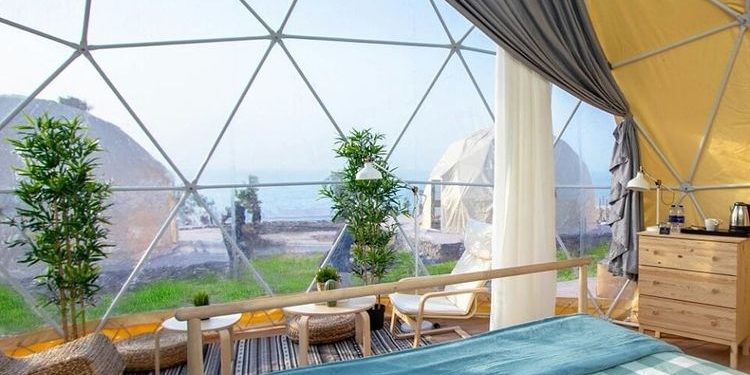 Add more fun with glamping resorts! Every traveller wants to stay in a resort which owes beautiful sights. Ras Al-Khaimah has few resorts with an eye-pleasing natural touch.
Glamping at RAK holds tough choices like The Ritz-Carlton, Longbeach Campground, The Dunes Camping and safari, Dessert in resort and camp, and others. They include nearby beaches, pools with playsets, beach volleyball court, wooden treehouse, outdoor dining areas, fishing, boat riding facility, and much more. Choose your glamping resort smartly to enjoy fully!
Abandoned Village of Jazirat Al Hamra
The abandoned fishing village of UAE is also known as the Ghost town of Ras Al-Khaimah. It is one of the oldest heritage of the UAE. The village has traditional style coral black houses, mosques, wind towers, schools, and shops. But it is believed to be haunted, but the beauty it owes is immense.
The abandoned village of Jazirat Al-Hamra has a lot of history along with spooky stories. Jazirat At-Hamra situated in the south of Ras Al-Khaimah is worth visiting!
Timings: 06 AM – 06 PM
Khatt Springs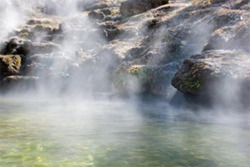 Do you want a hot bath? The Khatt Spring is known for its hot spring water rich in minerals. Its relaxing and therapeutic properties make it worth visiting. If you want to relax your joints and body ache, soaking in Khatt Spring will give you exactly.
Also, the place has been of great interest to archaeologists due to its historic findings. If you love to dig into the past, this could be a good opportunity to learn new things related to Khatt Fort. Khatt Springs is situated about 26 kilometres southeast of Ras Al-Khaimah. Refresh your mood and journey!
Timings: 07 AM – 09 PM
Wadi Shawka
Do you want a family hiking experience? Mountain hiking is very safe at Wadi Shawka for all ages. As it is not so much higher and is around 10 kilometres long. Also, camping, off-roading, Canyoning, Cycling or Biking, and picnic are the few best experiences to have here. The Wadi Shawka situated in Ras Al Khaimah is known for its positive vibe.
Also, it has a kids' playground, shawka dam, and open walk area to give you the best memory. While walking you will see beautiful scenes worth capturing on your device. Wadi Shawka is a good pick if you are travelling with your family.
Timings: 24 hours
Ras Al Khaimah Pearl Museum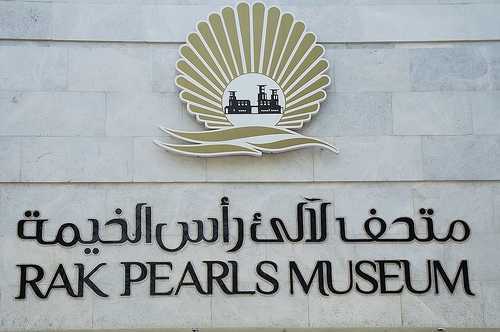 Curious about the history of Pearl Diving? Well, Ras Al Khaimah Pearl Museum could be the place you must visit. The museum reflects the old traditions and rich culture by showing the works emirates use to do in early times. It displays the instructions and things used by ancient pearl divers.
The two-story pearl museum showcases collection of tools and gear like gloves, clips, etc. on its first floor. And the world-famous white, black, and rare pink pearls on the second floor. The best part about the museum is "Miracle of Arabia", the 12mm red velvet pearl always attracts the eyes. The Pearl Museum is situated about 23 kilometres from Ras Al-Khaimah Airport. Do visit this one-of-a-kind museum!
Timings: 10 AM-6 PM (Closed on Friday)
Pricing: Adult: AED 15 and Child: AED 10
These are the top 7 places to visit in Ras Al Khaimah. I am sure you will have a lovely time in all these places even if you go on a solo trip or with your family and friends.