The Urban and Rural Development Week, the third week of the specialized topics organized by Expo 2020 Dubai, will start on November 3, in cooperation with UN-Habitat and Siemens, the infrastructure digitization partner in the first official partner category and with the participation of government officials from cities Most populous and most resilient, elite development and technology experts.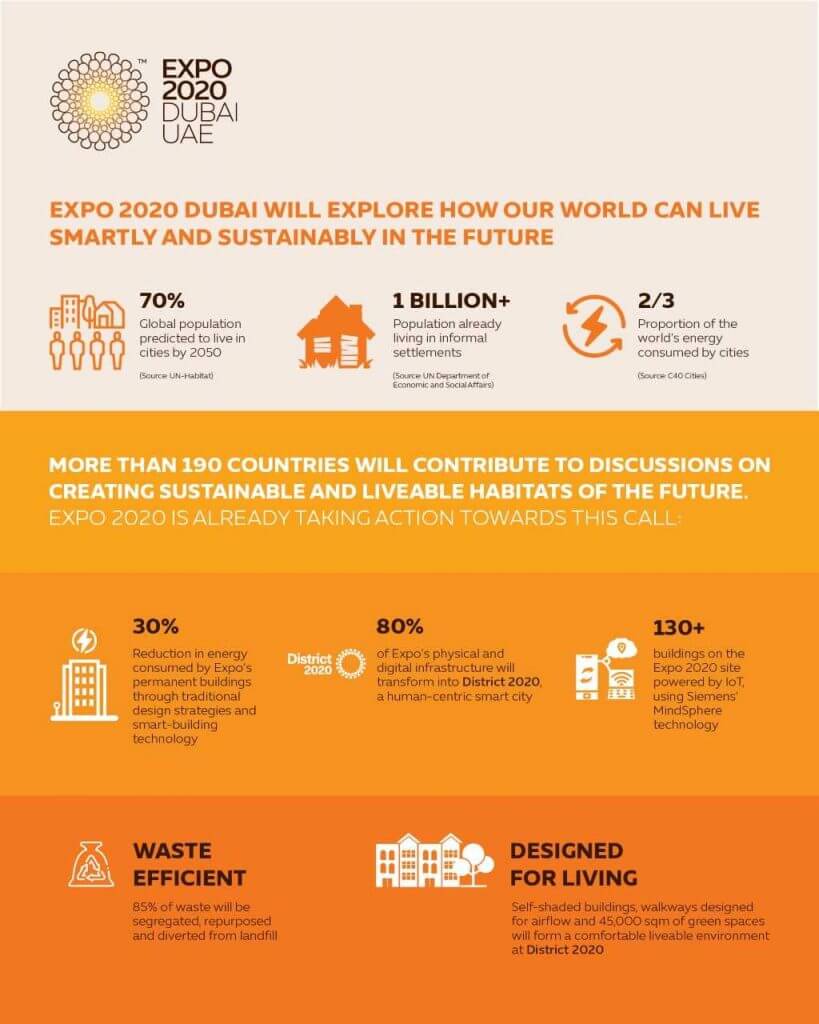 Over the course of two days, participants in the event, which will be held remotely via the Internet on November 3 and 4, will discuss the future of smart cities that will be populated by 2050, what this development means in terms of infrastructure and services, and how residents will live in balance with our planet.
The discussions will also deal with influencing models in the provision of services, such as water, sanitation and health, and the role of technology in this area, as well as integrating best practices in the public and private sectors to improve the quality of services and create opportunities for all.
Her Excellency Reem bint Ibrahim Al Hashemi, Minister of State for International Cooperation and Director General of the Dubai Expo 2020 Bureau, will deliver a speech on this occasion, in which Mr. Helmut von Struff, CEO of Siemens in the UAE and the Middle East, and Ms. Maymouna Mohamed Sharif, Executive Director will also speak. For the United Nations Human Settlements Program / UN-Habitat /.
Among the prominent speakers at these events are Mr. David Lowcock, Executive Director of the Alliance for Rural Electrification, and Mrs. Virginia Raggi, Mayor of the Italian city of Rome, as well as representatives of a number of organizations concerned with improving the lives of people in urban and rural communities, including the 40 Cities Leadership Team on Climate .
The Urban and Rural Development Week will also witness a session in cooperation with the Executive Council of the Emirate of Dubai, and His Excellency Eng. Dawood Al Hajri, Director General of Dubai Municipality and a member of the Expo 2020 Dubai Supreme Committee, will deliver a speech at this session, which will be attended by a group of mayors of major cities and urban planning experts, including Mr. Maxolisi Kaunda, Mayor of Durban, South Africa, Ms. Diana Alarcon Gonzalez, Senior Adviser and Director of International Affairs for Mexico City, and Dr. David Ponzini, Associate Professor at Polytechnic University of Milan, Italy, specializing in city planning.
Her Excellency Reem bint Ibrahim Al Hashemi said: "We believe that everyone in our world has the right to live decent, including safety, shelter and equal opportunities, and that creating a better future for us and for future generations requires a lot of joint work and concerted efforts, especially with regard to population growth in cities and rural areas. And organized residential areas, as well as informal neighborhoods, which face an increasing burden in the matter of the permanent provision of services and facilities.
Her Excellency added: "With the efforts of all of us and with the help of the brightest minds in managing and developing habitats, Expo 2020 Dubai invites the world to explore the possibility in which we can ensure that all our residential areas in the future are smart, resilient and sustainable, and that services are available to all."
It is noteworthy that the Urban and Rural Development Week is one of the ten weeks of topics organized by Expo 2020 Dubai in the period before the start of the international event, in preparation for discussing these topics on a larger scale during its six-month-long activities next year from October 1, 2021 to March 31, 2022.
The Topic Weeks bring together prominent policy-makers, leaders of sectors related to each topic, and some experts and participants in Expo 2020 Dubai, to discuss specific challenges and exchange ideas with the aim of developing solutions that can be developed during the international event.
Within the framework of these weeks, which Expo 2020 Dubai inaugurated last month, Space Week, discussions and questions are held with the participation of the public.
Over its six-month period, Expo 2020 Dubai will bring together a crowd of his family, including international participants, official partners and the public, to discuss common solutions to pressing challenges, including those linked to global goals such as knowledge, learning, space and water.
The events of the international event will highlight the commitment of Expo 2020 Dubai to encourage cooperation in order to shape the features of a better and more sustainable tomorrow for all by developing appropriate solutions to these challenges. Expo 2020 Dubai will be the first international Expo to be held in the Middle East, Africa and South Asia.