The health benefits of guava are many which include to increase the immunity, control blood sugar levels, regulate blood pressure, and aid in treating diarrhea.
The unique and high concentrations of minerals and vitamins, guava can also help increase energy.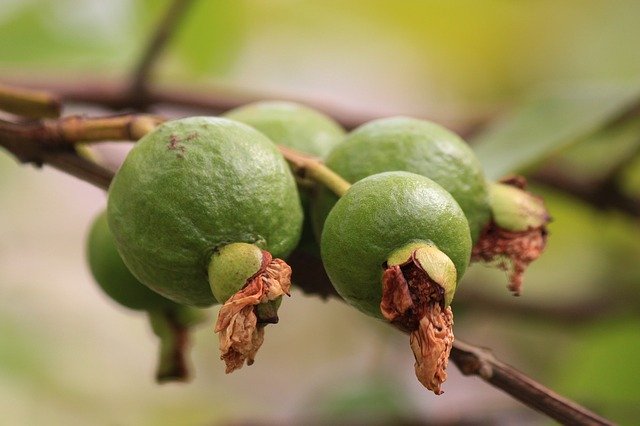 Guava is thought to have originated in Mexico or Central America. It is now very popular in Asian countries, and it is also increasingly available in American countries, especially after the disclosure of its health benefits.
What makes it special is that increasing the shelf life of this fruit does not require the excessive use of chemicals or pesticides. It is one of the least chemically processed fruits. Guava leaves also have many benefits.
The nutritional value of guava
Guava is a good source of energy, dietary fiber, vitamins, and minerals. Guava fruits contain vitamins C, E, A, and B vitamins, as well as potassium, phosphorous, magnesium, calcium, sodium, and zinc.
Guava's rich in vitamin C and is said to contain four times the content of vitamin C found in oranges. Vitamin C helps boost immunity levels that prepare your body to fight common infections and pathogens. Also, more vitamin C helps in good eyesight.
Reduces Your Risk of Developing Cancer:
Vitamin C, lycopene, and other types of polyphenols act as antioxidants that help in neutralizing infections in the body that prevent the growth of cancerous cells. Guava fruit has shown to prevent prostate cancer and also prevents the growth of breast cancer cells.
Controls diabetes
Eating guava can also help patients suffering from diabetes. Guava has a high content of fiber and glycaemic index that prevents the development of diabetes. Fiber content regulates blood sugar levels from spiking, while glycemic index also restricts your blood sugar to rise at a short. According to recent studies published, the results showed that eating guava may help prevent the risk of developing type 2 diabetes.
Regulates blood pressure
The guava helped reduce the levels of harmful cholesterol (LDL) and blood pressure, the fruit rich in fiber is also useful in helping reduce blood pressure.
Improves thyroid health
Guava is a good source of copper, which is an important mineral to regulate the metabolism process by helping to control the production and absorption of hormones. Thyroid hormones play an important role in regulating energy and metabolism in the body.
Eliminates diarrhea and dysentery
Guava has properties that are believed to help treat a number of digestive disorders such as diarrhea and dysentery. Whether you chew its leaves or eat the fruit itself, a substance will be added to the soft intestine and reduce symptoms of diarrhea.
These properties are alkaline in nature and have antiseptic and anti-bacterial properties, thus helping to fight dysentery by inhibiting microbial growth and removing excess mucus from the intestine.
Moreover, other nutrients such as vitamin C, carotenoids, and potassium strengthen the digestive system and cleanse it at the same time. The fruit is also useful in cases of gastroenteritis for reasons similar to those mentioned above.
Relieves constipation
Guava seeds are an excellent laxative. This property helps create healthy bowel movements, helps maintain water in the body, and keeps the intestinal system in good health.
Constipation can lead to 72 different types of diseases, so any food source to relieve constipation is definitely beneficial. Your general health is undeniably affected by proper digestion and, most importantly, by correct secretion. Frequent consumption of this delicious fruit can guarantee both.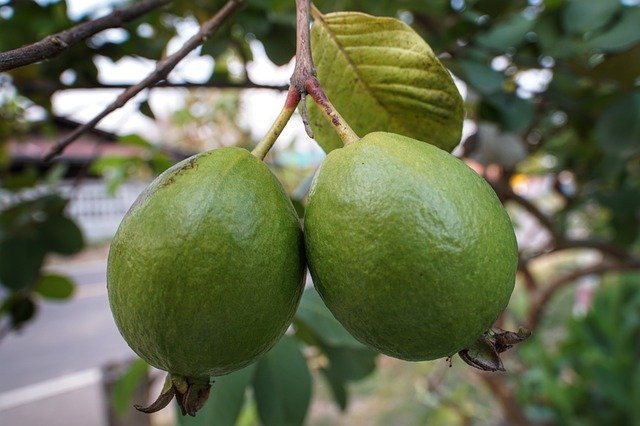 Guava Helps Women During Pregnancy:
Guavas benefit pregnant women such that it contains folic acid and vitamin B-9 which is recommended to be given for women since it helps in developing the baby's nervous system and protects the baby from neurological disorders.
It stimulates the cognitive function
Another huge benefit of guava is the presence of vitamins B, B3, and B6. It can increase vitamin B 3 (also known as niacin ) of blood flow and stimulates cognitive function, while vitamin B – 6, also known as (Alberadoamin) is a nutrient associated with the function of the brain and nerves.
Prevention of cough and cold
Guava leaf extract has anti-cough and antimicrobial activities and is very useful in providing relief in cases of cold and cough. Raw and unripe guava juice, or boiled from its leaves, is very useful in relieving coughs and colds by reducing mucus, cleansing the respiratory system, throat, and lungs, and inhibiting microbial activity with its properties that act as astringent properties.
Reduces menstrual cramps
The guava leaf extract is likely to reduce the severity of menstrual cramps. It has been observed that taking it leads to a sharp decrease in pain intensity during menstruation. The extract was also found to be stronger and more useful than regular painkillers.
Aiding in weight loss
Guava is very useful for people who want to lose weight without compromising their intake of vital proteins, vitamins, minerals, and fiber. Guava contains a high percentage of ( fiber ), does not contain cholesterol, and contains few digestible carbohydrates. This mixture makes guava a snack that satisfies the appetite very easily. Guava regulates your body's metabolism and makes you very snak-satisfied.
Guava, especially the kernel, contains much less sugar compared to apples, oranges, grapes, and many other fruits. Add it to your meals and you will feel full for long periods. Another paradox is that it can also help thin and pale-skinned people gain weight in a healthy way, within a good diet. This may be due to its wealth of nutrients, which regulate the metabolism and encourage proper absorption of nutrients.
Improves vision
Guava is a good source of vitamin A, known as a vision booster. It can help slow the onset of cataracts and macular degeneration and improve the overall health of the eyes. It helps protect the cells in your eyes and can also slow vision deterioration.
Reduces oxidative stress
Guava juice is rich in vitamin C and a number of other important phytonutrients that can help reduce and even eliminate free radicals, slowing down oxidative stress in the body. It is a very popular drink in tropical and subtropical regions.
Benefits of Guava Leaves Tea:
If green tea is considered healthy and ayurvedic, then guava leaf tea is even healthier and this can be consumed if you are having abdominal pain, watery stools, etc. All you need to do is to add guava leaves to boiling water and boil for 20 minutes. Then strain the water and allow it to cool for 5 minutes. Make sure it is at least lukewarm when you are consuming it. Also, this must be consumed on an empty stomach and you may find instant relief once you've followed the steps carefully.