Want to know the best part of India? Well, it is a fantastic blend of spices, giving us dishes that no other place can. Looking for the best Indian restaurants in Dubai thus becomes a must for those in the mood for some amazing foodie rides. So, here are some of the must-try restaurants right in the Middle East.
Spice Klub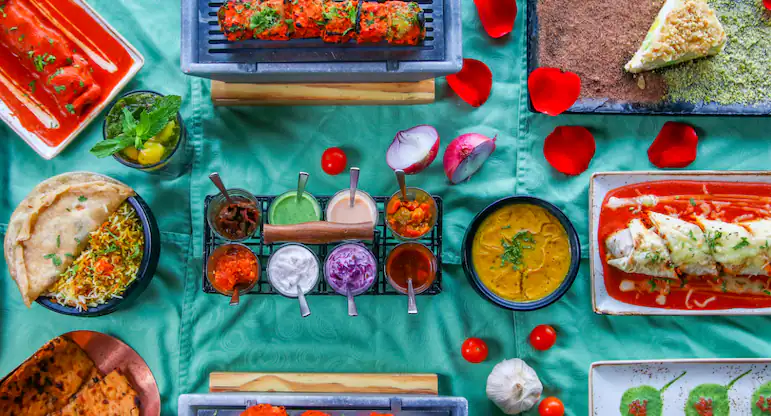 Spice Klub restaurant in Dubai is one of the best Indian restaurants in Dubai that will give you the feel of India. Credits to the authentic food served with a twist and excellent presentation style. Clearly, the chef has a vision of best presenting the classic Indian food items in unique but delicious ways. The popular food items include pav bhaji fondue, naanza, Deconstructed Dhokla, the Delhi PapdiChaat, and Rasgulla Cheesecake. The ambience of this restaurant is decent enough, but it is the décor (hand-painted Rangoli, kites on the ceiling, painting of the Golden temple) that puts a cherry on the top.
https://www.zomato.com/SpiceKlubDubai
Raju Omelet
The world will feed you with different egg varieties, but Indian omelets still rule the world of eggs. Give a visit to Raju Omlet and get unconventional but delicious egg dishes. Some of the most loved include mushroom cheese omelets, egg bhurji roll, power omelets, egg lazeez etc. Within a budget of just AED 70, two people can be fed well. Its decent ambience too gives you enough space to enjoy your meal with all focus on the delicious egg on the plate.
http://www.rajuomlet.net/
Manwar Restaurant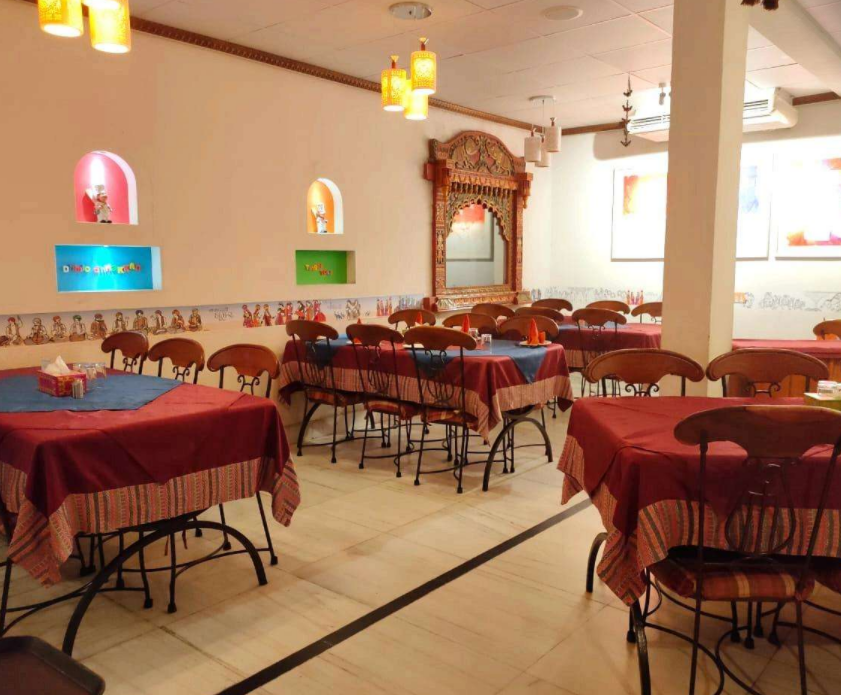 This restaurant of Dubai attracts a lot of tourists, especially non-Indians because one can have delicacies that they have never had before. Manwar is truly a Rajasthani cuisine that serves authentic dal such as bati churma, Gatta kadhi, moong daal halwa, laal mass, etc. And its bajre ki manwar is to die for. The hot bajra roti is served with jaggery and ghee on the top, and it gives a delight of a dessert.
Walk into Al Karama, and you will feel a total treat. Its ambience too is designed to stick perfectly with the Rajasthani theme. You may not get the Indian daybeds, but the furniture is quite enough for the vibe. The copper vessels, too are an add-on to the feel.
https://www.zomato.com/dubai/manvaar-al-karama
Rasoi Ghar
The term Rasoi Ghar means "a kitchen" in the Hindi language of India. This restaurant in Dubai understands and serves the best food to those looking for Indian restaurants in Dubai. The place is prominently popular for its Rajasthani and Gujarati thalis. Get exotic curries, laddoo, dal bati, dhokla, and so many other dishes. The menu is totally delicious to keep the taste buds high. In fact, it is one of the top-rated restaurants with ten on ten for food and ambience.
http://rasoighar.ae/
Zafran Indian Bistro
When you ask a Dubaian about Zafran restaurant, you will immediately be lost in the dreamy dal makhana that everyone must have savored there. Zafran restaurant is a well-known Indian cuisine with lip-smacking Indian varieties like tikkas is all flavors, kebabs of innumerable kinds, so many main courses, and that "dal makhana". But this is not it! People also take a direct ride and head to Zafran for its stunning rooftop view of Dubai Marina.
https://www.zafranrestaurants.com/
Paratha King
Parathas are truly the king of Indian mom's kitchen, and this restaurant in Dubai gives the reason why. Here you will find 30+ kinds of parathas, and with that butter cube and curd. Your idea of savoring Indian parathas will get a life here. The parathas are prepared by professional chefs who know how to play with the spices. The ambience too is decent for comfy seating and bon appetit.
http://www.parathaking.com/
Mint Leaf Of London
Situated in Dubai, named on London but serving delicious Indian food, this place is surely one of a kind. Firstly, you will fall in love with the rooftop ambience giving you a fantastic view while your food is being prepared. Lately, the place gives you lip-smacking Indian food with a fine blend of spices. The place is highly recognized for its contemporary touch, and even 10 visits to this restaurant will not be enough.
These are some of the best Indian restaurants in Dubai, which will surely calm your Indian food cravings. Do try these today.