Whether you love greenery or waterside dining, eating food with the scenic beauty gives a different kind of pleasure. Dubai is one of the beautiful places where you get to see the best views, especially in the winter season. That's the reason most people are opting for outdoor seating restaurants to enjoy their hearty meals. Read this further to enjoy your outdoor dining experience in the coming winter months. Here is a list of some best outdoor restaurants in Dubai.
The most charming restaurant in Dubai, it is inspired by the Coastal splendor of Cape God. It is also designed to make you feel relaxed by welcoming you to waterfront dining. This place has a beautiful sea view and offers a panoramic image of the Dubai Creek. You can enjoy your food by watching the yachts on the water. For seafood lovers, this is absolutely the best place as it offers delicious seafood dishes, tasty lobsters, and an immense variety of cocktails.
Venue: Park Hyatt Dubai
Link: hyattrestaurants.com
Time: Saturday-Thursday 12:30 PM – 2AM / Friday 5PM – 2AM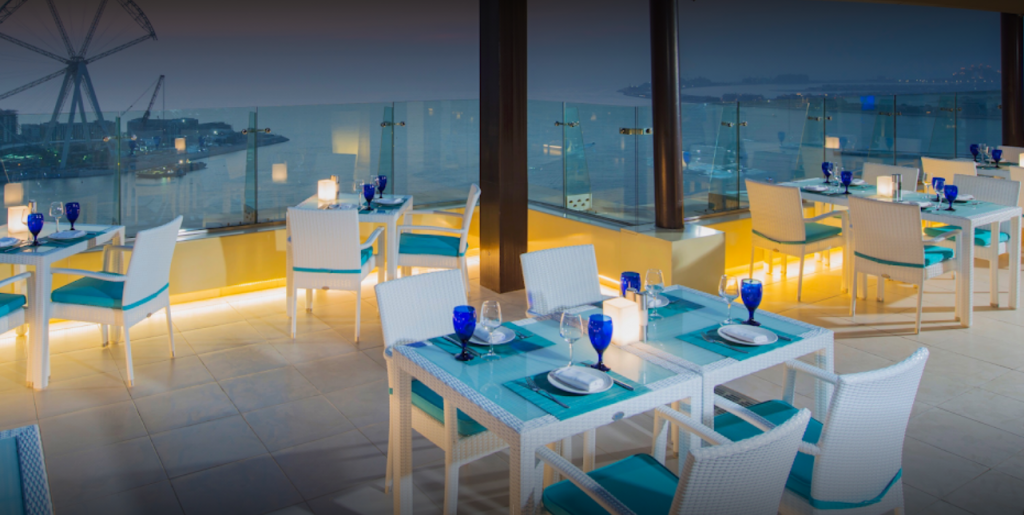 If you love watching the sunset, then this place is a great choice. The lounge is on the 35th floor of the Hilton Dubai, The Walk. It is a classic rooftop bar with a great view of the Arabian Gulf. There are two terraces, one towards the lounge and the other towards the restaurant. When it comes to menu options, then its Marshmallow Martini is absolutely amazing! It is made of Marshmallow infused Vodka and fresh cream that offers it a creamy texture. The rest of the drinks are also excellent, with great creativity and presentation shown by the chef. Coming to entertainment options, it has a live DJ. All in all, if you want the airy and ocean-side vibe, then this place is a must-visit.
Venue: Hilton Dubai The Walk
Time: Saturday, Tuesday-Thursday 5 PM – 2 AM / Friday 5:30 PM – 3 AM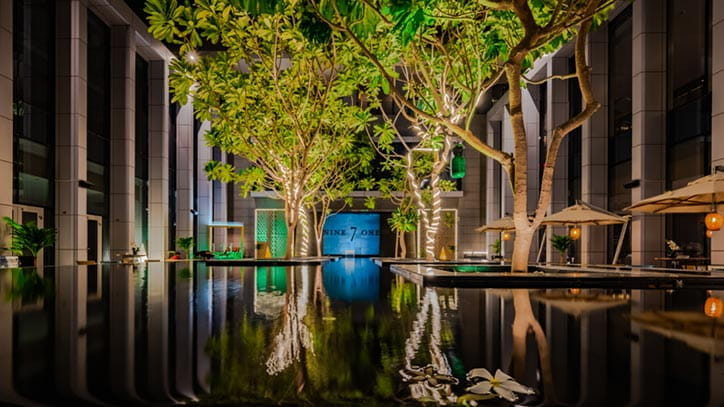 Enjoy having buffets and live music? Well, then Nine7One is the best outdoor restaurants in Dubai for you. This place serves authentic Asian, Arabian, Western Cuisine that will certainly satisfy your cravings. Plus, they have lavish seafood on Thursdays. Also, you will be stunned by the cozy outdoor area with a beautiful sea view. All in all, it is a place to have a relaxing time during winter while you enjoy your favorite appetizers and drinks.
Venue: The Oberoi Center
Link: http://www.oberoihotels.com
Time: 6:30 AM – 11:30 PM
This place is a Greek-styled restaurant, designed with beautiful outdoor settings along with a sea view with beautiful fairy lights. This place is a wonderful choice for seafood lovers as it offers Greek and Turkish Seafood platters along with salads and dips. No doubt Fish Beach Taverna is loved by many people due to its stunning designs and views with an immense variety of seafood.
Venue: Le Méridien Mina Seyahi Beach Resort & Waterpark
Link: fish-dubai.com
Time: 12PM – 4PM / 6PM – 11PM
This Italian restaurant along with a sea view will give you holiday vibes. It has two dining areas – one for casual dining and one upper deck pizzeria. Both of them offer a different experience. You can binge eat your pizzas with a variety of toppings and lift your mood with some good music and a lovely ambiance there.
Venue: The Westin Dubai Mina Seyahi Beach Resort & Marina
Link: bussoladubai.com
Time: Sunday -Thursday 12 PM – 3 PM, 7 PM – 11 PM / Friday-Saturday 12 PM – 4 PM, 7 PM – 11 PM
Jebel Ali Recreational CLub is synonymous to esacping the modern life stress and entering into an inviting & friendly atmosphere. You will enjoy the quiet, serene and relaxed outdoor seating in the winter months that overlooks Ibn Battuta Gate. It has some live music on the weekends that gives a good feel. All in all, this multi-cuisine restaurant will give you a place to become stress free away from the city noise.
This is an exciting place where an International menu is offered and is surrounded by stunning outdoor views. It also offers the view of The Dubai Fountain and the most renowned place "The Burj Khalifa". You can enjoy all the delicious flavors of the world right from Japanese and Italian cuisine with Nachos Pizza, Chilli Garlic Prawns, Eggs Benedict being the popular dishes.
Venue: The Dubai Mall
Time: Sunday – Wednesday 9 AM – 12 AM / Thursday – Saturday 9 AM – 1 AM
As the name suggests, it has got seven world-class different dining areas under a single roof, all famous for offering different types of cuisine, thereby making this place an all-time favorite destination for food lovers. The panoramic views of the Marina are stunning and incredible at night. You can enjoy your seafood, Asian food, Street food as well as many other dishes that will please your taste buds.
Venue: Marina Promenade – Sheikh Zayed Rd – Dubai Marina
Link: Time: 10 AM – 2 AM
Parting Words
So without giving a second thought, escape from your daily hustles and create some great memories with your loved ones by visiting these best outdoor restaurants in Dubai and treat yourself to your favorite cuisine.