A city like Dubai, which welcomes millions of tourists every year, is bound to slowly evolve into a culinary hotspot. From traditional Arabic cuisine to fusion and everything in between, Dubai has it all. Almost all locations in Dubai will have a culinary gem or another in the form of a restaurant. But, the Dubai Marina and its many restaurants are definitely the flagships in this field. We understand that sometimes deciding on where to go to eat can be a pretty cumbersome task. So, here's a list of some of the Best Restaurants in Dubai Marina for you.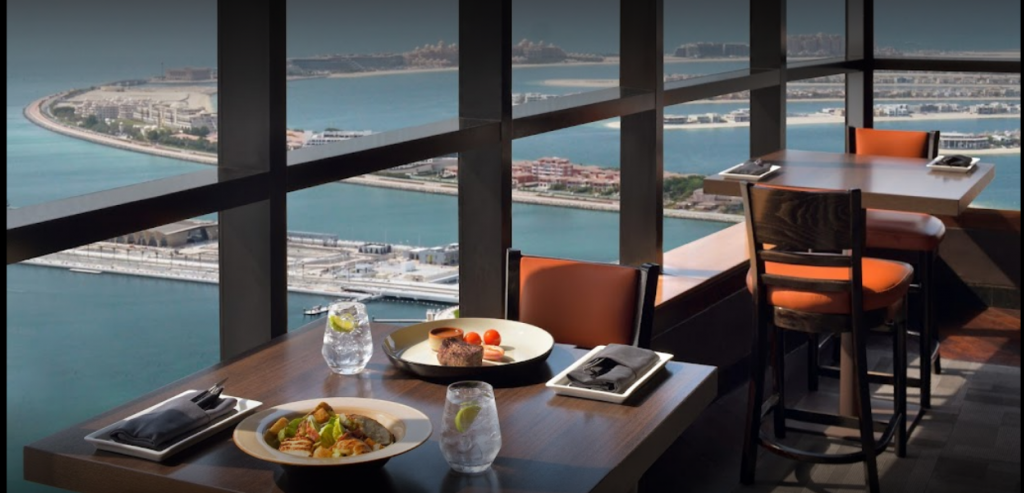 Aptly named the Observatory, this restaurant is located on the 52nd floor of the Dubai Marriot Harbour hotel. It graces its guests with a 360° panoramic view of the cityscape, Palm Jumeirah and its coastline. Have a perfectly grilled steak with a glass of wine or a refreshing cocktail that pairs well with your meal as you enjoy the view. The vast dessert options will make you feel like royalty because you deserve the experiences worthy for a King or Queen when you are at the Observatory.
Phone: 04 319 4000
Timings: Monday to Saturday: 12 pm – 12 am
Sunday: Closed
Location: 52nd floor, Dubai Marriot Harbour Hotel, King Salman Bin Abdulaziz Al Saud St – Dubai Marina
The Atelier M does things differently than other restaurants. It offers dining in the indoor restaurant, lounge, and rooftop. After all the management at Atelier M surely knows how to set the vibe for a night to remember. The impeccably designed indoor dining rooms are well-lit and spacious. The rooftop (currently being refurbished) offers a panoramic view of the skyline as you enjoy your meals. Other than this, the Chef at Atelier M has done an amazing job in curating a menu that captures what Mediterranean cuisine is all about.
Phone: 04 450 7766
Timings: Sunday, Monday, and Wednesday: 5 PM to 2 AM
Tuesday and Thursday: 5 PM to 3 AM
Friday: 4 PM to 3 AM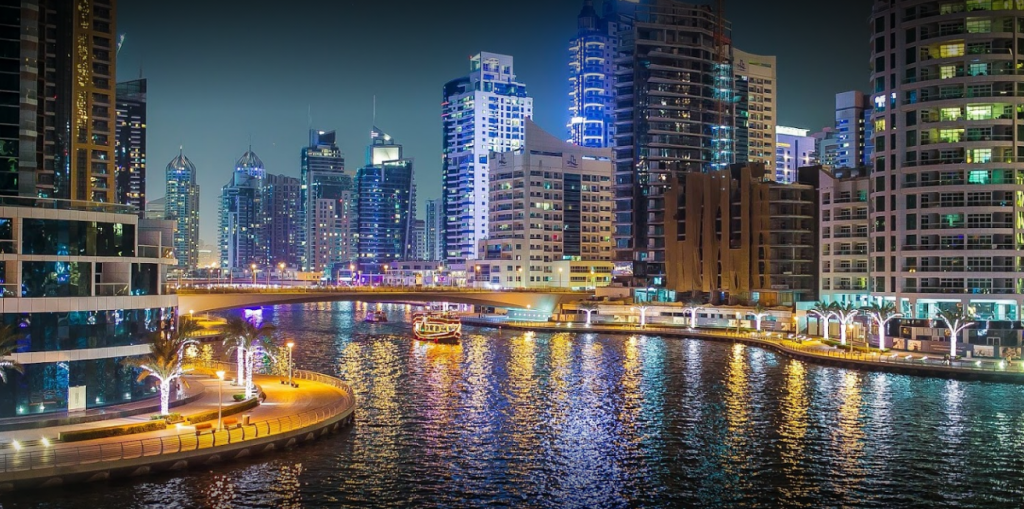 This British-Mediterranean cuisine-inspired restaurant has quickly become the talk of the town. The brainchild of British Michelin Star chef Jason Atherton is one of the best restaurants in Dubai Marina. Here, he has adopted the open kitchen concept, which allows guests to see the chefs at work and interact with them.
The stars of the menu, the Tuna Carpaccio, and the Beef Tartare are a must-try. The interior design gives you the feel of being in a monolithic monument that has been decorated to give a minimalist vibe.
Phone: 04 446 6664
Timings: Sunday to Thursday: 6 pm – 10.45 am
Friday to Saturday: 1 pm – 10.45 pm
Location: King Salman Bin Abdul Aziz Al Saud Street, InterContinental Dubai Marina, Dubai – 393080, United Arab Emirates
Located at the Dubai Marina Mall, this restaurant is a commonly heard name amongst those who cherish Indian cuisine and all its intricacies. This is the best Restaurant in Dubai Marina for those craving Indian food. Zafran Indian Bistro, located on the ground floor of the Dubai Marina, provides its patrons with a unique view of the coastline along the mall and Dubai's urban landscape. Diners can enjoy traditional Indian dishes served in a way that would make any gastronomy expert drool. The non-alcoholic drink menu is also worth checking.
Phone: 054 994 2435
Timings: Saturday to Wednesday: 12 pm – 11 pm
Thursday – Friday: 12 pm – 12 am
Location: Ground Level, Dubai Marina Mall, Dubai Marina, Dubai
Siddhartha Lounge is one of the most happening locations on the list. It offers DJ nights with a Saxophonist joining the DJ on Thursdays and Fridays. The location also offers Ladies' nights, every Wednesday. One can surely depend on Siddhartha Lounge for a night to remember. Enjoy amazing cocktails and mocktails along with delicious bar food, or with the dishes on its Mediterranean and European-inspired menu. With a rooftop view of the Dubai cityscape, this lounge will surely take your breath away.
Timings: 5 pm – 1 am
Location: Grosvenor House, a Luxury Collection Hotel, Al Emreef Street, Dubai, 118500
So, what are you waiting for? Come on over to the Marina, let loose, feel the sea's cool breeze, and enjoy dining at one or all of the above amazing locations.