We all know that when it comes to food, Dubai offers a world-class culinary experience. The cuisines and the delicacies made with exotic ingredients and the soothing aromas at their restaurants can be overwhelming. Also, the ambiance and the eye-catching interiors of every restaurant in Dubai make your experience even more memorable. That's the reason that you might get confused when you choose to dine outside in Dubai. But don't worry as we have scouted down a list of the Best Restaurants in Dubai in 2021.
 Best Restaurants in Dubai in 2021
Looking for some world-class fusion cuisine? Doors Freestyle offers you a waterfront, luxurious dining experience. It is located at the heart of Al Seef, this restaurant serves an out-of-the-box freestyle grill idea which will be surely loved by every foodie. The dishes on their menu are endless and you will get to binge on some premium cut meats, fresh salads, succulent seafood, and mouthwatering desserts.
Location: Al Seef Street, Bur Dubai
Timings: 3 PM – 1 AM
Want to enjoy the Desi Indian cuisine in a vibrant city like Dubai? Carnival Restaurant has an elegant ambiance and serves modern flavorful Indian cuisine and has a theme-based year-round menu. The restaurant offers Indian food with a premium modern touch. Also, every dish has a got a story behind it which makes the experience more interesting. Overall, all the delicacies are creative and tasty. So without giving a second thought, visit this restaurant to enjoy the culinary scene.
Location: Burj Daman
Timings: 12 PM – 11 PM
Want to go on a romantic dinner date? Pierchic is one of the best restaurants in Dubai and is a part of the Al Qasr 5-star hotel. You get to enjoy the stunning views of the Arabian Gulf. Pierchic showcases a modern menu of European cuisine and provides seafood with top-class standards. The delicacies here are designed by top chefs that will surely satisfy your taste buds. Visiting Pierchic will give you the best memories of your life that you will cherish forever.
Location: Jumeirah Al Qasr
Timings: Tuesday – Saturday 1 PM – 3 PM, 6:30 PM – 10:30 PM | Sunday and Monday 6:30 PM – 10:30 PM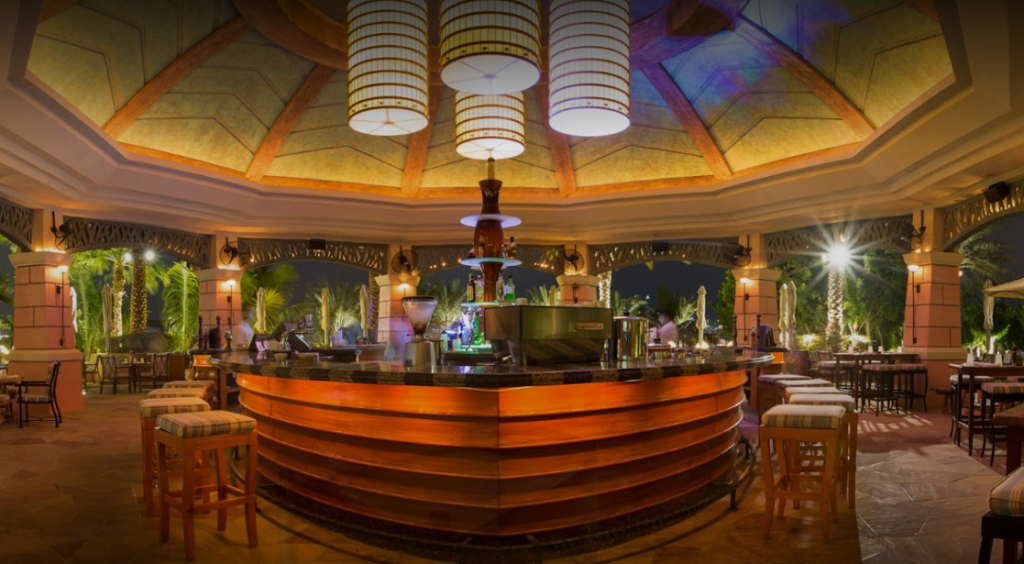 Looking for a cozy meal along with a beach view? The Shore Restaurant in Dubai will serve mouthwatering Mexican delicacies. This beach restaurant also offers stunning views of the Atlantis beach and Dubai Marina tower from a distance. The Shore is also known for the impeccable hospitality they offer. What else do you need? A table with authentic Mexican food at the outdoor seating area along with a cocktail. This would make a perfect date.
Location: Atlantis, The Palm Jumeirah
Timings: 11 AM – 9 PM
Want to experience the lesser-explored delicacies of Asia? Then check out Socialicious and Chill with your friends with some mouthwatering meals. There are some dishes on offer like Burmese Khao Suey and Vietnamese Baos. If you want to try and up your fusion scale, you can binge on their Edamame Falafel and enjoy other vibrant ranges of food.
Location: Condor Castle Residence
Timings: 11 AM – 11:30 PM
Time waits for none! Grab your seats, enjoy your fine dining experience and world-class delights at The Best restaurants in Dubai that will leave you with some unforgettable memories.