A proper steak requires care, finesse and proper execution with attention to details. It does not take long for a prime cut to go from being the best morsel of your life to having the texture of a used tire. Let's be honest here for a moment, steaks are expensive, so it is best we leave the cooking and execution part to the professionals who know what they are doing.
Here are some of the best steakhouses in Dubai
Located on the 68th floor of JW Marriott Marquis Dubai in Business Bay, this steakhouse not only serves a mean steak, but also has the perfect view to complement said steak. Prime 68's kitchen is known for the quality of their steaks. This steakhouse has topped the charts for years now. The food here does not require any gimmicks. Great execution and a splendid selection of meats and accoutrements are Prime68's monopoly. The meat is tender and flavourful, the wine selection is great too.
Location: JW Marriott Marquis Dubai, Business Bay.
If you haven't spent the last few years under a rock you must have heard of Salt Bae. His salt-sprinkling action is ingrained in our heads by now. The celebrity restaurateur is now popular across the globe. Guests can even catch him sometimes in the flesh at his steakhouse in Four Seasons Resort Dubai. The meat served here is exceptionally good, the cuts are precise and worth the price point.
Location: Four Seasons Resort Dubai at Jumeirah Beach, Jumeirah.
This Brazilian steakhouse spares you the trouble of choosing between different premium cuts. It has an amazing stop-and-go traffic light system that ensures guests get a taste of every priced cut of the animal, the Sirloin, rib-eye, fillet, you name it. Ask for whatever cut you desire, at whatever temperature you prefer, and eat till your soul is satisfied.
Location: Dubai International Financial Centre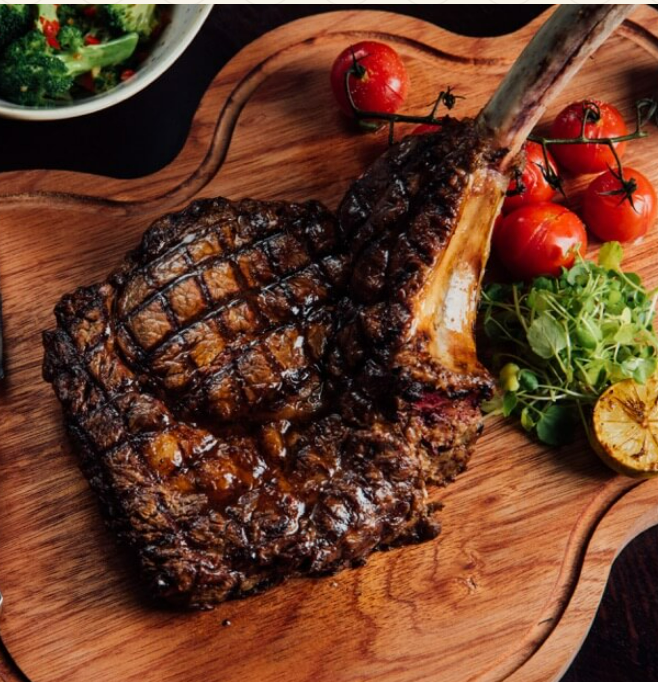 Set on the waterfront at the Souk Madinat Jumeirah with the Burj Al Arab in its backdrop, the restaurant offers diners a heavenly view. But it's not just the view here that is great. The steaks here at The Meat Co. are just amazing. Once you take a bite from the luxurious steaks served here, it feels like the volume of the world has been dialed down, everything else fades into the background. The steak slathered in rich sauces takes the centre stage. We cant talk about The Meat Co. without mentioning their amazing fries, do order these as a side along with your steak.
Location: Souk Madinat Jumeirah, Umm Suqeim
So, that was the list of the best steakhouses in Dubai. All of the places offer quality food and also have a great service.