Lentils are classified as a type of legume, and it is one of the plants that pick their grains after they dry out and ripen. Lentils are used in the preparation of many salads, appetizers, side and main dishes, and one of the most famous recipes in which lentils are the main component in which lentil soup, mujaddara, and mudardara are also used in some countries in preparing some types of bread, and Indian cuisine is considered the most international cuisine depending on Lentils are prepared from more than sixty traditional dishes.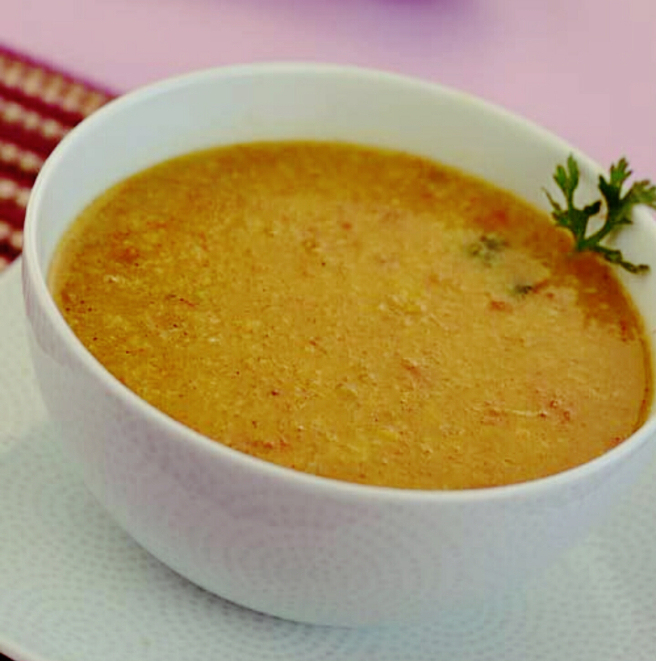 Ingredients
1 cup (200 g) soaked yellow lentils.
2 tomatoes.
An onion, finely chopped.
Onion, cut into small pieces.
3 cloves of garlic, finely chopped.
Grated carrot.
1 tablespoon (12.5 g) green coriander.
½ 1 teaspoon (2.5 g) cumin
½ 1 teaspoon (2.5 g) chili.
½ 1 teaspoon (2.5 g) fresh ginger
½ 1 teaspoon (2.5 g) turmeric Stock cube.
Salt and black pepper.
How to prepare
On medium heat, place the lentils in a saucepan, cover with water and bring to a boil. Add tomatoes, onions, garlic, carrots, stock cube, and spices except for black pepper and cumin, and stir. Add an appropriate amount of water, and leave the mixture for 30 minutes until the ingredients are soft. Take the mixture off the heat, let it cool down, and then beat it in the blender. Return the lentil mixture to the heat, add black pepper and cumin and stir well, and leave it for three minutes. Remove the lentils from the heat, put them in a serving dish, and garnish the face with green coriander.